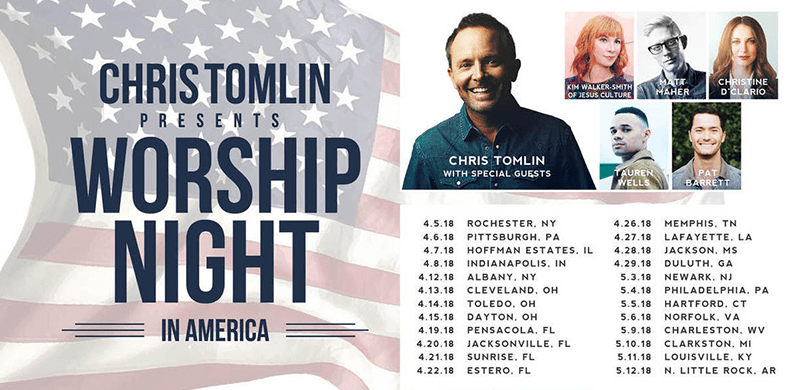 Featuring Chris Tomlin, Kim Walker Smith of Jesus Culture, Matt Maher, Christine D'Clario, Tauren Wells, and Pat Barrett
Nashville, Tenn. (Nov. 10, 2017) – GRAMMY® winner Chris Tomlin continues to bring the church together in unity and prayer with his 2018 Worship Night In America (WNIA) tour, kicking off April 5, 2018. Special guests include Kim Walker Smith of Jesus Culture, Matt Maher, Christine D'Clario, Tauren Wells, and Pat Barrett. The tour will hit 24 markets across the U.S. including Chicago, Indianapolis, Atlanta, Philadelphia and more.
"It is powerful when all streams of the church come together in an act of unity to worship and pray…that's the heart behind 2018's 'WNIA Tour.' It's a picture of God's kingdom together, and the sound of thousands and thousands of voices pouring out His praise," says Tomlin. "I pray these nights are filled with revival and restoration as we all join together proclaiming one name. As the scriptures say, 'Lord I have heard of Your fame, I stand in awe of Your deeds…renew them in our day.'"
Chris Tomlin's 2018 "WNIA Tour" follows his 2017 "WNIA Tour" which made 24 stops in arenas with sellouts across the country, including Nashville, where Tomlin made history as the largest ticketed Christian concert at Bridgestone Arena to date.
This feat came amidst a massive year for Tomlin, when just last fall, Tomlin became the first Christian artist to receive the SoundExch
ange Digital Radio Award, recognizing more than 1 billion digital radio plays. Justin Timberlake, Garth Brooks and Pitbull are the only other artists to have received this award. Following this success, Tomlin filled the iconic Red Rocks Amphitheatre for back-to-back nights this past September as the first ever CCM artist to play the historic venue two nights in a row.
"I'm really excited to be joining Chris Tomlin on 2018's 'WNIA Tour.' When I've been a part of it in the past, I've loved all of the unity among all of the different churches represented. It's a really powerful night of worship – and so much fun!"
– Kim Walker Smith of Jesus Culture
"I'm so grateful for Chris' friendship and leadership in bringing together worship leaders from all across a diverse body of Christ. More than ever, we need opportunities as the people of God to come together in the midst of division and be unified in our celebration of the grace and mercy of a God revealed in Jesus."
– Matt Maher
"I deeply love when the people of God unite for His cause. The foreshadow of every great move of God is unity and unanimity in heart and spirit. The 2018 'WNIA Tour' is just that, the joining together of souls that are hungry for a great move of God in our nation. I am very humbled and excited to be a part of, more than a tour, a united front that carries the banner of God's love—breaking the barriers of language, culture or race—through worship for our nation and generation."
– Christine D'Clario
"The idea of the whole church gathering together in unity, focused solely on worshipping the one true God, proclaiming the name of Jesus as Lord, Savior, Healer, King, is both awe inspiring and powerful. 2018 'WNIA Tour' is one of the closest manifestations of this idea—and ideal—that I've experienced. I'm excited to watch Him move in the people each night, but to also see the life- and culture-change that will take place through those same people in the days and weeks afterward."
– Tauren Wells
"What I'm looking forward to the most is not only the incredible night we will have together as we gather to worship in each city, but the opportunity for the impact of these nights to reach far
beyond the event itself. Incredible things happen when people come together in unity to lift up the name of Jesus and I am so excited and honored to be a part of it."
– Pat Barrett
Tickets for the "Worship Night In America" tour will be available at christomlin.com starting Nov 17 at 10am local time. As a SPECIAL OFFER to early ticket-buyers, a 20% promo code will be active Friday, 10am local time through Monday (11/20), 11:59pm local time using code "INSIDER."
Worship Night In America:
*All dates subject to change. For latest information, visit christomlin.com.
4/5/18 – Rochester, NY
4/6/18 – Pittsburgh, PA
4/7/18 – Hoffman Estates, IL
4/8/18 – Indianapolis, IN
4/12/18 – Albany, NY
4/13/18 – Cleveland, OH
4/14/18 – Toledo, OH
4/15/18 – Dayton, OH
4/19/18 – Pensacola, FL
4/20/18 – Jacksonville, FL
4/21/18 – Sunrise, FL
4/22/18 – Estero, FL
4/26/18 – Memphis, TN
4/27/18 – Lafayette, LA
4/28/18 – Jackson, MS
4/29/18 – Duluth, GA
5/3/18 – Newark, NJ
5/4/18 – Philadelphia, PA
5/5/18 – Hartford, CT
5/6/18 – Norfolk, VA
5/9/18 – Charleston, WV
5/10/18 – Clarkston, MI
5/11/18 – Louisville, KY
5/12/18 – North Little Rock, AR
The "Worship Night In America Tour" is exclusively produced by Awakening Events, presented by K-LOVE and Air1.
For additional assets, click here.
About Chris Tomlin:
Likely "the most often sung artist anywhere" according to TIME Magazine, Chris Tomlin is among the most influential artists in Christian music. Selling over 7.5 million albums and 10.7 million digital tracks, Tomlin has 16 No. 1 radio singles, a GRAMMY® Award, three Billboard Music Awards, two platinum and five gold albums to his name. Honored last fall as the fourth recipient of the SoundExchange Digital Radio Award, recognizing more than 1 billion digital radio plays, Tomlin's latest album Never Lose Sight along with his new book Holy Roar 7 Words That Will Change the Way You Worship are available now.
##