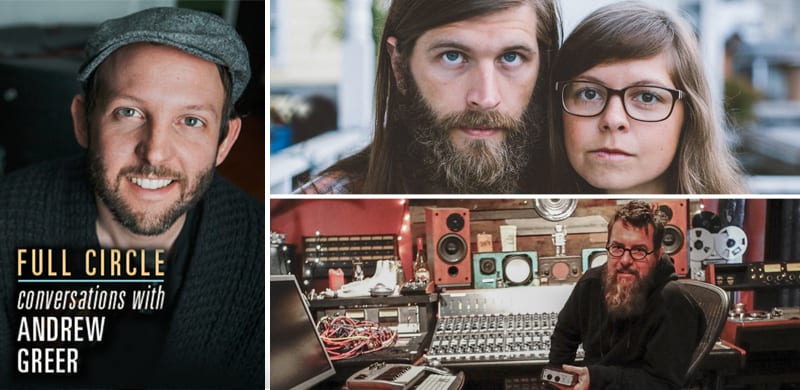 Join singer-songwriter Andrew Greer as he chats with Christian music history makers past and present
THIS MONTH: MR & MRS SOMETHING + MITCH DANE
When Benjamin "Bino" and Chelsea Peck first started making music together as single people living in separate states, I doubt the indie-folk singer-songwriters thought their creative collaboration would result in matrimony. But, it did.
And when the artistic couple – now known under the musical moniker Mr and Mrs Something – landed a mentorship with Centricity Music label head and gospel music industry veteran John Mays as prize for winning a local radio station contest in their home base of Seattle, I doubt they counted on Mays affording them an introduction and fast friendship with Grammy-winning producer and Nashvillian Mitch Dane (Jars of Clay, JJ Heller) – a relationship that would develop into their debut LP. But alas, it did.
With a history in the church and seeker hearts longing to mantle the dark places with light, Mr and Mrs Something introduce Setting Sail, a haunting rollick ministering the most meaningful messages of spiritual hope through the finest textures of Americana music: country, bluegrass and folk – all helmed by Mr. Dane.
Conversing thoughtfully on the art of making music in the studio, on record, from the stage and inside culture, I present to you: Mr and Mrs Something and Mitch Dane.
Andrew: Mitch, as an award-winning, veteran producer, how do you discern what new artists to invest your time with in the studio? What drew you to Mr. & Mrs. Something?
Mitch Dane: I tend to look at several facets of an artist. First and foremost, talent, followed by potential career longevity. After that it gets more personal. For instance, do I like the artist? Would I enjoy spending a month or so with these people? Are they teachable?
The first time I met with Mr & Mrs Something, we were planning to meet for an hour or two. But we had so much fun chatting and telling stories, that we spent the whole day together! During the day, I heard some songs and heard them sing together. Speaking into their music as a producer was very easy and well received. I discovered then that working with them would be fun and very rewarding.
Andrew: Bino and Chelsea, what was the experience like working with Mitch in the studio and what do you feel he brought to your songs? How did you first hear of and/or connect with Mitch?
Chelsea: We met Mitch through our mutual friend, John Mays, who had suggested him as a possible fit to produce our record. After spending a few hours together, we felt super comfortable with Mitch. He seemed to really understand us, and the heart behind our music.
Bino: Our previous recordings had been self-produced, so we didn't know what to expect from working with Mitch or any producer. From the way he ran the studio to the way he coached us during recording sessions, he made the whole process feel natural and fun.
We felt like we could trust him with our songs, which I hear can be difficult for a lot of new artists like us. He didn't take our songs and turn them into something completely different, but just helped with fine-tuning to create the very best versions possible.
Andrew: What were the most significant things you learned from each other while creating Setting Sail?
Chelsea: Much of the album is about encouraging weary people. [When recording began], we had just finished a really hectic and tiring season. Within just three days, I had my last day of work as a foster care and adoption caseworker, my best friend got married and we flew to Nashville to make a record. Physically and emotionally drained, we were about to try to perform perfectly for our recording, but we felt so far from perfect.
Mitch didn't seem to care so much about us performing perfectly. He really wanted to capture the moments of performing passionately, trying to get an accurate snapshot of where we are in our journey. He helped us see that it's okay to be a little raw, and that even in our imperfections we could still make good music. And we could definitely still be used by God.
Mitch: I learned, again, that when it comes to creative expression and input, the whole is worth more than the sum of the parts. I may have an idea regarding an arrangement, or lyric, but they may take that idea to a totally different place than I expected … a better place. Neither idea would have happened apart, but together, a producer and an artist can make something greater than they could on their own.
Andrew: Mitch, you move comfortably between the Christian and mainstream music worlds. Why is this important to you? And how does it reflect your view of Christianity and culture?
Mitch: As a believer, I don't find myself in a gated Christian neighborhood, having only Christian friends, using a Christian plumber and a Christian doctor. In fact, a good number of my friends, if not most, don't believe the same things I believe, and that's okay.
I can speak freely about my faith, and they are free to speak about theirs, or the lack thereof. Often their perspective and attitude toward the world is more Christ-like and honest than many believers'. There are certain truths that are universal, and beautiful, and song-worthy — the search for something more, a desire to be loved, betrayal is hard, hope for a better future, "I just want to feel something," to name a few. These are Biblical subjects that are discussed in every genre.
I've actually found myself so enamored by the beauty of a voice or lyric that it leads me to worship, even if it wasn't the artists' intent. In my opinion, great music, wonderfully written words and lingering melodies transcend music worlds.
Andrew: "There are certain truths that are universal … and song-worthy." I like that. Bino and Chelsea, what is your perspective on oscillating between Christian and mainstream cultures?
Bino: Outside of music, moving between Christian and mainstream worlds is an everyday part of life for believers. We don't necessarily go to Christian grocery stores, ride Christian busses or live in Christian neighborhoods. But as we try to live by the Spirit in all settings, we feel that God uses us to be a light to believers and non-believers alike.
Chelsea: Musically, our influences come from both Christian and mainstream worlds. We've noticed that whether we perform in churches or bars, we actually get strikingly similar responses from people in both worlds telling us how they were encouraged or challenged by listening to our music.
Andrew: In your opinion, what makes a recording stand the test of time?
Bino: Wow! That's a big question for us measly rookies! [Laughs] I would say the music needs to be good in a way that isn't just part of a passing trend. I'd imagine if there aren't multiple generations of people that can get into it now, it probably won't translate as well in the generations to come.
I think the lyrics need to be fairly universally relatable, too. We listen to a lot of songs recorded before we were born where the lyric moves us today. When a song can eloquently say how I feel now, sixty years after it was written, I'd say that lyric is timeless. But what do I know? [Laughs]
Andrew: Mitch? What about you?
Mitch: I'll return to my previous answer about how wonderfully written words and lingering melodies transcend music worlds; it also transcends time. If you can capture the song without the popular tricks of the trade, then you've stumbled on to something timeless.
As a producer, with a studio, I have way too many toys at my disposal. My challenge is to keep it simple and real; that's what will stand the test of time. One of Coldplay's first records [Parachutes] will last many decades beyond their latest record. It's more honest, real, and a little raw … just like life. That is my hope for Mr & Mrs Something's record.
##
About Mr & Mrs Something: Following their marriage in 2012, Bino and Chelsea Peck began performing as Mr & Mrs Something, as well as writing and recording music for films. In addition to the four-song The Nativity EP, which released in 2013, they composed and produced the soundtrack for CLOSURE, a documentary chronicling an adoptee's search for her birth parents. The couple currently serve as worship leaders at Seattle's Calvary Christian Assembly. For more information, visit mrandmrssomething.com.
About Mitch Dane: Nashville producer, Mitch Dane, has worked on over 100 records, 5 of which are Grammy nominees. He won a Grammy award for his engineering, an ASCAP award for his songwriting and possesses over 20 years of production/engineering experience. Though most of his work can be heard on Rock, Roots/Rock and Singer/Songwriter records, Mitch continues to work fearlessly in other styles like Hip-Hop, Industrial and Bluegrass/Americana. In his own words: "I like to collect the best aspects of every genre of music and bring them together in hybrid productions." Mitch's studio, Sputnik Sound in Nashville, TN, was co-founded in early 2000 with the rock band, Jars of Clay. Having developed into a fully equipped facility for any type of recording project, the studio consists of a main tracking room, overdub room, control room, kitchen, lounge, and mixing/edit suite. For more information visit: mitchdane.com or sputniksound.com.
About Andrew: Andrew Greer is a multiple Dove Award-nominated singer-songwriter, author and co-creator of the innovative Hymns for Hunger Tour with Dove Award-winning singer-songwriter Cindy Morgan. His 2013 record, All Things Bright & Beautiful (Lucid Artist), held the #1 spot on Nielsen Christian SoundScan's Instrumental chart for 25 consecutive weeks. His first Christmas record, Angel Band: The Christmas Sessions, reached the Top 10 on iTunes' mainstream Singer-Songwriter chart and features collaborations with music legends Phil Madeira, The McCrary Sisters, Cindy Morgan and GRAMMY®-winning legend Sandi Patty. Andrew's songs have been recorded by artists like Jaci Velasquez, Nic Gonzales (of Salvador) and Seth & Nirva. His first book – Transcending Mysteries: Who is God, and What Does He Want from Us? (Thomas Nelson) – released last year. For more information visit: andrew-greer.com or hymnsforhunger.com.