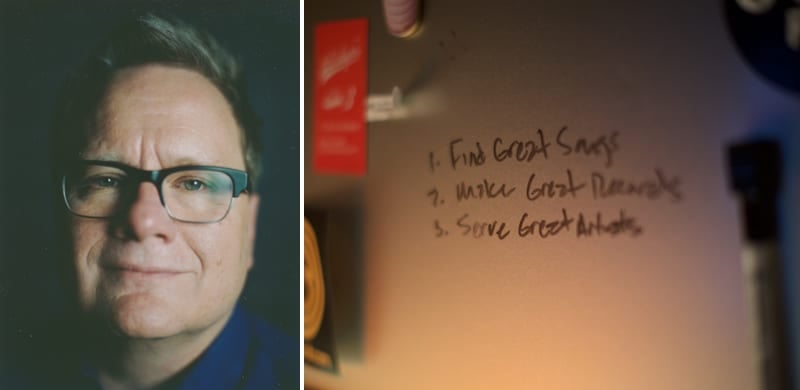 GET TO KNOW
STEVE FORD
---
Bands you loved growing up:
ELO, Kansas, Buffalo Springfield, Eagles, Flying Burrito Brothers, Poco.
Pre-Centricity artist you listen to frequently:
Rich Mullins.
Hobby you enjoy:
I'm big into movies. I really like documentaries like 'Muscle Shoals.'
Music prediction:
I think we're going to have a wave of protest songs because people are getting angrier and angrier at the world that they live in.
By Michael Nolan
You could say that Sir George Martin gave Centricity's Steve Ford his start. As a 14-year-old, he read a story about the Beatles' legendary producer and discovered "you can actually make a living recording music." That led him to a decade-long career as a recording engineer in L.A.; but, when his daughter was born 27 years ago, he switched to the office side of the industry to spend more time at home. Over the years, he's worked in marketing, A&R, and ultimately general management through a tour of labels comprised of Sparrow, StarSong, Mission, Myrrh, InPop and SRE.
In a free-ranging interview, we gained insights into the inner workings of his red-hot independent label, how they develop talent and how Lauren Daigle "accidentally" became a solo artist.
What's the hardest part of being a general manager?
Steve Ford: The hardest part is always the financial side—trying to embrace the creative while understanding the financial. If you go too much to the financial side, nobody wants your artist. If you go too far to the art side, you're closing down because you're not making money. It's a fine balance. And then you have mission. I read an article that said that tension is where the health is.
What do you miss about the "old days" in the music industry?
Ford: I miss magazines. I miss doing ads, because they were fun as a marketing person. In the old days, you could break an artist without radio. You get them in CCM, Campus Life, 7ball, and you could get them on tour without radio. Radio is the biggest, most influential part of Christian music [today]. We don't have the opportunity to develop artists outside of radio.
What excites you about the present?
Ford: If you want to make records, you can. There is no longer an artist saying, 'If only I was given the chance,' because they've all been given the chance. Everybody has a computer nowadays. When I started, it was $1,500 a day to rent the studio. Now with $1,500, you can buy a MacBook Pro, a digital converter and a microphone and you could be making a record right now… The opportunities are endless.
But there's more to it than buying hardware, right?
Ford: The greatest skills 20-year-olds need is to be able to finish. They're good starters; they're not good finishers.
What are the pluses of Centricity as an independent label?
Ford: The majors are the battleships. They move a lot of water; they have big guns. They could blow me out of the water. I'm the little speedboat. I can move fast. I can change directions quickly. It's really easy to get stuff done [at Centricity]. At a small label, the staff learns something about everything. I'm the No. 5 label at radio, and I don't ever envision being No. 4 because they release so many more singles.
Tell us about the unusual way you develop relationships with aspiring artists.
Ford: We have these indie artist retreats up in the Cascade Mountains of Washington. We invite 20-25 different artists—depending on how many are in bands—and we bring in producers and writers and just pour into their lives. We get to spend more time with them in a week than in a year of lunches.
And one of those retreats led to the "accidental discovery" of Lauren Daigle?
Ford: There was this band from Louisiana that one of our A&R guys found. We invited them and had an extra bed in the female room. They said, 'We have a female background vocalist we'd like to bring along.' We said, 'Great.' [The lead singer wasn't feeling well and ended up in the hospital for an appendectomy before having a chance to perform.] The band asked the background vocalist to take his place for a couple of songs during a little showcase we have. And that was Lauren Daigle. We were standing in the back asking, 'Where did this girl come from?!' She'd never written a song. She'd never toured. She'd done the 'American Idol' thing a little bit, but it was really God orchestrating this wonderful thing to bring her and us together.
Over the past year, her career has really soared.
Ford: God has shown her favor every step along the way. [Witness her K-LOVE award for "Worship Song of the Year," three Dove Awards and a 2015 GRAMMY® nomination for Contemporary Christian Album.] When was the last time the biggest new artist was a female vocalist? She has the 7th biggest-selling record of last year.
During the development process, what did you want the world to know about Lauren?
Ford: That she's one of the best vocalists you've ever heard. She's a worship leader at heart. She didn't write songs, so how do you build a fanbase for an artist who doesn't write songs but is an amazing singer? We started taking other people's songs and doing videos of her singing those songs… We did 18 videos [with] her in less than a year. We saw the YouTube video views starting to rise. She had 400,000 views before we dropped the first single. We sort of took a risk with the single 'How Can It Be,' a ballad from a female artist. It just exploded on radio. We went for adds in September 2014 and were Top 5 early 2015. We spent years working with her as a writer, because we didn't even know what the music was going to sound like.
Your approach is a little different for each artist.
Ford: Unspoken walked in with one song. We said, 'That song's a hit. Let's give that song to radio.' Every artist's journey is different. That's the fun part. It's not a science. Carrollton is one of the strongest live bands around. You take them on a radio tour and let them play live and people respond. They start their concerts with a minute-and-a-half version of 'Take Me Home, Country Roads,' the old John Denver song. We have conversations with them: 'You have to capture people's attention before you start your own songs or people are never gonna listen.' They do this a cappella four-part harmony and people are like, 'What?!' So now, it's all about getting them out for people to see them.
We planned to service Jordan Feliz's song to CHR and then go to AC. An AC programmer called up and said, 'Why can't I have this song? This is exactly the kind of song I want,' and he told about 40 other AC stations. Our radio guys were like, 'Sure, here!' We had 15 adds to major AC stations before we ever sent it out to AC radio. Right now it's four weeks at No. 1 AC.
If you could send a message to the Christian music audience, what would it be?
Ford: Please support your favorite artists. If you love this music, listen to this music and support it. It'll be around only if it has support.
For more info, visit www.centricitymusic.com.
##