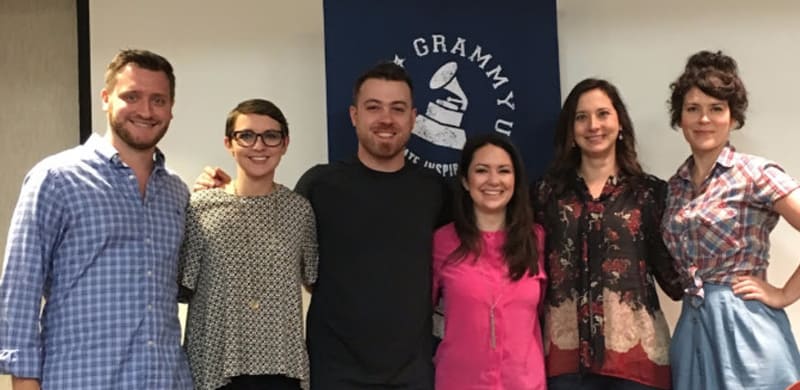 Full Circle Music Show continues to garner star-studded guests
Nashville, Tenn. (May 10, 2016) – April 25, Full Circle Music's award-winning producer and songwriter Seth Mosley took part in a GRAMMY U® event located at Nashville's Belmont University. GRAMMY U® is the student level of membership within The Recording Academy®, with over 8,100 current student members, who are pursuing a career in the recording industry. Belmont University's GRAMMY U® members attended the Q&A session, as Mosley answered questions regarding personal experiences and professional development in the music industry.
Full Circle Music continues to engage listeners in their latest podcast, the Full Circle Music Show, featuring top music industry influencers. Moderated by Seth Mosley, iconic guests on the show include Michael W. Smith (GRAMMY® winning artist), Tom Douglas (Lady Antebellum, Miranda Lambert and Tim McGraw), Tim Lauer (Taylor Swift, Blake Shelton and The Civil Wars), Neal Avron (Sara Bareilles and Fall Out Boy), Jason Turner (OneRepublic and Backstreet Boys) and Reid Shippen (Keith Urban and Kenny Chesney).
For more information on the Full Circle Music Show, visit: www.fullcirclemusic.org/podcast-media.
Get Connected With Full Circle Music
Website
Snapchat // fullcirclem
Hashtag // #FullCircleMusicShow
Twitter
Facebook
Instagram
Get Connected With GRAMMY U® and The Recording Academy®
Website
Twitter
Facebook
Instagram
##
Media Contact:
Velvet Kelm, Courtney Hyder, Kirsten Grenier & Brooke Huppenthal
the media collective
velvet@themcollective.com
courtney@themcollective.com
kirsten@themcollective.com
brooke@themcollective.com
(615) 591-7989
www.themcollective.com