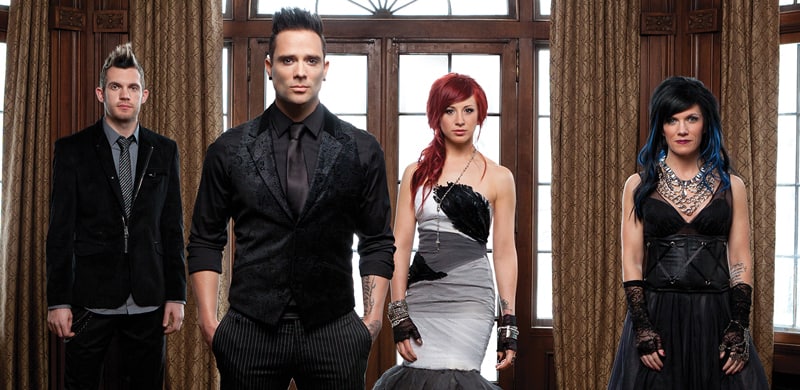 GRAMMY® Nominated Skillet Embarks On International Summer Festival Tour Hitting UK's Download, Germany's Rock Am Ring & Rock Im Park And More
Skillet's John Cooper teases short clip from upcoming album on social media to the excitement of thousands
Nashville, Tenn. (May 10, 2016) –GRAMMY® Nominated Skillet will embark on their 2016 international summer festival tour, kicking off in Denmark's Jelling Festival on May 28 with a wrap on July 3 in the Czech Republic. Skillet will travel to multiple international markets, hitting some of the most popular festivals across Europe and Russia including UK's Download, Germany's Rock Am Ring and Rock Im Park. The tour arrives shortly after their RIAA double platinum certification of top single "Monster," known as the biggest digital single in Christian music history. Skillet's 2014 headlining international tour sold-out more than half of all venues including London, Moscow, St. Petersburg, Warsaw, Antwerp and Cologne. Skillet's 2016 tour is the band's fourth trek across Europe.
On April 8, John Cooper revealed a short clip from Skillet's to be announced album on his personal social media accounts, available on Twitter and Instagram, with a social reach of nearly 1,700,000. The highly anticipated record will follow three years after their No. 1 Billboard Rock hit RISE.
For more information on Skillet's upcoming tour, visit www.skillet.com/tour.
Skillet International Summer Tour Routing
*All dates are subject to change
May 28 – Jelling, Denmark – Jelling Festival
May 31 – Stockholm, Sweden – Grona Lund Tivoli
June 1 – Oslo, Norway – Sentrum Scene
June 3 – Nuremberg, Germany – Rock Im Park
June 5 – Mendig, Germany – Rock am Ring
June 7 – Hohenems, Austria – Event Center
June 9 – Nickelsdorf, Austria – Nova Rock
June 10 – Leicestershire, UK – Download Festival
June 11 – Landgraaf, Netherlands – Pinkpop
June 12 – Paris, France – Download Festival Paris
June 15 – Kiev, Ukraine – Art-Zavod Platform
June 18 – Dessel, Belgium – Graspop Metal Festival
June 19 – Hinwil, Switzerland – Rock The Ring
June 21 – Perm, Russia – Sports Arena "Eaglet"
June 22 – Ekaterinburg, Russia – Teleclub
June 23 – Chelyabinsk, Russia – World Trade Center
June 25 – Ufa, Russia – Lights of Ufa
June 27 – Samara, Russia – MTL Arena
June 30 – Sopron, Hungary – Volt Festival
July 2 – Minsk, Belarus – Most Festival
July 3 – Hradec Kralove, Czech Republic – Rock The People
About Skillet
GRAMMY® nominated and platinum selling rock band Skillet has sold more than 11 million albums and singles in the U.S., amassing a diehard social following whose members number nearly seven million with nearly 400 million views on YouTube alone. Their most recent project, the Dove Award garnering RISE (2013), debuted at No. 4 on the Billboard Top 200 and No. 1 on the Billboard Rock and Christian charts, boasting four consecutive No. 1 radio hits and a late night television debut on Conan. The LP served as the follow-up to 2009 platinum blockbuster, AWAKE, which garnered three Billboard Music Awards and spawned four multi format hit singles. Included in those is the platinum selling "Awake & Alive" and two-time platinum single "Monster" whose companion video has generated more than 147 million YouTube views and was named the most streamed song in CCM history, helping make Skillet the only active rock band to achieve RIAA Platinum Certification in 2012. 2015 saw the Billboard Music Award winners continuing atop the charts as the famed magazine placed them in the top 10 in four year-end categories including "Rock Streaming Songs" and "Rock Streaming Songs." Known for their explosive live performance, Skillet treks the globe, headlining sold-out shows all over the world including the U.S., Europe, Brazil, Russia and more.
Get Connected With Skillet
Website
Twitter
Facebook
Instagram
YouTube
##
Media Contact:
Velvet Kelm & Courtney Hyder
the media collective
velvet@themcollective.com
courtney@themcollective.com
(615) 591-7989
www.themcollective.com