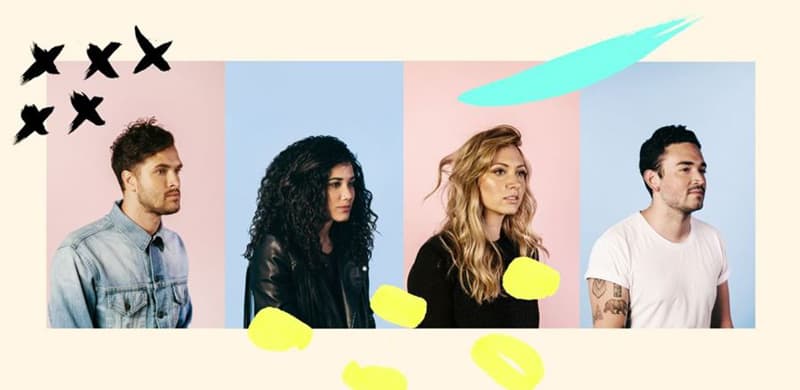 Pre-Order for Youth Revival available now
Nashville, Tenn. (February 17, 2016) – Hillsong Young & Free will be streaming the premiere of their newest album Youth Revival (Feb. 26) from the popular YouTube Spaces in Los Angeles on Feb. 23. Listeners from around the globe will be able to tune in at 4 pm P.S.T. to hear the newest songs from the Australia-based band, three days before the global release of their new record. Fans can pre-order Youth Revival now and receive "Real Love" and "Where You Are" instantly.
The single from the upcoming record, "Where You Are," is currently in the Top 5 at Hot AC. The music video supporting the song landed an exclusive video premiere on the homepage of MTV.com, plus broadcast rotation on MTV, MTV Hits and mtvU. Upon its digital release, "Where You Are" shot to Spotify's Top 15 on Viral 50 USA Chart.
The eclectic collection of songs found on Youth Revival articulate the deep desire of the human heart for something more. With their relevant EDM and pop sound, the project continues their own journey and experiences through their faith.
"Our hopes are that we will see something truly significant happen in our generation and that Young and Free makes a mark on the pages of history books," shares Hillsong Young & Free's Laura Toggs. "I look back at time periods and how they were marked by movements, and maybe we are a little audacious, but imagine if that's what our generation was remembered for, for being 'young and free.' We truly are believing to see a 'youth revival' take place in 2016."
About Hillsong Young & Free:
Hillsong Young & Free is a youth movement born out of Hillsong Church in Sydney, Australia. In this thirty year story, they have seen generations of people serving, leading and pioneering movements. Hillsong Young & Free is comprised of a collective of young people who come together to make music for youth and young adults everywhere. Their first album We Are Young & Free (2013) debuted to the No. 1 spot on the Billboard Christian/Gospel Chart. Also scoring a No. 1 debut, their most recent EP, This Is Living (2015), garnered a top 10 iTunes overall spot and received support from MTV, MTVHits and mtvU. With millions of social followers engaging in the social conversation, Hillsong Young & Free has scored two No. 1 radio singles. Their anticipated release of Youth Revival is due out in February 2016. Hillsong Young & Free fill stadiums across the globe and continue to push their positive message in the musical context of EDM and pop influences.
About Hillsong Church:
In August 1983, Brian and Bobbie Houston founded the Hills Christian Life Centre in the Hills District of Sydney, Australia. It has grown from a congregation of 45 to what is said to be the largest local church in Australian history. It has now expanded to be a global church with local expressions in significant cities; with churches in Australia, London, New York, Los Angeles, Paris, Cape Town, Stockholm, Germany, Kiev, Amsterdam and Copenhagen. Each week, tens of thousands of people across the globe call Hillsong Church 'home' and the reach, impact and influence of this local congregation is seen across many nations.
Get Connected with Hillsong Young & Free:
Website
Snapchat // hillsongyandf
Twitter
Facebook
Instagram
YouTube
##
Media Contact:
Courtney Hyder & Velvet Kelm
the media collective
courtney@themcollective.com
velvet@themcollective.com
(615) 591-7989
www.themcollective.com