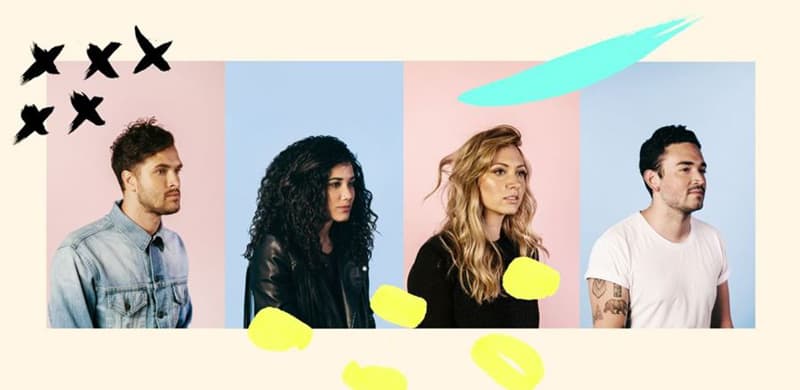 10 City Cross Country Circuit Kicks Off in Chicago on July 15th
LOS ANGELES (June 28, 2017) — GRAMMY® nominated Hillsong Young & Free will embark on a 10-city domestic tour of their acclaimed album Youth Revival. In a continuation of their sold out stateside shows, the summer leg of Youth Revival Nights will kick-off on July 15th in Chicago and feature special perks for deluxe and afterparty ticket holders including early entry, a live pre-show Q&A discussing all things worship, songwriting, leadership and ministry, and an exclusive afterparty hangout with the band. In addition to sharing selections from their latest album, Hillsong Young & Free will also unveil a brand new single that will be performed for fans during their summer tour circuit.
"We have worked hard to create an experience that we are believing to be special and unlike anything else," says lead vocalist Laura Toggs. "With all of our present challenges in the current climate, Young & Free is aimed at reaching young people and seeing them connect to the freedom found in Jesus. It will be fun, energetic and powerful, and I am believing that we truly will see a youth revival take place in your cities and nation."
The EDM/Pop group out of Hillsong Church continues to redefine Christian music to the masses with their projects, most recently an all acoustic re-recording of their chart-topping sophomore "Youth Revival" album that saw multiple No. 1's, landed in the Top 10 on Billboard's Digital Albums Chart and garnered the group its first GRAMMY® nomination.
Full summer tour routing for Youth Revival USA Tour:
July 15th 7:00 p.m. Chicago, IL (Life Changers Church – Hoffman Campus)
Jul 17th 7:00 p.m. Indianapolis, IN (Egyptian Room at Old National Centre)
Jul 18th 7:00 p.m. Detroit, MI (North Ridge Church)
Jul 20th 7:00 p.m. Washington, DC (The Fillmore Silver Spring)
Jul 21st 7:00 p.m. Charlotte, NC (Ovens Auditorium)
Jul 24th 7:00 p.m. Boston, MA (House of Blues)
Jul 25th 7:00 p.m. New York, NY (PlayStation Theater)
Jul 27th 7:00 p.m. Raleigh, NC (The Ritz)
Jul 28th 7:00 p.m. Atlanta, GA (Free Chapel – Gainesville Campus)
Jul 29th 7:00 p.m. St. Petersburg, FL (Jannus Live)
For complete tour details, please visit www.hillsong.com/youthrevivalnights.
About Hillsong Young & Free:
GRAMMY® nominated Hillsong Young & Free is a youth movement born out of Hillsong Church in Sydney, Australia. In this 30-year story, they have seen generations of people serving, leading and pioneering movements. Young & Free is comprised of a collective of young people who come together to make music for youth and young adults everywhere. Their first album We Are Young & Free (2013) and EP, This Is Living (2015), garnered a No. 1 spot on Billboard Top Christian /Gospel Albums Chart. With millions of social followers engaging in the social conversation, Young & Free has scored four No. 1 radio singles and support from the most prominent music outlets around the world. Young & Free continues to sell out shows across the globe, pushing their positive message in the musical context of EDM and pop influences. Their GRAMMY® nominated No. 1 album Youth Revival (2016) is available now.
##