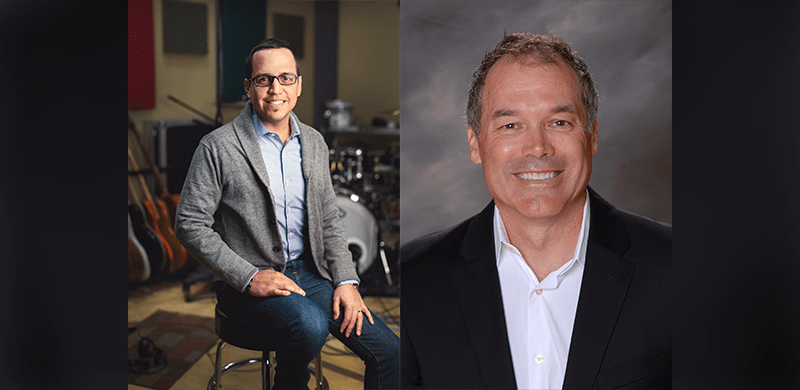 Recording industry executive Henry Alonzo, MBA named 2018 Alumnus of the Year;
Matthew Hansen of Orange receives 2018 Alumni Distinguished Service Award
IRVINE, Calif. (January 22, 2018) – Concordia University Irvine (CUI) today announced that Henry Alonzo, MBA, of Monrovia and Matthew Hansen of Orange have been named recipients of the 2018 Alumnus of the Year Award and 2018 Distinguished Service Award, respectively.
The Alumnus of the Year Award is given annually to an individual who is respected as an exceptional contributor and authority in his or her professional discipline and who has demonstrated outstanding qualities of character and leadership.
The 2018 Alumnus of the Year Award recipient is Founder and CEO of Adarga Entertainment Group, Henry Alonzo. The son of immigrant parents from Guatemala who grew up in East L.A. listening to mariachi bands near his home, today works with international award-winning artists in Latin, contemporary Christian, country, and pop/adult contemporary music, some of which have gone on to earn Latin Grammy Awards, Billboard Awards, and Dove Awards, and broken arena records. In September, Adarga produced and promoted a sold-out performance at Madison Square Garden for Miel San Marcos, a Christian band of three brothers from Guatemala who became the first-ever Latin Christian band to play at the venue. This month, one of Adarga's artists is up for a Grammy Award. Alonzo is also the director of the Music Entrepreneurial Studies program and assistant professor in the School of Music at Azusa Pacific University where he helped to develop and launch the university's Master of Arts in Music Entrepreneurial Studies program this past fall. Alonzo was also selected for his contributions to his alma mater's—Concordia Irvine—start-up program, a Hispanic initiative to grow the private university from an emerging Hispanic Serving-Institution (HSI) to a full-serving HSI. A first-generation college graduate himself, Alonzo has served as a speaker for the university's Latina Leadership Conference since its inception in 2016 inspiring future first-gen college students. He is a former TELACU David C. Lizarraga/Toyota Fellow. Alonzo's contributions to the recording industry include serving as a member of the Board of Directors for the Gospel Music Association, and a member of the National Academy of Recording Arts and Sciences, the Latin Academy of Recording Arts and Sciences, the Music Business Association, and the American Society of Composers, Authors and Publishers (ASCAP). Alonzo earned his Master's in Business Administration from Concordia University Irvine after earning his Bachelor of Arts in Commercial Music from Azusa Pacific University.
"I'm honored to be recognized for my career in music entertainment which emerged at Concordia over a decade ago," said Henry Alonzo.
The Distinguished Service Award is presented to an individual based on significant contributions through service to his or her community, church, school and/or alma mater. The 2018 Distinguished Service Award recipient is Dean of Academics at Orange Lutheran High School Matthew Hansen. Hansen's 33-year career at the private high school in the city of Orange spans from teaching to coaching to administration. He began working at the high school as a math teacher and basketball coach. Today, after teaching virtually every math course offered at the school, he teaches AP Statistics and serves as the director of the school's STEM Academy, a program he was instrumental in establishing. His day-to-day administrative responsibilities include being part of the team that hires faculty, as well as developing the master academic course schedule. He has coached various sports and in 1999 was named Orange Lutheran's Educator of the Year. Before earning his Master of Arts degree in Mathematics from California State University, Fullerton, Hansen earned his Bachelor of Arts degree in Mathematics from Concordia University Irvine.
"This unexpected recognition is very humbling," said Matthew Hansen. "I'm tremendously grateful to the Concordia Alumni Association for the affirmation, and to Orange Lutheran High School for giving me the opportunity to grow and flourish."
Both honors will be presented by the Concordia University Irvine Alumni Association at the university's homecoming on Saturday, February 3, 2018 at the campus in Irvine.
About Concordia University Irvine
Concordia University Irvine (CUI) is a non-profit Lutheran Christian liberal arts four-year university that prepares students for their vocations—their calling in life. Concordia offers undergraduate, graduate, and doctoral programs in education, nursing, theology, business, and athletics administration. CUI's undergraduate program is distinctive because of its nationally recognized core curriculum, Enduring Questions & Ideas, and its Lutheran heritage that provides a thoughtful and caring Christian community that lives out the theology of "Grace Alone. Faith Alone." Concordia is a U.S. News Top Tier Regional University and has been named by The Chronicle of Higher Education as one of the fastest growing private nonprofit master's institutions. The university is part of the Concordia University System, the second largest education ministry system in the United States just behind the Catholic Church. The NCAA DII private university enrolls over 4,000 students annually.
##