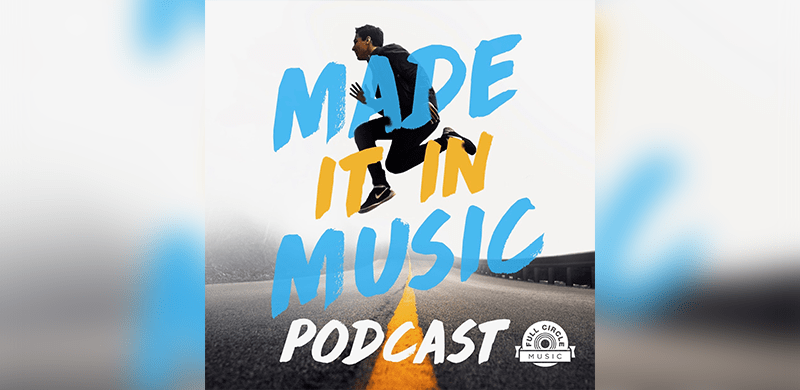 Show Plans Relaunch as Made It In Music Podcast on March 26th
Nashville, TN (Jan. 30th, 2018) – Full Circle Music Show is celebrating it's 100th episode and announcing plans to relaunch under the new name Made It In Music Podcast on Mar. 26, 2018. Featuring top songwriters, artists and music industry professionals, the Made It In Music Podcast will give listeners the tools and insight to aid in pursuing a full-time career in music.
For its 100th episode, Full Circle Music Show released a "Best Of" episode where Full Circle Music Staff reflected on favorite moments from the podcast including past interviews with Michael W. Smith, Ginny Owens, and more. Listeners can access all previous podcast episodes by visiting Full Circle Music's official YouTube Page. This will also be the home of all future Made It In Music Podcast episodes.
"As 2018 kicks off, we are seeing the music business change faster than most of us can keep track of. New technologies are enabling creators to take center stage, with little to no resources required. It is the most exciting time to be alive as a music maker. Yet, it is the most precarious of times – those who don't adapt, WILL be left in the dust," says GRAMMY® winner and Full Circle Music founder, Seth Mosley. "That is why we are re-branding the Full Circle Music Show, to the Made it In Music Podcast. This is a step forward in many ways, one of which, is to become the premiere weekly resource for anyone trying to navigate this crazy music business. Consider our first 100 episodes the BETA test. As great as they were, the best begins now."
While the original Full Circle Music Show focused on Christian music, the Made It In Music Podcast will cover all genres within the music business, with upcoming episodes featuring some of the biggest names in the industry including multi-platinum rockers Skillet and artist/hit songwriter Dave Barnes, with multiple No. 1s to his name including "Craving You" (Thomas Rhett) and "God Gave Me You" (Blake Shelton).
*For booking inquiries about Made It In Music Podcast, please email support@fullcirclemusic.com.
About Full Circle Music:
The GRAMMY® winning & Billboard Producer of the Year Seth Mosley stands as the mastermind behind some of the biggest hits in the CCM industry, helming No. 1 singles from for KING & COUNTRY ("Fix My Eyes"), Francesca Battistelli ("He Knows My Name"), Jeremy Camp ("He Knows") and more in one year alone. Altogether, Mosley's full-service production company, Full Circle Music, has contributed to over 20 No. 1 chart-topping songs and worked with artists, both signed and independent, including Skillet, Mat Kearney, TobyMac, Jon Foreman (Switchfoot), Newsboys and country acts like High Valley, Ricky Skaggs and more. The team writes and produces an average of 150 songs each year in their Franklin, Tenn.-based studio. Mosley and group unveiled the music production school Full Circle Music Academy, FCM Records and Songs for FCM Publishing with Dove Award winning Matt Hammitt as their first songwriter, followed by the signing of Riley Friesen. Focusing on crafting music for the future, Mosley is the curator of the Made It In Music Podcast which sits down with industry icons.
##