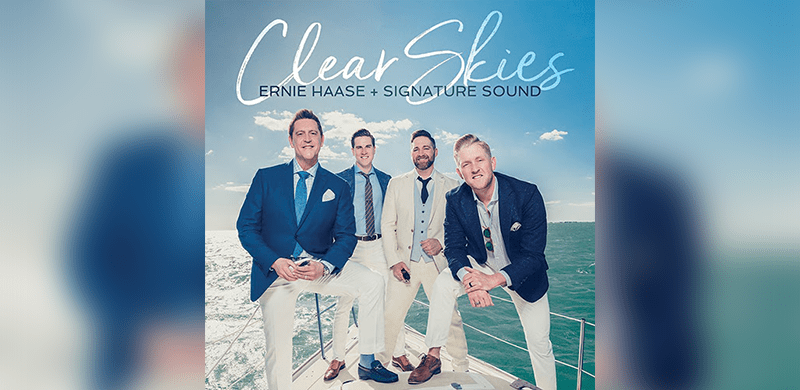 Nashville, TN (January 31, 2018) – Grammy® nominated and multi-award winning group Ernie Haase & Signature Sound have delivered a stellar forecast of exceptional music with the release of their brand new project on StowTown Records. Clear Skies, the first recording of new material in almost three years from the lauded group, is available now – in stores and via digital outlets.
This labor of love has been a two-year process, and group founder and tenor, Ernie Haase, is thrilled with the result. "When we started writing and recording songs for the new Clear Skies CD, we asked the Lord to give us (EHSS) a clear vision about the material for the project – and He did," recalled Ernie. "The songs on this recording are easy on the ears but lyrically deep and heavy on the heart. This is the most personal project that I have ever been a part of in my 30 years of ministry. We hope you are blessed by this offering."
The highly-anticipated release features inspirational and encouraging themes set to out-of-the-box musical moments and masterful production. This release delivers a cornucopia of musical styles and themes from the modern "My Hallelujah" to the 1975 Imperials classic arrangement of "Give Them All to Jesus" to the fresh and appealing "Sailing With Jesus."
This recording is already resonating with listeners and exceeding expectations – the first single, "Give Me Jesus," hit #2 on the national radio charts, while the concept video has exceeded half a million views across social media. The second single, "Clear Skies," has just been released to radio and is being well-received.
Ernie Haase & Signature Sound kicked off their Give Me Jesus Tour in support of Clear Skies. In concert, fans are finding intimate connections with the lyrics and the time of worship has been incredible. If this is any indicator, 2018 is bound to be a sunny year for EHSS.
Clear Skies is distributed by Sony/Provident and is available at your local Christian retailer, iTunes, Amazon, and wherever you find your favorite music – and always at www.ErnieHaase.com.
##