Mary Mary Reunion And Snoop Dogg Stellar Awards Debut Highlight An Unforgettable Night At This Year's 33rd Annual Stellar Gospel Music Awards, With an All-Star Line Up Of Performances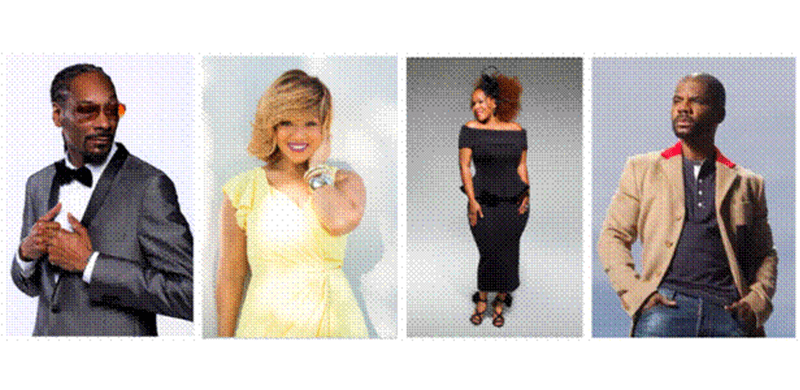 By Tasha Cobbs Leonard, Travis Greene,
Anthony Brown & group therAPy, Tye Tribbett,
Kierra Sheard, Ricky Dillard & New G And More
Renowned Annual Salute To Gospel Music
Set To Tape On Saturday, March 24, 2018
At The Las Vegas Orleans Arena
Premiering On TV On Good Friday, March 30 At 9 p.m. ET/8C
(CHICAGO) – Feb. 26, 2018 – Central City Productions announces a dazzling line-up of performers for the 2018 Annual Stellar Gospel Music Awards, including the reunion of contemporary gospel music's favorite sister act, Mary Mary (Erica Campbell and Tina Campbell), and the Stellar Award's debut of rapper, actor, and television personality Snoop Dogg, performing songs from his new gospel album "Songs of Love" at this year's show. Celebrated as a "transcendent night of gospel music," the 33rd Annual Stellar Awards promises to surpass its 'stellar' reputation, featuring performances by the genre's hottest acts. Performers scheduled to appear include: Tasha Cobbs Leonard, Travis Greene, Tye Tribbett, Anthony Brown & group therAPy, Kierra Sheard, KeKe Wyatt, Jonathan McReynolds, Tasha Page-Lockhart, Todd Dulaney, Koryn Hawthorne and Ricky Dillard & New G, among others. Returning to Las Vegas' Orleans Arena on Saturday, March 24, 2018 the Stellar Awards welcomes the return of the undisputed crown prince of contemporary gospel music, Kirk Franklin, as host.
The Stellar Awards telecast will premiere on TV One on Friday, March 30 at 9 p.m. ET/8 p.m. CT and air in broadcast syndication on 130 stations in more than 110 markets around the country March 31 – May 6, 2018.
Franklin is happy to be back in the role of host of the annual celebration. "Since my first step onto the Stellar Awards stage as a 23-year-old kid from Texas, I've lived, breathed and committed all I've had to this incredible genre called gospel," he stated. "To find myself now still blessed to serve the community I love so dearly as their host of the 2018 Stellar Awards, that young kid feels alive again and more grateful than ever. We're working hard to bring to the world the best and the brightest along with the icons and legends, the greatest night of God's music at a time when the country needs our melody the most. Thank you and I'll see you in Vegas."
This year's spectacular show open will feature Stellar Awards alum Erica Campbell reuniting with her sister Tina Campbell as the hit gospel duo Mary Mary for the first time in more than six years. The show will include an all-star tribute to the late, great Edwin Hawkins, with his sister Lynette Hawkins accepting the Edwin Hawkins Icon Award in his honor. Also expected to deliver stand out moments are the multi-platinum award-winning Snoop Dogg performing material from his new gospel album and collaborating with Tye Tribbett.
"Each year we strive to bring new and innovative performances and collaborations to the Stellar Awards and this year is no different, with the inclusion of mainstream hip-hop rapper and mogul, Snoop Dogg." stated Stellar Awards Founder, Don Jackson. "Snoop expressed his desire to release a gospel album in honor of his mom who is an evangelist and he's teamed up with Gospel superstar Tye Tribbett, there's no way we couldn't bring this explosive performance to the Stellar Awards stage."
2018 Stellar Award's multi-nominee and previous host, Anthony Brown, returns this year to perform and looks forward to sharing something special with the fans. "The Stellar Awards has always been such a blessing to gospel music creators and gospel music lovers worldwide. It provides for us a platform and opportunity to share our message and our gifts with the world," shared Brown. "I am so excited to take the stage again at this year's Stellar Awards. It's always so humbling and exciting. group therAPy and I are working on something special this year. I can't wait for you to see it."
Don Jackson will bestow special honors upon gospel greats who have made significant contributions to the genre. The incomparable Tamela Mann is this year's recipient of the James Cleveland Lifetime Achievement Award and the legendary Rev. Milton Biggham will receive The Ambassador Dr. Bobby Jones Legends Award. Stellar Honors Hall of Fame Inductees includes Kurt Carr, Ben Tankard, and Dr. Marabeth Gentry – President of the National Convention of Gospel Choirs and Choruses.
The Stellar Awards show taping is open to the public, with ticket prices ranging from $50 – $200 at www.ticketmaster.com.
The Stellar Gospel Music Awards Pre-Show is scheduled for Friday, March 23 hosted by Lexi Allen and Lonnie Hunter. Among the artists performing at the Orleans Showroom that evening: Next Generation Choir, Judah Band, Tasha Page Lockhart, Isaiah D. Thomas, Ruth La'Ontra, Bryan Popin and Jason Nelson.
The Stellar Gospel Radio Awards & Showcase will be held earlier on Saturday, March 24, honoring the top radio stations and announcers who most notably serve urban gospel music audiences. This show is also full of spirit-stirring performances by newcomers Isabel Davis, Gene Moore and Kelontae Gavin; seasoned sensations Donishisa Ballard and Jason Champion; and quartet group The Virginia Aires. The event is hosted by VaShawn Mitchell and Meta Washington and is the perfect kickoff to the big show the same day. Tickets for each event can be purchased at www.ticketmaster.com.
More of the biggest names in gospel and a few additional surprises are being added to the growing list of top performers and presenters appearing in this year's show. For more information visit us at www.thestellarawards.com. Follow us on social media for the latest news and updates about the greatest night in gospel!
About Central City Productions (CCP)
The Stellar Gospel Music Awards show is Executive Produced by Don Jackson, with Jennifer J. Jackson serving as Executive in Charge of Production. Michael Johnson will produce and direct this year's awards show. Erma Gray Davis is the President and Chief Operations Officer of Central City Productions. Founded in 1970 by Don Jackson, Chicago-based Central City Productions, Inc. is a distributor of original targeted programming to television and cable networks. CCP's award-winning television programs include the Black Music Honors, Stellar Tribute to the Holidays and Tribute to Mother's Day, The Black College Quiz Show Series, and Hispanic College Quiz, among many others. For more information, please visit www.ccptv.com.
SUMMARY OF 2018 STELLAR AWARDS TOP NOMINEES
Anthony Brown & group therAPy – 10 Nominations
Tasha Cobbs Leonard – 9 Nominations
J.J. Hairston & Youthful Praise – 9 Nominations
Travis Greene – 9 Nominations
Deitrick Haddon – 5 Nominations
Ricky Dillard – 5 Nominations
Marvin Sapp – 4 Nominations
The Williams Brothers – 3 Nominations
CeCe Winans – 3 Nominations
The Rance Allen Group – 3 Nominations
Bishop Paul S. Morton – 3 Nominations
Tina Campbell – 3 Nominations
Le'Andria Johnson – 2 Nominations
For More Information Visit: http://thestellarawards.com/
##