Artist Manager And Restore Haiti Founder Philip Peters Honored With Anderson University's Distinguished Young Alumni Award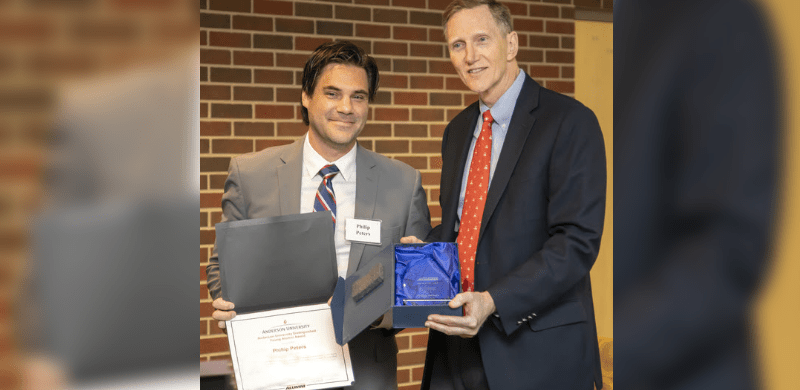 Nashville, Tenn. – Philip Peters of True Artist Management, founder of Restore Haiti and a 2002 graduate of Anderson University received the school's Distinguished Young Alumni Award distinction late last week. The honor comes post nearly two decades in the music industry alongside his development of Restore Haiti, an organization that feeds, educates and provides medical care for over 1,000 students in the country of Haiti. Anderson University has a history of being the roots to those in the music industry whose alumni include Bill and Gloria Gaither, Steven Curtis Chapman, Sandi Patty, Sidewalk Prophets and the 2018 Music Alum Award winner, Jon Mclaughlin.
"Being back on campus at Anderson reminded me how much I loved getting my education from a school that valued serving others," shares Peters. "I'm honored by this award and hope that it furthers Restore Haiti to a greater partnership with students, staff, and alumni."
Restore Haiti's inception dates back to 2005, five years before the devastating earthquake riddled the region. The work of nutrition, educating and providing medical care to children marginalized in Haiti has continued to grow throughout its 13 years. Restore Haiti directly employs over 50 Haitians to serve the over 1,000 students in three communities. In addition to the child sponsorship program, Restore Haiti entails disaster relief providing water and re-establishing agriculture for local farms, producing supplies and tuition for 60 schools as well as drilling wells for clean water in communities and prepares students for universities and trade schools to help provide a culture to go from poverty to provision. Peters hopes to continue the growth of Restore Haiti through more child sponsorships and partner trips aiming to take people from poverty to a new life of employment.
Peters has served on the True Artist Management team for 16 years. His sojourn with the long-time artist management company dates back to 7X GRAMMY® winner TobyMac's first solo record, Momentum, which has been followed by a string of RIAA Gold Certified albums. Peters continues to work with the multi-platinum selling artist who is now readying his first new record in three years, The Elements, out Oct. 12. In his position, Peters also works with GRAMMY® winner Mandisa, a working relationship that began following her journey on American Idol.
To get involved with Restore Haiti, visit www.RestoreHaiti.com.
##