Wayne Haun Honored with Middle Tennessee State University's Distinguished Alumnus Award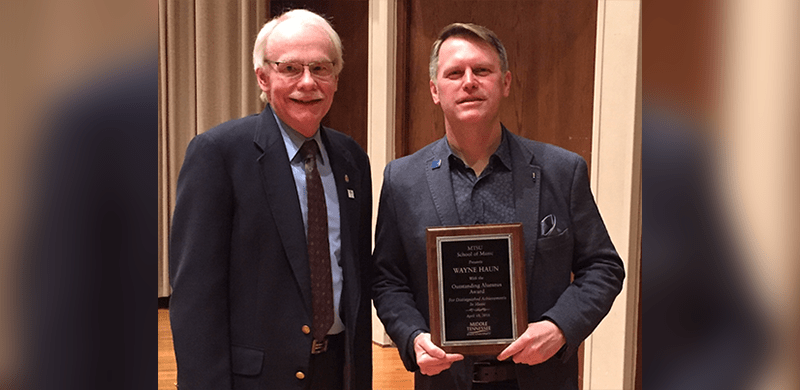 NASHVILLE, Tenn. (April 23, 2018) – Wayne Haun, multi-award winning producer and arranger, was honored with the Distinguished Alumnus Award from Middle Tennessee State University's School of Music. The honor was presented by Dr. Michael Parkinson, Director of the MTSU School of Music, during the annual Spring Honors Assembly at the university.
The honor presented was in recognition of Haun's contributions to music as an acclaimed arranger/composer, music industry and recording industry specialist and performer across several musical genres.
Wayne Haun is one of the most lauded and critically praised arrangers, composers, songwriters and producers of the modern era. He is a 7-time GRAMMY® nominee, a 21-time GMA Dove Award winner and a 3-time BMI Music Award winner.
In 2013, Haun released his debut jazz vocal recording, Old Soul. The release garnered attention as it took the number one spot on the iTunes Jazz chart.
Haun has written, produced, arranged and orchestrated for a variety of artists across multiple genres, including Celine Dion, Boyz II Men, Clay Walker, Jessica Simpson, Ernie Haase & Signature Sound, Rayburn, J. Mark McVey, Earl Scruggs and many more.
He is a founding owner of StowTown Records, one of Christian music's most highly-respected labels, garnering industry attention with multiple GMA Dove Awards, Grammy nominations and chart-topping releases.
##