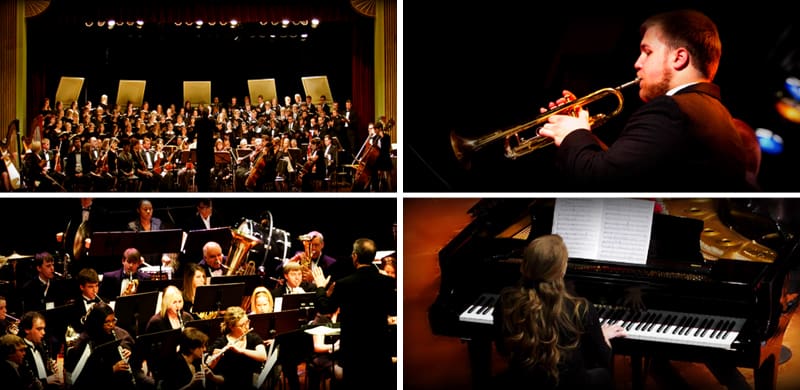 NASHVILLE, Tenn. (April 29, 2015) — Lipscomb University recently announced the formation of a School of Music that will expand its existing classical music program to include contemporary music undergraduate programs. The reorganization will allow the school to tap into industry resources available in Nashville as well as provide skilled professionals to help fill job demand.
Lipscomb's school of music has traditionally offered undergraduate degrees in music, music education, composition, and performance (vocal, piano and instrumental). Now a contemporary music component, beginning this fall, will include academic programs in songwriting and music production.
"We have carefully examined our current school as well as the demand of the music marketplace here in Nashville and the industry across the country," said Mike Fernandez, dean of the College of Entertainment & the Arts that houses the new School of Music. "A recent Chamber of Commerce study of Nashville's music industry shows that there is a real opportunity for budding independent, entrepreneurial musicians to learn their craft, to gain valuable experience and to pursue careers that will help fill the workplace demand for all facets of the music and entertainment industry."
The study, conducted in partnership with the Music City Music Council, found that the music industry helps create and sustain an estimated 56,000 jobs within the Nashville area, supports more than $3.2 billion of labor income annually and contributes $5.5 billion to the local economy for a total output of $9.7 billion within the Nashville metropolitan statistical area.
"It just makes sense to expand our degree offerings in the school of music. While there are many questions about the economics of the music industry, one thing we know is that it is not going away. By offering these degrees we are showing that we will continue to grow and change in the same way Nashville does," said Fernandez. "With this new approach to our school, we are making a statement to Nashville that we are serious about music and we are serious about training young minds that will artfully and faithfully contribute to the local economy and the general good.
The enhanced offering will increase opportunities for the university to collaborate with industry experts in the community.
"The name 'School of Music' honors the quality of our music making, and is important to the music professionals we collaborate with, to the music community at-large and to the gifted students we hope to attract," said Sally Reid, chair of Lipscomb's School of Music.
Industry experts say more music industry training and education are needed in Nashville.
"The timing for this kind of program at Lipscomb could not be better," said singer/songwriter Amy Grant, a six-time Grammy Award winner. "With no intention to reinvent the 'music business' wheel that MTSU and Belmont offer, Lipscomb is poised to develop a streamlined, vibrant creative arts and entertainment program that is flexible, is spiritually vibrant and that teaches students the importance of storytelling. Flexibility and innovation are key as is integrating the students into existing facilities to learn aspects of the creative arts. Nashville has endless resources. I hope we can do something at Lipscomb that has never been done before."
Producer and composer Charlie Peacock, Lipscomb artist-in-residence and Sr. A&R consultant at Downtown Music Publishing, agrees.
"The new Lipscomb University School of Music is right on time, especially when you consider the powerful combination of the present musical faithfulness of faculty and curriculum and the new emerging contemporary music program set for Fall 2015," said Peacock. "The School of Music offers a diverse and vocationally solid approach to music education, helping create the music of tomorrow in the hearts and minds of students today."
In addition to expanding its music program offerings, Lipscomb University has also developed partnerships with industry experts such as Peacock and others who serve as advisors and artists-in-residence for the program as well as a relationship with the Gospel Music Association, which has held its annual Dove Awards program on the Lipscomb campus the past two years with plans to continue that arrangement for at least the next two years. Earlier this month, the school became one of only 172 institutions around the world to receive the All-Steinway School designation after it purchased 16 Steinway pianos, to go along with the six already owned, to use Steinway instruments exclusively in the school.
The Lipscomb University School of Music is an accredited institutional member of the National Association of Schools of Music. The School of Music is also the first in the nation to require music majors to sit for the Associated Board of the Royal Schools of Music exams. Along with its academic offerings, a number of private lessons and ensemble opportunities are open to students including the A Cappella Singers, University Wind Ensemble, Jazz Band, Vocal Jazz Ensemble, Opera Workshop, New Music Ensemble, String Ensemble and various chamber groups.
For more information about Lipscomb's music program, visit music.lipscomb.edu.
##
Media Contact:
Kim Chaudoin
615.423.6001