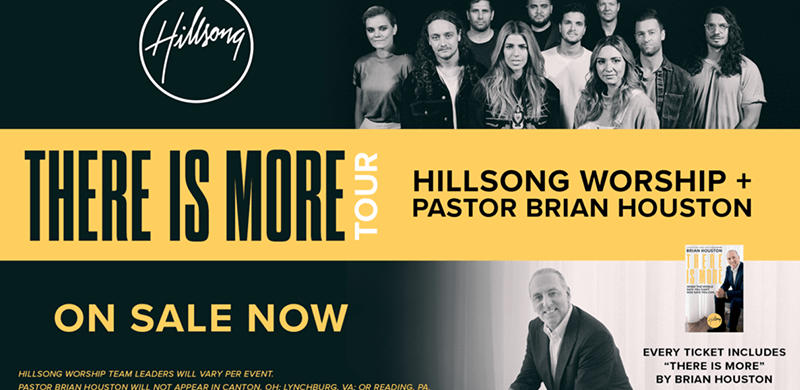 Spring Tour Brings a Unique Experience to 14 U.S. Cities this April!
Tickets Available Now!
Nashville, TN (Jan. 30, 2018) – Join Pastor Brian Houston and members of the GRAMMY® Award-winning Hillsong Worship team on their upcoming spring tour – There Is More Tour. Houston and members of Hillsong Worship from Australia will embark on a 14-city spring tour this April across the south-eastern United States. They are bringing a message of God's lavish love and endless possibilities to megachurches, arenas and venues from Texas to Minneapolis and Dallas to DC.
"Hillsong Worship comes out of the heart of our church – Hillsong – and the heartbeat of that culture has been pioneered and shaped by our senior pastors, Brian and Bobbie Houston," said Hillsong Worship member Brooke Ligertwood, who along with Ben Fielding wrote the song "What A Beautiful Name." The song recently won Contemporary Christian Song of the Year at the 60th Annual Grammy® Awards.
"As a team firmly planted in and serving our local church, Hillsong, we are fortunate enough to be able to sit under the teaching of our senior pastor often and are thrilled that so many more people will get to experience that this year through the There Is More Tour!" Ligertwood said. "We are really expectant that during these nights as we magnify the Lord in worship we will experience His presence powerfully and transformatively together, and that as we sit under the Word of God we would be challenged, encouraged and inspired to live the lives He has called and equipped us to live."
Brian Houston is the Global Senior Pastor of Hillsong Church, a worldwide family of congregations comprising more than 100,000 weekly attendees. Considered by many as a leading voice in the shaping of contemporary leadership values and church culture, Houston is highly regarded for his bold innovation and passion for the local church. He is a visionary when it comes to empowering the next generation of leaders with fresh Biblical teaching, relevant worship and accessible community.
Houston's latest book. There Is More, shows how – with God's power – life can exceed every earthly expectation. (-credit https://brianchouston.com/there-is-more/). "When you surrender control and follow God's guidance, you become empowered and equipped to do the impossible, reach higher, and go further than you could have ever imagined—giving Him all the glory," he said. "By building our lives around godly principles, surrounding ourselves with wisdom, and living for a cause greater than ourselves, we can effectively live out God's purposes and have an enduring impact."
Houston's infectious love for people and his empowering brand of leadership is beamed to millions of people weekly through his program, Brian Houston @ Hillsong Television, and draws tens of thousands annually to Hillsong Conference events in Sydney, London and New York City. He is also the President of Hillsong International Leadership College and the Executive Producer of countless gold and platinum albums that have come from the Hillsong Worship team.
His latest book will be available for purchase everywhere on March 20. It is also available for pre-order through online retailers listed at https://brianchouston.com/there-is-more/. Each ticket purchased for the There is More Tour includes entry to the event and a copy of Brian Houston's latest book. Tickets are on sale now. For more details go to https://hillsong.com/tours/.
There Is More Tour U.S. Spring Dates:
*All dates subject to change.
4/5 Austin, TX Shoreline Church
4/6 Baton Rouge, LA Bethany Church – BAKER
4/7 Dallas, TX Verizon Theatre
4/9 Memphis, TN Life Church
4/10 St. Louis, MO Grace Church – St. Louis
4/12 Minneapolis, MN Grace Church – Minneapolis
4/13 Peoria, IL Northwoods Community Church
4/14 Hoffman Estates, IL Life Changers International Church
4/17 Fort Wayne, IN Allen County War Memorial Coliseum
4/19 Canton, OH* Faith Family Church
4/20 Lynchburg, VA* Thomas Road Baptist Church
4/21 Reading, PA* Diamond Credit Union Theater @ Santander Arena
4/23 Boston, MA Orpheum Theatre – Boston
4/24 Washington, DC Hylton Memorial Chapel
*Brian Houston will not appear at Canton, OH; Lynchburg, VA; or Reading, PA. Hillsong Worship team members may vary by city.
##