Tina Campbell and Husband Teddy Campbell Announce Creation of Upcoming Web Series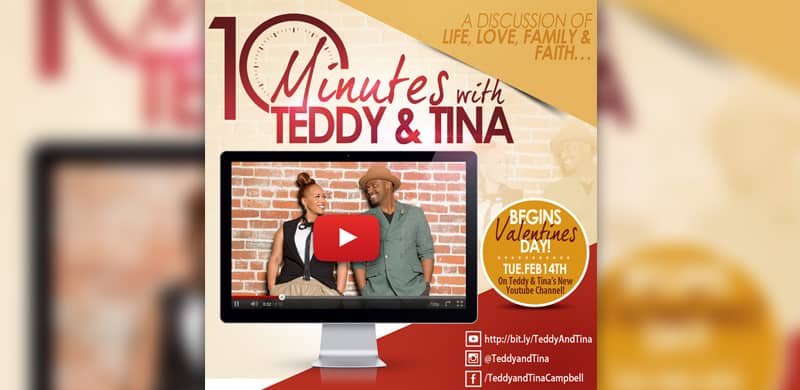 The award winning soloist and multi-Grammy® recording artist Tina Campbell, one-half of the iconic Gospel sister star duo, Mary Mary, and her husband Teddy Campbell announce their upcoming web series called 10 Minutes with Teddy and Tina. Created and produced by the husband and wife team of 16 years, the series is simply a discussion of the couple's perspective on life, love, family and faith. The series will debut on Valentine's Day, Tuesday, Feb 14th, 2017.
Life is so much better when we live and learn, when we face and overcome challenges, when we forgive and rebuild, when we create and love, when we don't just exist, but thrive! Our journey has taught us these lessons and we'd like to share them with you on our new web series 10 Minutes With Teddy and Tina. -Teddy and Tina Campbell
Subscribe to 10 Minutes with Teddy and Tina HERE.
Although Teddy and Tina have spent almost two decades working as award winning music industry professionals (drummer/producers/singers/songwriters/author/reality TV personalities), the two have collaborated creatively in the last few years, touring as well as writing, producing, and recording, most notably on Tina's award winning solo debut, It's Personal. They have chosen to continue their team work, using their platforms together to advocate love, forgiveness, truth, accountability, healthy marriages, healthy families, and ultimately healthy faith.
After revealing the struggles in their personal lives on Tina's WE tv original hit series show Mary Mary, many became familiar with the challenges that faced these very public figures; the same challenges that destroy countless families across this nation and this world. Viewers experienced, in real time, how devastating marital infidelity can be on a couple and their family. Nevertheless, Teddy and Tina's choice to honor their vows to love and cherish through better and worse, enabled the world to witness what a journey towards healing involves, and ultimately what total reconciliation in marriage looks like.
This couple is eternally grateful to now live a reality they describe as "God's depiction of a beautiful love story."
They acknowledge that faith in The Holy Trinity and application of The Holy Bible is responsible for their life transformation and for the salvation of their marriage and family. They are firm believers that "the God of heaven can do far more in, with, and through us than we could ever imagine, if we just choose Him." As a result of this belief, they have committed their lives to advocating this message and helping other marriages and individuals to transform and heal by the same means.