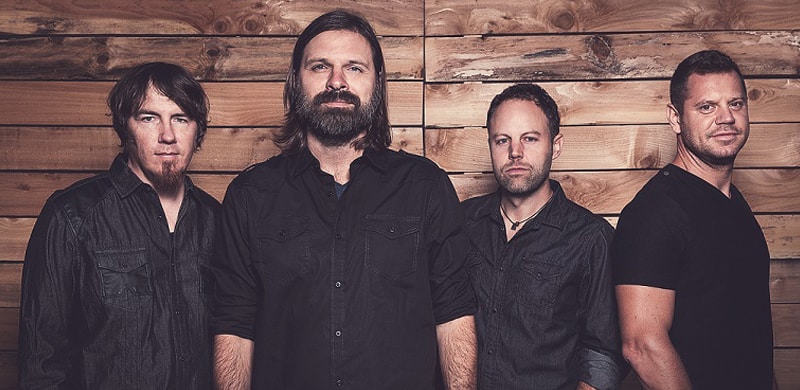 THIRD DAY'S "Soul On Fire" Awarded as Most Played Song of 2015 at Christian Radio
The "Lead Us Back" Spring Tour 2016 Dates Announced, Tickets On Sale Now
8 January 2016 – Franklin, Tenn – 2015 was a great end-of-the-year wrap up for THIRD DAY. With the announcement of their GRAMMY® Award nomination for "Soul On Fire," it was also revealed that "Soul On Fire" was the most played song at Christian radio in 2015. The single was officially named the No. 1 Christian Airplay Song of the Year, according to Billboard's Christian Overall National Audience year-end chart. The editorial team at iTunes also selected "Soul On Fire" as one of the year's top tracks of 2015.
"Soul On Fire," the first single from THIRD DAY's 2015 album Lead Us Back: Songs of Worship, was No. 1 at radio for 11 weeks, gives THIRD DAY their 12th GRAMMY® Awards nomination. Already with four GRAMMY's to their name, they are recognized this year in the Best Contemporary Christian Music Performance/Song category. The 58th Annual GRAMMY Awards will be held Monday, February 15, 2016 at Staples Center in Los Angeles and broadcast live on CBS from 8-11:30 p.m. (ET/PT).
With the success of their fall tour run, THIRD DAY will continue their "Lead Us Back" Tour into this spring. Kicking off in Raleigh on February 25 and wrapping March 20 in Washington D.C., tickets for each show on the tour are now on sale. Brandon Heath will again join the band as support on the spring leg. Tour dates are listed below, but be sure to check THIRDDAY.com for the most updated schedule.
FEBRUARY:
25th – Raleigh, NC at Raleigh Memorial Auditorium
26th – Chattanooga, TN at Tivoli Theater
27th – Canton, OH at Canton Civic Center
28th – Wilkes-Barre, PA at FM Kirby PAC
MARCH:
3rd – Lexington, KY at EKU Center for Performing Arts
4th – Fort Wayne, IN at Auer Performance Hall
5th & 6th – Nashville, TN at War Memorial Auditorium
10th – Omaha, NE at Ralston Arena
11th – Sioux Falls, SD at Washington Pavilion
12th – Minneapolis, MN at Grace Church in Eden Prairie
13th – Cedar Rapids, IA at Paramount Theater
17th – Troy, OH at Hobart Arena
18th – Johnson City, TN at Freedom Hall Civic Center
19th – Salisbury, MD at Wicomico Civic Center
20th – Washington, DC at Hylton Memorial Chapel in Woodbridge
##
ABOUT THIRD DAY:
During the last decade, Atlanta-based multi-platinum rock band THIRD DAY (comprised of members Mac Powell, David Carr and Mark Lee) has racked up 32 No. 1 radio singles and sold more than nine million albums, including two RIAA 2x multi Platinum, two RIAA multi Platinum, five Platinum and 12 Gold certifications. A Georgia Music Hall of Fame inductee (2009), THIRD DAY has garnered 24 career GMA Dove Awards (and 42 nominations), four GRAMMY® Awards (with 12 career nominations), an American Music Award (and four AMA nominations), and multiple ASCAP honors, including its coveted Vanguard Award for songwriting.
Long known as Christian music's premier live band, THIRD DAY has played for audiences reaching into the millions all around the world. THIRD DAY has been featured on top media outlets including "The Tonight Show with Jay Leno" (NBC), "The Late Late Show with Craig Ferguson" (CBS), CBS' "60 Minutes," ABC's "Nightline," USA Today, the New York Times, and even graced the cover of Billboard Magazine, which called THIRD DAY "one of the best rock bands, period."
For more information, please visit
Website
Twitter
Facebook
Instagram
YouTube
Media Contact:
Merge PR | Stacie Vining
Stacie@MergePR.com | 615.260.4679