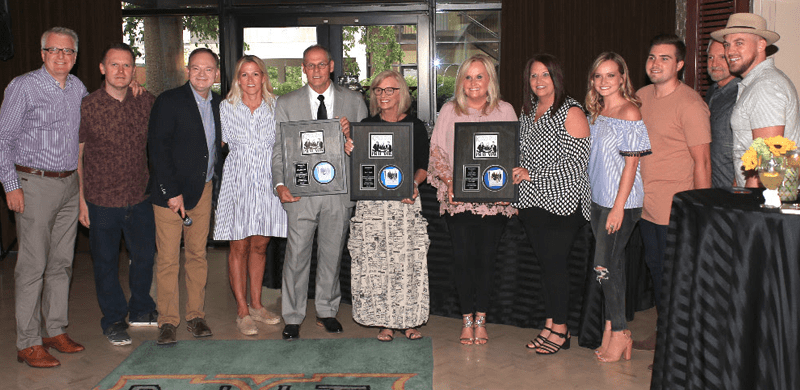 Hendersonville, TN (August 15th, 2017) – Daywind writer, Gerald Crabb, has reached a pivotal milestone that many writers can only dream of. During a reception held at BMI earlier this month, the Dove Award winning songwriter was honored with a plaque commemorating his 25th #1 song on the Singing News radio chart. The song, 'I Choose Christ,' was recorded by Karen Peck & New River and reached the top position for the July 2017 radio charts. Crabb's co-writers on the hit, Sue Smith and Jason Cox, celebrated milestones of their own, with their 10th & 5th #1 song, respectively.
"It has been an honor to be a part of the songwriting career of Gerald Crabb," shares Ed Leonard, President of Daywind. "His songs have touched the lives of millions for the cause of Christ. We look forward to celebrating many more achievements with him as his writing reaches new heights."
Rick Shelton, VP of Daywind Publishing, adds, "The Creator seems to bless each generation with a few poets whose ability to lay lyric atop melodies that move hearts is extraordinary. Gerald Crabb belongs among those exceptional songwriters. As his publisher and his friend, I am so very proud of him for this truly significant achievement. Twenty-five number one songs is a remarkable number and the countless lives touched is the eternal result."
Daywind Music Publishing services an impressive roster of acclaimed songwriters including Lee Black, Matthew Browder, Jason Clark, Jason Cox, Gerald Crabb, Aaron & Amanda Crabb, Adam Crabb, Janice Crow, Chris Cron, Dustin Fenison, Michael Fordinal, Ricky Free, Marty Fundeburk, Karen Peck Gooch, Joseph Habedank, Justin Kintzel, Tim Lovelace, Devin McGlamery, Josiah Prince, Aaron Rice, Kyla Rowland, John Darin Rowsey, Brandon Sharp, Belinda Smith, Sue Smith, Aaron Wilburn and Dianne Wilkinson.
For more information, visit facebook.com/daywindpublishing or info@daywindpublishing.com.
##