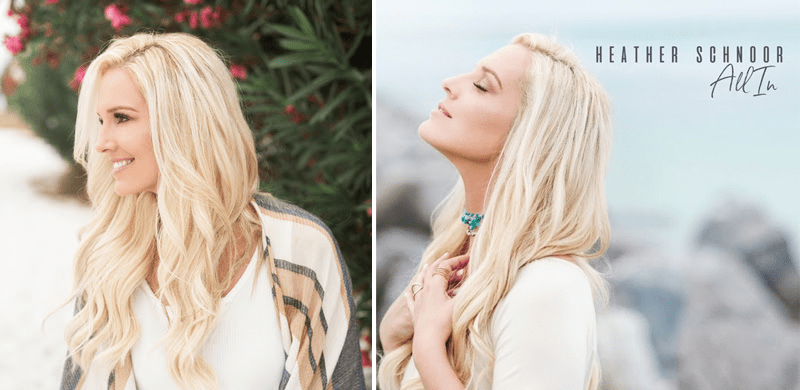 NASHVILLE, TENN (SEPTEMBER 8, 2017) – Nashville based singer-songwriter, Heather Schnoor, debuts her brand new single "All In" today on iTunes and Apple Music. Produced by Jeff Pardo (Hillary Scott, Rhett Walker Band, Francesca Battistelli), the single is the follow-up to Schnoor's debut 2012 EP This One's For You, which reached the Top 40 on the iTunes chart. "All In," written by Schnoor, Pardo and Hillary McBride, is the first single off her upcoming EP due to release early 2018.
A Midwestern native and opera singer, Schnoor moved to Nashville to pursue country music, performing at Ryman Auditorium and a televised event for the Tennessee governor and presidential hopeful Mike Huckabee. However, the confusion Schnoor felt inside made her question her purpose in life and in music. "I was in a really unhealthy environment, feeling like I was enabling so many things that didn't represent who I was or who I longed to be," explains Schnoor. "So I ended up taking some time away from the country music world, and eventually walked away for good. A lot of people were surprised and confused because labels were showing interest, but I was not fulfilled."
After a life-changing trip to Haiti to work at an orphanage, Schnoor began volunteering for various non-profits and ministries. Her life transformed again when she visited the ocean, "My favorite place in the world is the ocean," shares Schnoor. "It's the water, the sunsets, the mountains. I feel closest to God when I see that huge never-ending body of water. It was there that I had a pivotal conversation with the Lord. I was tired of all the distractions blurring my focus and the lukewarm lifestyle I was living. I wanted to be all in with my community, with my church, my friends, my family, but more importantly with Him. So it was there, as the waves tumbled onto the shore, that I surrendered to the Lord and said 'I'm All In.'"
Schnoor is now choosing to embrace her story instead of fearing it, with ministering to others in her brokenness, like being more open about her struggle with severe dyslexia, her passion for single mothers (her mom was one for many years) and her insecurities about getting on stage and leading worship when she feels there's still so much to learn. With this new perspective on life, Schnoor has partnered with Fashionable and Mudlove for merchandise, pictured above. The wave ring by Fasionable was handmade by a woman overcoming great challenges and is dedicated to creating sustainable business opportunities for women to promote economic change. The coffee mug by Mudlove provides one week of clean water to someone in need in the Central African Republic. Click here to view more available merchandise.
For more information, please visit HeatherSchnoor.com and the social links below.
Twitter
Facebook
Instagram
##