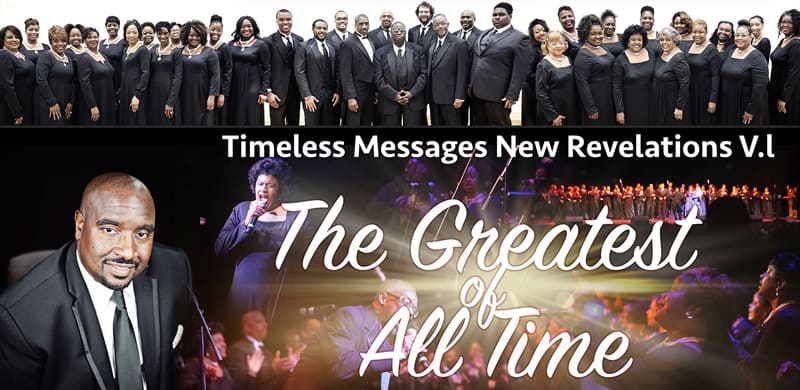 Award-Winning Gospel Ensemble The Tennessee Mass Choir Celebrates First Nationwide Debut With Release Of Single "The Greatest Of All Time"
MEMPHIS, Tenn. (July 26, 2016) — Known as one of the most talented & respected mass choirs in the country, The Tennessee Mass Choir makes their first national introduction to the gospel music scene with their highly-anticipated debut single, "The Greatest of All Time." Already making a splash with sales on iTunes, Google Play, & other digital music retailers, supporters & fans worldwide have eagerly embraced the simple, yet powerful message within the choir's lead single.
"The Greatest of All Time" was produced by award-winning, Grammy-nominated producer Jason Clark and composed by nationally acclaimed songwriter, Tony B. Dickerson. Shontelle Norman-Beatty of the Edwin Hawkins Singers, compliments the song with her rousing lead vocals, adding to the choir's robust backing vocals.
Delivering precision in the single's final mix is Grammy award winning engineer, John Jaszcz. Noted for his chart topping mixes for artists such as Kirk Franklin, Hezekiah Walker, Tye Tribbett, & a host of others, Jaszcz fused together the song's unique components, resulting in a high-energy praise & worship anthem that is sure to become an instant favorite in the landscape of gospel music.
"Our main focus is to reach all audiences and get congregations singing again. The song is a proclamation to the world that God is indeed the greatest of all time," said Jason Clark, the choir's director. A song with a timeless message and a new revelation, "The Greatest of All Time" seeks to uplift and inspire listeners of all ages.
"The Greatest of All Time" is the lead single from the choir's forthcoming album entitled Timeless Messages, New Revelations, Vol. 1. The album is slated for release in January of 2017.
Recently, The Tennessee Mass Choir has had phenomenal opportunities to record and perform with artists such as St. Paul & The Broken Bones, and legendary rock band Foreigner.
Therefore, allowing them to take their exuberance for ministry beyond the boundaries of gospel music.
"The Greatest of All Time" is currently available on iTunes, Google Play, Amazon, & other digital music retailers.
Watch "The Greatest of All Time" promotional video:
For more information about The Tennessee Mass Choir, please visit:
Official Website
Facebook
Twitter
Instagram
##
Media Contact:
Jason Clark, Director
Tel: (901) 503-4611
Email: jclark@tnmass.org