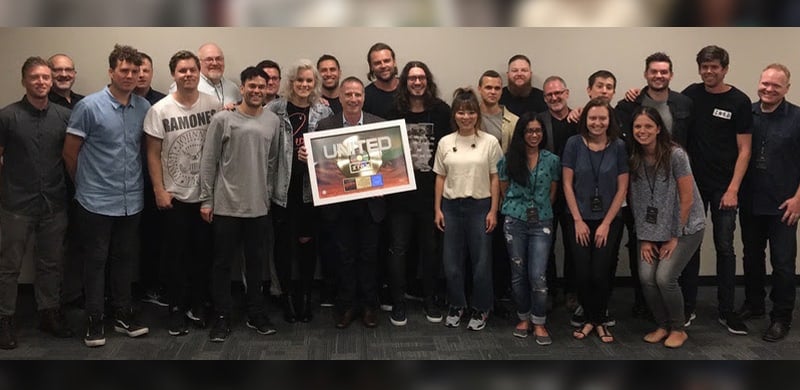 Pictured: Hillsong UNITED with Capitol Christian Music Group CEO Bill Hearn and team during a stop at Bridgestone Arena in Nashville, Tenn. on their EMPIRES U.S. tour.
Hillsong – Let Hope Rise – Original Motion Picture Soundtrack to release on August 12 in advance of film
Nashville, Tenn. (August 1, 2016) – Hillsong UNITED's 2013 release of Zion garnered RIAA Gold Certification, totaling more than 500K in sales. Of the songs found on Zion is "Oceans (Where Feet May Fail)" which spent a record breaking 45 weeks at No. 1 on Billboard's Hot Christian Songs Chart and was the first Christian song to hit Billboard's Hot 100 Chart. Most recently, the platinum selling song was honored with a 2016 Billboard Music Award for "Top Christian Song."
In July, Hillsong UNITED surprised fans by releasing Of Dirt And Grace – Live From The Land, a LIVE visual take on songs from their best selling EMPIRES recorded and filmed at Biblically historical locations throughout Israel. Upon its release, the digital album topped the Soundscan Praise & Worship Chart, hitting No. 2 on the Billboard Contemporary Christian Chart, No. 2 on Soundscan Christian/Gospel Digital Album Chart and top 40 on the Billboard Top 200. Hillsong UNITED will wrap the final leg of their U.S. EMPIRES Tour this week at Chicago's United Center.
Hillsong – Let Hope Rise – Original Motion Picture Soundtrack will street on August 12 in advance of the upcoming film. Included in the album are some of the most beloved hits from the ministry to date like "Touch The Sky," "Mighty To Save," "Hosanna" and "Oceans (Where Feet May Fail)." The 11 track project features performances from Hillsong UNITED as well as Hillsong Worship and Hillsong Young & Free. The movie Hillsong LET HOPE RISE will release on Sept. 16 in partnership with Pureflix. The film follows Hillsong UNITED as they record an album and explores the history of Hillsong, a 30-year journey from a church in the Sydney suburbs to an international ministry.
Hillsong – Let Hope Rise – Original Motion Picture Soundtrack Track Listing:
With Everything
Touch The Sky
Mighty To Save
Oceans (Where Feet May Fail)
This I Believe (The Creed)
Broken Vessels (Amazing Grace)
Aftermath
Break Free
Relentless
Hosanna
The Stand
About Hillsong UNITED:
The heart of UNITED is to create music that reveals the truth of who Jesus is. In studio and out of the studio, on tour or at home, Hillsong UNITED is committed to writing songs that speak truth, create a unique sound, connects with churches, individuals and ultimately connects people everywhere with God. Fronted by worship leaders Taya Smith, Joel Houston, Jad Gillies, JD and Matt Crocker, the team is an evolving collaboration of pastors, worship leaders, musicians and songwriters -­- all intentional about giving voice to a generation passionate about God. Everything UNITED does, whether it be from recording or writing songs, to playing them in front of people and all that goes with that, it's an expression of a really extraordinary God doing what only He can do through really ordinary people who love Him, want to serve Him and to build His Church. To simply serve God and allow Him to do what only He can do has always been the team's desire.
About Hillsong Church:
In August 1983, Brian and Bobbie Houston founded the Hills Christian Life Centre in the Hills District of Sydney, Australia. It has grown from a congregation of 45 to what is said to be the largest local church in Australian history. It has now expanded to be a global church with local expressions in significant cities; with churches in Australia, London, New York, Los Angeles, Paris, Cape Town, Stockholm, Germany, Kiev, Amsterdam, Copenhagen and Phoenix. Each week, tens of thousands of people across the globe call Hillsong Church 'home' and the reach, impact and influence of this local congregation is seen across many nations.
Get Connected with Hillsong UNITED:
www.hillsong.com/united
Facebook.com/HillsongUNITED
Instagram.com/HillsongUNITED
Twitter.com/HillsongUNITED
YouTube.com/HillsongUNITEDtv
Snapchat – Hillsong.UNITED
##
Media Contact
Velvet Kelm & Courtney Hyder
the media collective
velvet@themcollective.com
courtney@themcollective.com
(615) 591-7989
www.themcollective.com