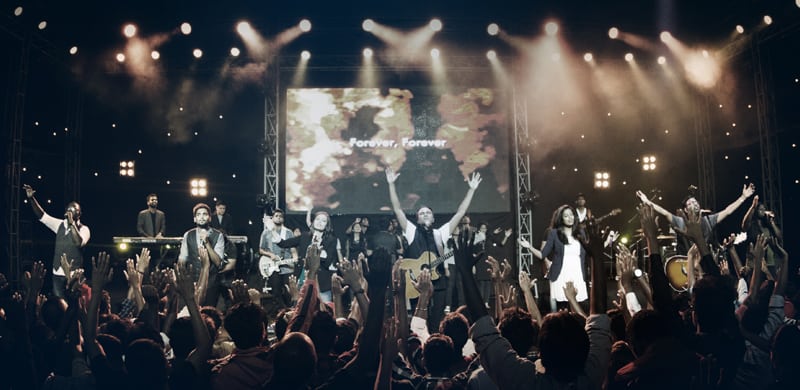 Pearl City Worship's, We Won't Be Silent, Hits No. 1 on iTunes in India, Releases Worldwide March 18
Grammy-nominated, two-time Dove Award-winning Producer of the Year, Ian Eskelin, discovers a gem in the City of Pearls, Hyderabad, India. Amidst a population of over 1.25 billion people in India, seven-plus million in the city of Hyderabad alone, Eskelin stepped into Pearl City Church earlier this year and found a vibrant worship team leading thousands in praise to their Creator, all in English. Signing Pearl City Worship to Radiate Music, Eskelin announces that the group's first international album, We Won't Be Silent, is set to release March 18, 2016 with The Fuel Music distribution.
Already released in India, Pearl City Worship's debut album, produced by Eskelin, soared to No. 1 on the iTunes "Religious" sales chart, topping Hindu, Muslim and all other religious recordings in India. In a city of multiple religions, social and economic bifurcation, and almost two million living in slums, the light of Christ is shining through the music and message of Pearl City Worship.
"Impacting culture is what I feel sets Pearl City apart of other churches in our city," says Pearl City Church Pastor, Scott Norling. "We have a unique culture from within for sure, but what matters most to us is not as much what is going on inside, but our impact outside the church."
"I think God strategically put us here in Hyderabad so we can pull down Heaven into this place," adds Worship and Creative Pastor of Pearl City Church, Allen Ganta. "They have a hundred million gods here. They don't mind adding Jesus into this pantheon of gods, but where is the real truth? After looking for answers everywhere, and praying to all these gods, it's only after you find Jesus that you'll have the answer for everything."
That is the message of the dynamic and declarative opening track, "The Answer," from We Won't Be Silent, which is featured in the music bed of the video introduction to the band found below:
Pear City Worship EPK from Skartland Productions on Vimeo.
Other stand out tracks on the album include "The One Who Saves Us," a song that has so shaped Pearl City Church that its lyrics are literally written on the church's walls. The track "My Strong Hope" anchors this church that has faced profound persecution, while the prayerful "Where You Are" is a cry for God's presence.
Prior to meeting Eskelin, Pearl City Worship had an interest in recording music that was being written for its local community, but failed to find the necessary infrastructure in an India inclined toward Bollywood music. "Then, one day," Ganta recalls, "Ian walks into our church. We asked, 'What do you do?' and he said, 'I'm a producer from Nashville. I make music.' It was a Godsend."
Eskelin, who has recorded more than 50 Top 10 singles in the United States alone, including 18 No. 1 songs, and is a go-to, hit-making songwriter and producer (Francesca Battistelli, Sidewalk Prophets, Chris August, 7eventh Time Down, etc.), knew right away that he wanted to be a part of the music pouring from the City of Pearls.
"What I saw that day was a vibrant, exciting church where the chaos of the world was outside – poverty, people living in straw huts, cows walking down the street – and you walk through these doors and you see a thousand people praising God with guitars and vocals and smiles on their faces," says Eskelin.
When We Won't Be Silent hits North America and other English-speaking parts of the world this year, listeners will not find a strong accent, a stereotypical sitar or Bollywood-style theatrics, but rather anthems of prayer to God and declarations for Him in a city and a nation thirsty for rescue.
The full Pearl City Worship, We Won't Be Silent, track listing follows:
1) The Answer
2) The One Who Saves Us
3) Hold My Forever
4) Love Song
5) My Strong Hope
6) Awake
7) Still
8) Where You Are
9) This City
10) His Love (Hallelujah)
About The Fuel Music:
Established in 2008, The Fuel Music & Management, LLC, is one of the leading independent distributors of music though all physical and digital channels internationally and enjoys a growing base in artist merchandise sales. Based in Tennessee, the Fuel team brings nearly 70 years of combined music industry experience in record label operations, major label distribution and marketing, and artist management for artists ranging from upstart bands to GRAMMY Award nominated, multi-platinum artists. More information on the company can be found at www.thefuelmusic.com.
##
Media Contact:
Rick Hoganson
Hoganson Media Relations
615-459-9870
Hoganson@comcast.net