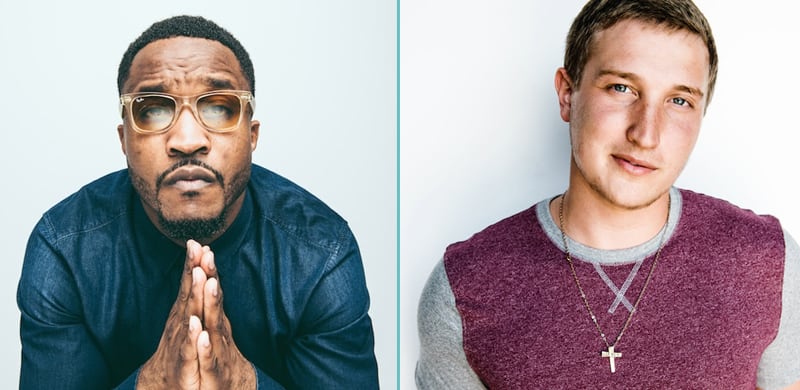 Pictured L-R: Young Noah, Ty Brasel
NASHVILLE, Tenn.—First Company Management (FCM), one of Christian music's leading multi-faceted entertainment firms, announces the creation of Level Change Music. Helmed by industry veteran Chris Chicago, the rap/hip hop management division launches with the signing of acclaimed Atlanta-based rapper Young Noah, as well as newcomer Ty Brasel, who was recently named to Rapzilla.com's prestigious "15 Freshmen of 2016" list.
Young Noah's latest single, "Long Way to Go (feat. Audio Adrenaline)," is currently impacting CHR and Rock formats and is now available at iTunes.
"I am beyond thrilled for this new adventure," says Chris Chicago, general manager, Level Change Music. "We have many exciting announcements ahead, and I truly believe the Lord is going to use us mightily in Christian hip hop. The team at FCM is world class and I'm honored to work alongside them."
"Chris' experience in Christian hip hop is second to none," says Dave Wagner, general manager, First Company Management. "Pairing his A&R skills and personal relationships with artists with FCM's time-tested artist development and touring philosophies should provide opportunities for some of today's freshest talents to impact fans on a broad scale."
Chicago has nearly two decades of experience in radio promotions and music marketing. Founder and president of Shamrock Media Group, he promoted RED's history-making "Fight Inside," the only single to debut at #1 on any Christian chart in 2008, and he has worked with some of Christian music's biggest names, including Lecrae, Switchfoot, Newsboys, Natalie Grant, Casting Crowns, and Audio Adrenaline, among many others. Chicago also serves as host of the #1 syndicated Christian hip hop radio show, "Rapzilla.com LIVE," heard in more than 70 markets around the world.
First Company Management was established in 1995 by Christian music visionary Wes Campbell. Anchoring the firm's roster are Platinum-selling Newsboys and two-time GRAMMY® Award winners Audio Adrenaline. FCM also represents GRAMMY®-nominated singer/songwriter and Gotee recording artist Ryan Stevenson; acclaimed pop/rock bands 7eventh Time Down, Abandon and Ashes Remain; hip-hop recording artist Rapture Ruckus; chart-topping singer/songwriter Jonathan Thulin; and country artist Lexi Larsen, among others.
For further information, visit First Company Management.
##
Media Contact:
Brian Smith, President
Emily Kohl, Vice President
turningpointpr.com