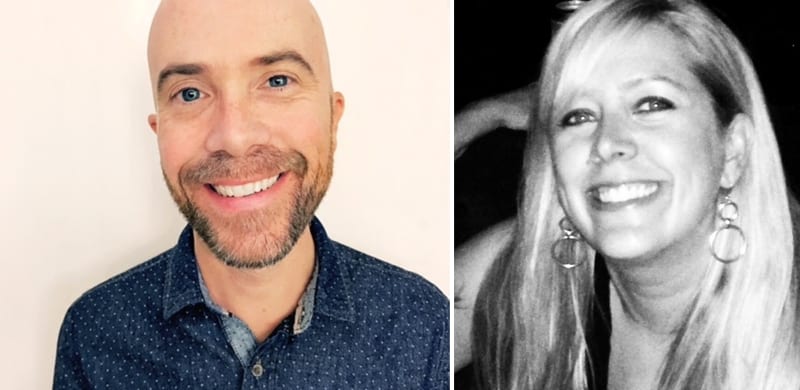 Brian Thiele and Jill Tomalty to Join Executive Team
Nashville, Tenn. (Jan. 13, 2017) —- Black River Christian announced today the appointment of two highly respected music veterans to the executive team. Brian Thiele will serve as Vice President, Radio Promotion for Black River Christian and Jill Tomalty joins as the Senior Director, Artist Management and Development for Black River Christian's in-house management company, Thrive Management. Thiele may be reached at bthiele@blackriverent.com and Tomalty at jtomalty@blackriverent.com. Both can also be reached at 615-780-3070.
"I am so excited to be a part of the Black River family and I'm looking forward to growing our partnerships with radio," said Thiele."There's such a good energy here already and I can't wait to see what the future holds."
Thiele received his Bachelor of Arts degree from James Madison University in Harrisonburg, VA before moving to Nashville. Thiele's first positions were as Promotion Coordinator at MCA Records and Lost Highway Records. In Jan. 2004, he became Director of Promotion/Northeast at Vivaton Records before joining EMI CMG as Manager, National Promotion. Most recently, Thiele rose to Senior Director, National Promotion at Word Entertainment.
"Brian impressed me with his knowledge of Christian music, passion for making a difference, and his desire to lead Black River Christian's radio promotion into the future," said Black River Entertainment CEO Gordon Kerr. "I can't wait to see his impact on our company and our roster!"
Tomalty received her Bachelor of Arts degree from Western Michigan University and her Master's degree from Oakland University. She began her music industry career at RCA Label Group before becoming an independent consultant through her own company, Noteworthy Nashville. She served as Director of Marketing & Brand Management at both Word Entertainment and Provident Label Group, Director of National Promotion at Flying Island Entertainment, and most recently as Vice President of Media & Marketing at Grassroots Promotion.
"I have been working with Hannah Kerr and Black River Christian for the last 18 months, and I am beyond thrilled to now be here full-time, in a role where I can be a part of helping build the management, label and artist roster," said Tomalty. "The Black River staff is dedicated, and they serve their artists with excellence, humility, and I'm so honored to be a part of this team."
"In life and business, you meet people that you know are meant to play an important role along the journey," said Kerr. "Jill Tomalty is one of those incredible people. Her wisdom, knowledge of the genre and genuine love for people and music make her the natural fit for Thrive Management. Those who know Jill, have the opportunity to see life lived out to the fullest! Her quality leadership has already had an impact on our company."
Both will oversee the development of Hannah Kerr's career, with Thiele leading the radio promotion team and Tomalty serving as artist manager. Her single, "Radiate," going for adds at radio on Jan. 27, is already receiving early airplay from WAY-FM radio network. Co-written by Kerr and her brother, Josh, who has had two No. 1 country hits with the GRAMMY nominated Kelsea Ballerini, along with Jordan Reynolds, the song is from Kerr's first full album, Overflow. Featuring ten additional tracks, seven of which were co-written by Hannah Kerr, Overflow will be physically released in Spring 2017 and is digitally available now.
Hannah Kerr was featured on two major tours in 2016, Casting Crowns "The Very Next Thing Tour" and Building 429's "Christmas in The Round Tour," with 2017 bringing more high-profile exposure for the talented singer/songwriter with upcoming radio promotion tours and press coverage in Simple Grace Magazine, JUCE TV, and CCM Magazine, among others. More updates: www.hannahkerrmusic.com, www.facebook.com/HannahKerrMusic, www.twitter.com/hannahkerr.
ABOUT BLACK RIVER CHRISTIAN
In September of 2015, Casting Crowns' Mark Hall, veteran producer/Sawyer Brown frontman Mark Miller, and Black River Entertainment CEO Gordon Kerr, combined their talents and passions to create Black River Christian. Based in Nashville, Tenn., Black River Christian is committed to spreading the Gospel of our Lord and Savior Jesus Christ through artists who are committed to ministry through music. Partnering with Provident Label Group for distribution, the label officially entered into the Christian music this fall at the Christian Music Broadcasters Momentum conference in Orlando, Fla. to debut their first artist, Hannah Kerr. She has already shared the stage with Matt Maher, Jon Guerra, I Am They, and most recently Casting Crowns on their "The Very Next Thing Tour" in Fall 2016. Kerr's first full-length album, Overflow, releases Spring 2017. www.blackriverchristian.com.
##
Media Contacts:
Janet Bozeman/Bozeman Media
615-472-8417 – janet@bozemanmedia.com

Dawn Delvo/Black River Entertainment
615-968-4999 – Dawn@BlackRiverEnt.com