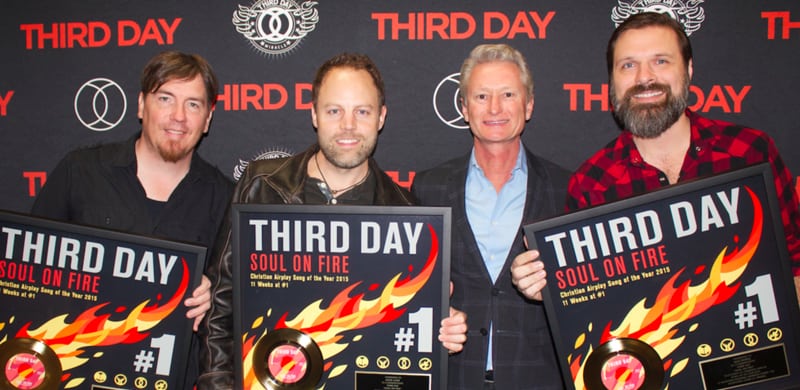 Pictured L-R: THIRD DAY's Mark Lee and David Carr, Provident Label Group President & CEO Terry Hemmings, THIRD DAY's Mac Powell
THIRD DAY PRESENTED WITH NO. 1 "SOUL ON FIRE" PLAQUE AND FOR MOST PLAYED SONG OF 2015 AT CHRISTIAN RADIO
"Lead Us Back" Spring Tour 2016 Runs Through March; THIRD DAY To Tour With Steven Curtis Chapman For The First Time In April And May
Band Appears In "Miracles From Heaven" Out In Theaters March 16
8 March 2016 – Franklin, Tenn – During their sold out "Lead Us Back" Tour stop in Nashville this past weekend, the members of the multi-platinum selling band THIRD DAY were presented with plaques for their No. 1 single, "Soul On Fire." Holding the top spot for 11 weeks at radio, this GRAMMY®-nominated song was the most played at Christian radio in 2015. "Soul On Fire" was also officially named the No. 1 Christian Airplay Song of the Year, according to Billboard's Christian Overall National Audience year-end chart, and iTunes' editorial team selected "Soul On Fire" as one of 2015's top tracks.
THIRD DAY continues their highly-successful "Lead Us Back" Tour, which wraps on March 20th in Washington D.C. Then on April 14th and running through May 7th, for the first time ever the band will join labelmate Steven Curtis Chapman on the road for a 15-city tour across the U.S. Each night of the tour will surely be an unforgettable evening of music as they will share the stage and be performing each other's hits. Dates for this unique tour are listed below, but be sure to check THIRDDAY.com for the most updated schedule.
THIRD DAY will also appear in the movie release from Sony Pictures Entertainment, "Miracles From Heaven," featuring Jennifer Garner and releasing March 16th. In the film THIRD DAY performs their chart-topping single "Soul On Fire" and their current single "Your Words."
LEAD US BACK TOUR DATES:
March 10 – Omaha, NE at Ralston Arena
March 11 – Sioux Falls, SD at Washington Pavilion
March 12 – Minneapolis, MN at Grace Church in Eden Prairie
March 13 – Cedar Rapids, IA at Paramount Theater
March 17 – Troy, OH at Hobart Arena
March 18 – Johnson City, TN at Freedom Hall Civic Center
March 19 – Salisbury, MD at Wicomico Civic Center
March 20 – Washington, DC at Hylton Memorial Chapel in Woodbridge
"SCC3D – THIRD DAY TOGETHER WITH STEVEN CURTIS CHAPMAN" TOUR DATES*:
April 14 – Little Rock, AR at The Church at Rock Creek
April 15 – Jackson, MS at Broadmoor Baptist Church
April 16 – Memphis, TN at Mud Island Amphitheater
April 17 – Springfield, MO at Juanita K. Hammons Hall For The Performing Arts
April 21 – Birmingham, AL at Alabama Theater
April 22 – Charlotte, NC at Ovens Auditorium
April 23 – Newport News, VA at Ferguson Center For The Arts
April 24 – New York, NY at Beacon Theatre
April 28 – Atlanta, GA at The Fox Theater
April 29 – Shreveport, LA at Municipal Auditorium
April 30 – Dallas, TX at Verizon Wireless Amphitheater
May 4 & 5 – Indianapolis, IN at Northview Church
May 6 – Clarkston (Detroit), MI at Mt. Zion
May 7 – Cincinnati, OH at Taft Theatre
*Dates subject to change, to confirm most up to date information, please click here.
##
ABOUT THIRD DAY:
During the last two decades, Atlanta-based multi-platinum rock band THIRD DAY (comprised of members Mac Powell, David Carr and Mark Lee) has racked up 32 No. 1 radio singles and sold more than nine million albums, including two RIAA 2x multi Platinum, two RIAA multi Platinum, five Platinum and 12 Gold certifications. A Georgia Music Hall of Fame inductee (2009), THIRD DAY has garnered 24 career GMA Dove Awards (and 42 nominations), four GRAMMY® Awards (with 12 career nominations), an American Music Award (and four AMA nominations), and multiple ASCAP honors, including its coveted Vanguard Award for songwriting.
Long known as Christian music's premiere live band, THIRD DAY has played for audiences reaching into the millions all around the world. THIRD DAY has been featured on top media outlets including "The Tonight Show with Jay Leno" (NBC), "The Late Late Show with Craig Ferguson" (CBS), CBS' "60 Minutes," ABC's "Nightline," USA Today, the New York Times, and even graced the cover of Billboard Magazine, which called THIRD DAY "one of the best rock bands, period."
For more information, please visit:
Website
Twitter
Facebook
Instagram
YouTube
Media Contact:
Merge PR | Stacie Vining
Stacie@MergePR.com | 615.260.4679