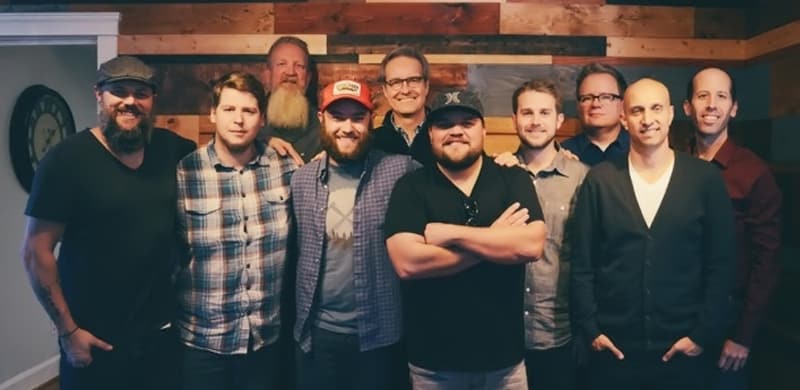 Left to Right: Jon Poole, David Hart, JJ Weeks Band; Scott Brickell, Brickhouse Entertainment; Cody Preston, JJ Weeks Band; John Mays, Centricity Music; JJ Weeks; Jon Sell, Steve Ford, Chad Segura, Ben Stauffer, Centricity Music
JJ Weeks Band to Join Centricity Music Artist Roster
Debut Full Length Album to Release April 2016
Nashville, Tenn. (November 23, 2015) —- Centricity Music announced today the signing of veteran group, JJ Weeks Band. The group's debut full-length album is being produced by Jonathan Smith (Tim Timmons, Mia Fieldes) and will release early April 2016, with the first single going for adds at radio in February. The Macon, GA based band is comprised of lead singer/songwriter JJ Weeks, bassist David Hart, drummer Jon Poole and guitarist Cody Preston.
"Centricity Music is so excited to be working with the JJ Weeks Band," says Jon Sells, Manager of A&R, Centricity Music. "We were drawn to the band for its incredible work ethic, passion to reach people with its music and JJ's great vocal ability. More importantly, each member of the group has been involved with ministry since a young age and has a genuine heart for impacting fans with Christ's message. Add their incredible talent that has been honed for over a decade, and you have one of the most respected bands in the Christian music industry."
"It is always a humbling experience and an honor to write and choose the right songs for a new record. Our prayer is to have songs that will touch the listener and give them hope in a tough situation, or celebrate with the people who are on the mountaintop," explains Weeks. "We're excited to be part of such a great team like Centricity and thankful for the support they have given through the process already. We can't wait for everyone to hear the new album!"
JJ Weeks Band has been performing together for 12 years and has released five independent albums. The sixth project, All Over The World, was the first national label record that released in 2013, and the second single, "Let Them See You," ranked No. 9 on the 2014 Billboard Hot Christian Songs chart and remained on Billboard's National Audience Chart for 29 weeks. The seasoned musicians have built a loyal following of fans by touring over 120 dates a year across the country and has toured with Winter Jam Spectacular, MercyMe, Unspoken, among many others. At the same time, the band has been able to branch out with its music being featured in the major motion picture, God's Not Dead. The bridge from the song "Screaming Outloud" was used in the movie, and the tune "Save Us" was featured on the God's Not Dead soundtrack.
About Centricity Music:
Centricity was founded in 2005 with a commitment to artist development and stylistic diversity. Based in Franklin TN, artists include Aaron Shust, Andrew Peterson, Carrollton, Jared Anderson, Jason Gray, JJ Weeks Band, Jonny Diaz, Jordan Feliz, Lauren Daigle and Unspoken. The company's mission is to enable their artists to create life-changing experiences for the world. Providing label, management and publishing services, Centricity is a family owned organization and they like it that way. For more information on Centricity Music, please visit: www.centricitymusic.com.
##
Media Contact:
Janet Bozeman
615-472-8417
janet@bozemanmedia.com