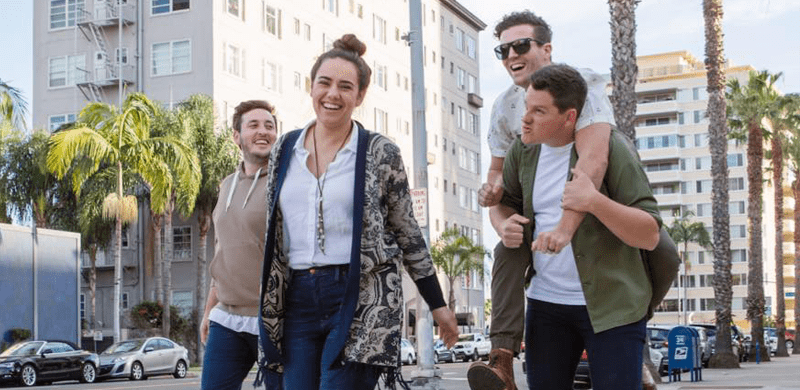 "Higher" receives early recognition from radio and listeners; EP Clarity to Release January 2018
NASHVILLE, TN. (August 1) They may be new to the scene, but For All Seasons is already making an impression within the Christian music community. Having signed with Centricity Music earlier this year, the four-person band released their first single, "Higher," in July and will continue to roll out more singles in the upcoming weeks. Clarity, their debut EP through Centricity, is set for a January 2018 release.
"Higher" has received quick acclaim from audiences, with one review deeming the single as "one of the most honest, heartfelt, and enjoyable songs this year." The song hit the Top 4 of iTunes' Hot Track chart for the Christian & Gospel genre on its release date and has attained multiple adds at radio. It's also been added to popular streaming playlists such as Spotify's Top Christian Hits, Top Praise & Worship, and more. "Higher" currently has over 300,000 listens on Spotify; in addition, its lyric video has over 40,000 views on YouTube.
"We're so appreciative that people are loving and sharing "Higher," For All Seasons member Jeff Luckey says. "There really is joy and freedom found when we relinquish control and choose to trust in a God who is always good and whose ways are always higher—and that's our hope for people who hear this song."
The Southern-California band's additional singles will come out digitally the first Friday of each month for the remainder of 2017. The next, "Bigger Than," will be available August 4, followed by "No Other" September 1. This unique continual-release journey serves as a fitting introduction for the band, whose modern-pop sound will be on full display in their 7-song EP Clarity.
"We're getting more and more pumped to share our next singles," Luckey adds. "Throughout this process, we're trying to be vigilant about honesty, passion, and work ethic, because we genuinely believe that these songs can help people connect with Jesus. The rest is up to Him. We're excited to see what happens!"
For All Seasons is currently wrapping up a busy summer of leading worship at various Christian camps, as well as putting final touches on Clarity's production. They have fall performances set for events such as Fish Fest in August, alongside MercyMe, Matthew West, and others, as well as Rock the Universe in September, with Casting Crowns, for KING & COUNTRY, and more.
For more information on the band, check out their website, Facebook, Instagram, and Twitter pages.
About Centricity Music:
Centricity is an independent Christian music company based in Franklin, Tenn. Founded in 2005 with a commitment to artist development and stylistic diversity, its artist roster includes Aaron Shust, Andrew Peterson, Carrollton, For All Seasons, Grayson|Reed, Jason Gray, JJ Weeks Band, Jonny Diaz, Jordan Feliz, Lauren Daigle, North Point InsideOut, and Unspoken. Providing label and publishing services, Centricity is a family-owned organization, and they like it that way. The committed work of its staff and artists has yielded successes such as GRAMMY® nominations, Billboard Awards, Dove Awards, K-Love Fan Awards, a Gold Album, and Gold Singles. For more information on Centricity Music: www.centricitymusic.com.
##