NEWS: 2X GRAMMY® Nominee Crowder's American Prodigal Debuts Top 5 On Top Albums Billboard Chart And More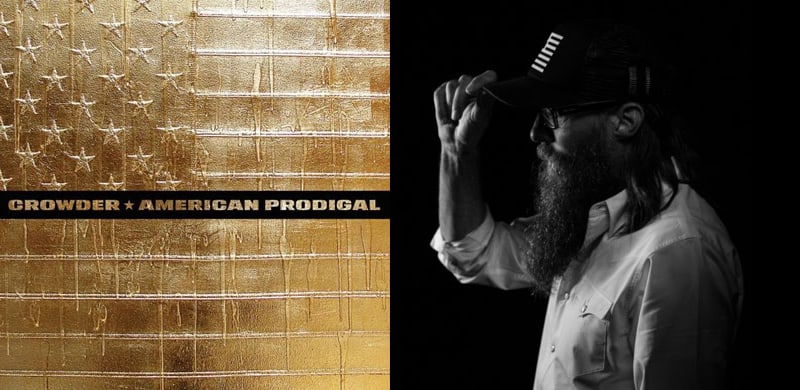 Photo Credit: Eric Brown, courtesy of sixstepsrecords
Newest release earns No. 1 on Christian & Gospel Albums Chart, No. 3 on Digital Albums Chart, No. 5 on Top Albums Billboard Chart, No. 12 on Top 200 Billboard Chart and more
Nashville, Tenn. (Oct. 3, 2016) – American Prodigal, the latest project from Crowder, has garnered a strong street week, landing at No. 1 on the Christian & Gospel Albums Chart, No. 3 on the Digital Albums Chart, No. 5 on the Top Albums Billboard Chart and No. 12 on the Top 200 Billboard Chart. "It is so great seeing and hearing how people are attaching to these songs," shares the Texas Native and Atlanta Resident. "For me, they are obviously deeply meaningful, but they have swagger and are just stupid fun. I'm so happy folks have responded so exuberantly."
The 2x GRAMMY® nominee kicked off the album release via a Twitter Music Q&A, Exclusive Snapchat content with Spotify, along with a performance on FOX and Friends and appearance on the Relevant Podcast. Critics are echoing their support of American Prodigal, including the 17 tracks found on the deluxe edition.
---
"Without a grand ovation or pointed intention, Crowder has done on American Prodigal what few artists can ever achieve—he has evolved without losing himself. In taking on the influences and colors of each other, he has discovered his most vibrant self yet." – CCM (cover story)
"American Prodigal could be Crowder's best work yet. The rock and soul get you out of your seat, and the gospel is pure. It's everything you'd hope for in a worship album but never quite expect." – HM Magazine
"Crowder Music's voice and the heart evident in his songs are the common threads for longtime listeners, even as he continues to expand into new musical territory with each new release. With so many influences, American Prodigal has an orchestral, epic feel to it, not unlike a movie soundtrack" – Patheos
---
NBC's Sunday Night Football already picked up on American Prodigal's "Run Devil Run," using the track in the Kansas City Chiefs and Pittsburgh Steelers televised NFL match-up. The first single off of the new album, "My Victory," is currently No. 13 on the Christian Airplay Chart.
Corresponding with the street of American Prodigal, Crowder's nationwide "American Prodigal Tour," featuring Tedashii and The New Respects kicked off, hitting over 20 markets from west coast to east coast through November. For the latest tour information, click here.
About Crowder:
Crowder has been embraced for his lyrically powerful and musically elaborate and unpredictable songs that have found themselves being sung everywhere from churches to clubs all across the country. Crowder's first solo album, Neon Steeple, debuted at No. 8 on the Billboard 200, was named iTunes 2014 Christian Album of the Year, garnered multiple radio hits, two GRAMMY® nominations, a Grand Ole Opry debut, a Dove Award and multiple nods and numerous K-LOVE Fan Award Nominations. American Prodigal, the awaited follow-up album, became available on Sept. 23 landing at No. 1 on the Christian & Gospel Album Chart, No. 3 on the Digital Albums Chart, No. 5 on the Top Albums Billboard Chart and No. 12 on the Top 200 Billboard Chart. As an active member of the Passion movement founded by Louie Giglio, Crowder participates in the impactful university student gatherings in the U.S. and around the world. A published author, Crowder has also penned two books including his acclaimed release, "Everybody Wants to Go to Heaven, but Nobody Wants to Die."
About sixstepsrecords:
Founded in 2000 by Louie Giglio, sixstepsrecords is a worship label and a division of Passion Conferences. sixstepsrecords' artists include Chris Tomlin (Never Lose Sight), Crowder (American Prodigal), Matt Redman (These Christmas Lights), Kristian Stanfill (Mountains Move) and Passion (Passion: Salvation's Tide Is Rising). The label partners with Sparrow Records/Capitol Christian Music Group for A&R, marketing, sales and distribution operations. For more information on sixstepsrecords, visit: www.sixstepsrecords.com.
Get Connected with Crowder
www.crowdermusic.com
Hashtag // #AmericanProdigal
Twitter
Facebook
Instagram
YouTube
##
Media Contact
Courtney Hyder
the media collective
courtney@themcollective.com
(615) 591-7989
www.themcollective.com