Three-Time GRAMMY® Nominated Crowder Announces "American Prodigal Fall Tour" Beginning October 24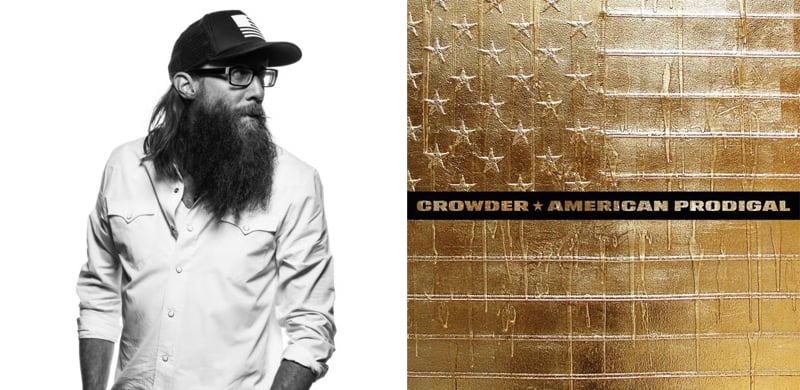 TICKETS GO ON SALE TODAY TO SEE CROWDER LIVE ONSTAGE WITH SPECIAL GUESTS JIMI CRAVITY AND THE YOUNG ESCAPE
Nashville, Tenn (July 28, 2017)—Three time GRAMMY® nominated artist CROWDER announces his 20-city "American Prodigal Fall Tour," which will begin on October 24 in Bowling Green, Kentucky, through November 16 in Wise, Virginia. The tour will feature special guest Jimi Cravity, and introduce The Young Escape. Tickets are on sale today. CROWDER's "American Prodigal Fall Tour" will feature live performances from his current chart-topping album, AMERICAN PRODIGAL, which debuted at #5 on Billboard's Top Albums chart, #12 on Billboard's Top 200 chart, #3 on the Digital Albums chart, and #1 on the Christian & Gospel Album chart.
AMERICAN PRODIGAL's lead single, "Run Devil Run," was picked up by NBC's "Sunday Night Football," and hit #6 on the Christian Digital Songs chart. AMERICAN PRODIGAL also scored Top 10 radio hits with the K-LOVE Fan Award nominated "My Victory" and "Forgiven." He also performed at the 2016 CMA Festival, alongside a return to the Grand Ole Opry stage.
Over the past two decades, David Crowder has transcended the usual boundaries associated with gospel music with lyrically powerful, musically intricate and unpredictable songs that have been sung and played everywhere from churches, to mainstream clubs across the country. Since the 2012 conclusion of his eight-time GMA Dove Award winning and GRAMMY® nominated David Crowder Band, the ever-evolving singer-songwriter has been on a fresh creative, critical and commercial roll, recording two hit crossover albums and a batch of hit singles as a solo artist.
CROWDER's 2014 debut album, NEON STEEPLE, debuted at #8 on the Billboard 200, hit #1 on the Christian & Gospel albums chart, and was named iTunes' "Christian Album of the Year." CROWDER garnered multiple radio hits (including "I Am" and the GRAMMY® nominated "Come As You Are"), a Grand Ole Opry debut, a GMA Dove Award, and numerous K-LOVE Fan Award nominations.
"AMERICAN PRODIGAL FALL TOUR" DATES ARE AS FOLLOWS:
10/24/17 Western Kentucky University – Van Meter Auditorium, Bowling Green, KY
10/25/17 University of Kansas – Lied Center , Lawrence, KS
10/26/17 Wheaton College – Edman Memorial Chapel, Wheaton, IL
10/27/17 Calvin College – Covenant Fine Arts Auditorium, Grand Rapids, MI
10/28/17 Bethel University – Benson Great Hall, St. Paul, MN
10/29/17 Evangel College – Spence Chapel, Springfield, MO
11/2/17 Northwestern College — Rowenhorst Student Center, Orange City, IA
11/3/17 Missouri Baptist University – Pillsbury Chapel, St. Louis, MO
11/4/17 Ball State University – Emens Auditorium, Muncie, IN
11/5/17 Houghton College – Kerr Pegula Athletic Complex, Houghton, NY
11/6/17 U of Penn Indiana — Kovalchick Convention & Athletic Complex, Indiana, PA
11/8/17 Malone University – Malone U Worship Center, Canton, OH
11/9/17 Messiah College – Brubaker Auditorium, Mechanicsburg, PA
11/10/17 Eastern University, Saint Davids, PA
11/11/17 Kentucky Christian University – Lusby Center, Grayson, KY
11/12/17 James Madison University – Wilson Hall, Harrisonburg, VA
11/13/17 Appalachian State U – Schaefer Center for the Performing Arts, Boone, NC
11/14/17 Radford University – Bondurant Auditorium, Radford, VA
11/15/17 University of GA – Georgia Theatre, Athens, GA
11/16/17 University of Virginia's College at Wise – Convocation Center, Wise, VA
For ticket purchase links please visit:
crowdermusic.com
For additional information please visit:
https://twitter.com/crowdermusic
https://www.facebook.com/crowdermusicofficial
https://www.instagram.com/crowdermusic/
##