NEWS: GMA Announces More Talent and Special Awards Winners for 47th Annual GMA Dove Awards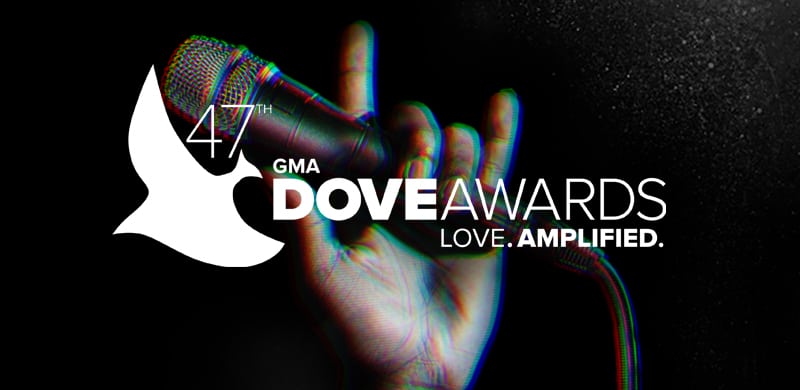 Bill Gaither, CeCe Winans, David Mann, Hezekiah Walker, Jaci Velasquez, Janice Gaines, Lauren Daigle, Sadie Robertson and Wally from WAY-FM join presenter lineup
Educational partnership with Hope for Students announced ahead of sold-out show on October 11
NASHVILLE, Tenn. (October 4, 2016) – The Gospel Music Association (GMA) announces more presenters for the 47th Annual GMA Dove Awards. Bill Gaither, CeCe Winans, David Mann, Hezekiah Walker, Jaci Velasquez, Janice Gaines, Lauren Daigle, Sadie Robertson and Wally from WAY-FM will join hosts for KING & COUNTRY and Tye Tribbett for the sold-out awards show on Tuesday, October 11 at Lipscomb University's Allen Arena in Nashville at 6:30 p.m. CST. Trinity Broadcasting Network (TBN) will exclusively air the awards show on Sunday, October 16.
These new appearances join already announced performers TobyMac, Steven Curtis Chapman, Anthony Brown and Group TherAPy, Bethel Music, Hollyn, Hillsong UNITED, Natalie Grant, Phillips, Craig & Dean and Tamela Mann and presenters Chris Tomlin, Jordan Feliz, Kari Jobe, Kirk Franklin, Priscilla Shirer, Ryan Stevenson, Tasha Cobbs and Willie Moore Jr.
In addition to star-studded performances and artist awards, GMA will also present special awards to organizations and entities that have made significant contributions to the gospel music industry.
---
GMA will honor the following special awards winners:
Impact Award Winner: Kendrick Brothers Productions
Impact Award – presented to an entity, other than an artist, which has made the most significant impact on the gospel music industry over the last two or three years. Previous winners include SoundScan, CCLI, & ProTools.
Lifetime Achievement Award Winner: Tyscot Records
Lifetime Achievement Award – Presented to an entity, other than an individual, which has made a monumental achievement in the gospel music industry over the last 20 or more years. Previous winners include The Gospel Music Workshop of America, the song "How Great Thou Art," and the Gaither Organization (group of companies).
Grady Nutt Humor Award Winner: Michael Jr.
Grady Nutt Humor Award – past winners include Mark Lowry, Brad Stine, larknews.com, Chonda Pierce, Wendy Bagwell, Veggie Tales' Phil Vischer & Mike Nawrocki and Mike Warnke.
Radio Impact Award – CCM: SOS Radio Network/Las Vegas
Radio Impact Award – Southern Gospel: "The Gospel Greats" syndicated program, Paul Heil
Radio Impact Award – Gospel: Gospel WXOK 1460 AM, J Michaels Francois
---
GMA also announces a partnership with the Hope for Students initiative, an effort by The Expectations Project dedicated to shining a light on education inequality. Nicole Baker Fulgham, founder and president of The Expectations Projects says "All God's children deserve an amazing education, but our nation's public schools are not leveling the playing field. It's a tale of two education systems where the zip code you're born into often predicts your future, usually along lines of race and class. We started Hope for Students because we believe no school should be under-resourced, no student should be without quality teachers or caring mentors, and no public policy that affects their life should go unexamined in places where there are thriving communities of faith."
The GMA Dove Awards celebrate the contributions of artists from every style of Christian/Gospel music. Nominees are determined by over 1,600 professional members, and winners will be voted on by the entire GMA membership of nearly 2,500.
Top nominated artists include Lauren Daigle, Hillsong UNITED, Chris Tomlin. Kirk Franklin and Bill Gaither.
About Hope for Students:
Imagine an America where all God's children have access to an amazing education, regardless of the zip code they live in, money their parents make, or color of their skin. Unfortunately, millions of our nation's students are languishing under the weight of a public education system that propagates low expectations and denies them the opportunity to realize their God-given potential. As people of faith we are uniquely positioned and urgently called to respond. Hope for Students is the nation's largest movement of people of faith who are united around a common pledge to shine a light on education inequality through prayer, compassionate service and faithful advocacy. We're partnering with churches, inspirational leaders, and powerful culture-makers like Kirk Franklin and the Gospel Music Association—and people just like YOU—who are committed to bringing an end to the extreme disparities in our nation's public schools.
About GMA:
Founded in 1964, the Gospel Music Association serves as the face and voice for the Gospel/Christian music community and is dedicated to exposing, promoting and celebrating the Gospel through music of all styles including Pop, Rock, Praise & Worship, Urban Gospel, R&B, Hip Hop, Southern Gospel, Bluegrass, Country, Latin and more. The GMA community includes agents, artists, church leaders, managers, promoters, radio personnel, record company executives, retailers, songwriters and other industry visionaries. The GMA produces the GMA Dove Awards and IMMERSE. For more on supporting the GMA or becoming a member, please visit www.gospelmusic.org.
About the Trinity Broadcasting Network:
With thirty global networks, the Trinity Broadcasting Family of Networks is the world's largest faith-and-family television group, airing a broad range of church and ministry programming, Christian music, family-friendly movies, children's programming, and shows for teens and young adults 24 hours a day to every inhabited continent via 82 satellite channels and thousands of television and cable affiliates. In addition, TBN's most popular global networks are available on computers, smart phones, and other mobile devices, and over 40,000 entertaining and inspirational On-Demand programs are accessible via TBN's innovative online network, iTBN.org. To find out more about the Trinity Broadcasting Family of Networks, log on to www.tbn.org.
##
Media Contact:
Jules Wortman
Wortman Works Media & Marketing
jwortman@wortmanworks.com
615.260.9985