NEWS: Chris Tomlin's ADORE Tour Sells Out As Album Tops Billboard & Radio Charts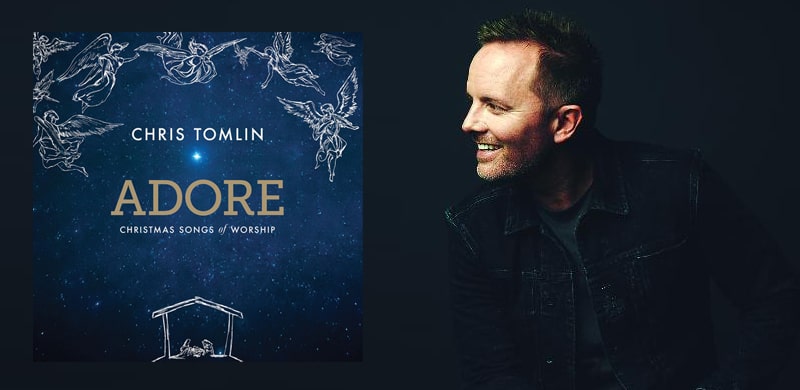 Chris Tomlin's ADORE Continues to Awe, Topping Billboard And Radio Charts Amidst Sold-Out Christmas Tour
ADORE holds top 3 position on Billboard's Holiday Albums Chart for seven weeks straight
Christmas album to be featured on PBS' "Religion & Ethics NewsWeekly"
Nashville, Tenn. (December 17, 2015) — Chris Tomlin's ADORE: Christmas Songs Of Worship has received overwhelming response since its October release, originally debuting atop Billboard's Holiday Albums Chart. ADORE continues to hold strong on the chart, just behind Pentatonix and Michael Buble, marking seven weeks straight in the top 3. Additionally, ADORE sits at No. 1 on Billboard's Top Christian Albums Chart, holding that spot for the third week in a row.
Songs from the album are resonating with listeners at radio, with "Noel (Feat. Lauren Daigle)" hitting No. 1 on the AC Monitored Chart and "He Shall Reign Forevermore" hitting No. 4.
ADORE will be included in a special segment about Christmas music airing this coming weekend on the national PBS television program "Religion & Ethics NewsWeekly." www.pbs.org/religionethics (Check local listings.)
Additional media outlets continue to highlight the album as well, with recent support from Yahoo Music, CCM Magazine, Guideposts, The Blaze, Keep The Faith, The New York Times, People Magazine and more.
Fans continue to show their enthusiasm for Tomlin's worshipful Christmas anthems, selling out every venue on the "ADORE Christmas Tour," featuring Crowder and Lauren Daigle. The tour wraps up this weekend in Phoenix.
With the closing of 2015, a year full of touring, new music and sold-out Worship Night In America events for Tomlin, he has earned several top spots on Billboard's year-end charts. Tomlin was named the Top Male Christian Artist and landed in the top 3 on both the Top Christian Artists Chart and Christian Albums Artists charts. Love Ran Red took the No. 3 spot on the Christian Albums chart. For a full list of year-end honors, click here.
About Chris Tomlin
With ten albums, 13 No. 1 radio singles, a GRAMMY® Award and eight additional nominations, three Billboard Music Awards, 21 Dove Awards, a platinum and four gold albums to his credit, Chris Tomlin is among the most well-known and influential artists in contemporary Christian music. Referred to by TIME Magazine as "most likely the most often sung artist anywhere," Tomlin consistently has several songs in the top 20 of the Top 100 CCLI songs. BMI and GMA Dove Awards' 2014 Songwriter of the Year, Tomlin's "How Great Is Our God" was his first No. 1 on the CCLI Top 25, becoming one of the fastest rising modern day hymns in CCLI chart history. In addition to having sold more than 7 million albums and over 8.9 million digital tracks, Tomlin made history as his No. 1 single "Jesus Messiah" (Hello Love) garnered 97 adds at radio, making it the biggest ever add date in Christian radio history. He recently broke the record for most top tens in the history of Billboard's Hot Christian Songs chart. In the midst of his record-breaking success, Tomlin continues touring and leading at Passion Conference gatherings across the US and worldwide, including his recent Worship Night In America events, which sold out NYC's Madison Square Garden, Denver's Red Rock's and Sacramento's Sleep Train Arena. Burning Lights debuted at No. 1 atop the Billboard 200 in January 2013, making history as only the fourth Christian music album to do so, and his tenth recording, Love Ran Red continues to produce chart-topping singles. ADORE: Christmas Songs of Worship recently released, debuting at No. 1 on Billboard's Holiday Albums Chart.
Get Connected with Chris Tomlin
Website
Spotify
Twitter
Facebook
Instagram
##
Media Contact:
Velvet Kelm & Kirsten Grenier
the media collective
velvet@themcollective.com
kirsten@themcollective.com
(615) 591-7989
www.themcollective.com