NAACP Image Award-Winning Actor and Grammy® Award-Winning Singer Share Their Secrets to Love and Marriage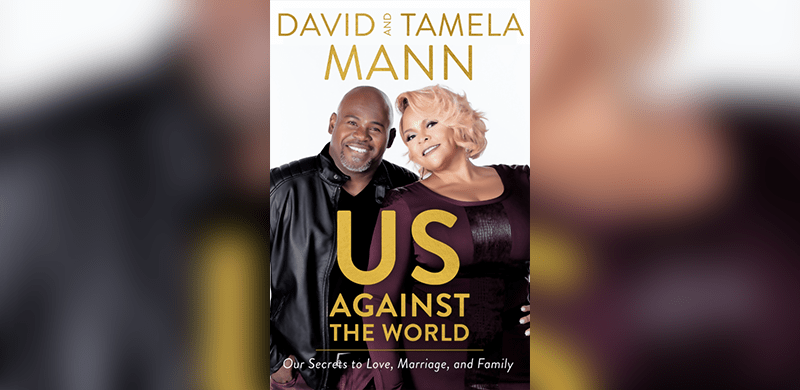 Celebrity Couple David and Tamela Mann Reveal the Truth
Behind Their 30-Year #BlackLove Story in New Memoir
Nashville, TN (February 14, 2018) – NAACP Image Award-Winning Actor and Comedian David Mann and his wife, Grammy® Award-Winning Recording Artist Tamela Mann, are celebrating #BlackLove on Valentine's Day with the announcement of their forthcoming new memoir, Us Against the World: Our Secrets to Love, Marriage, and Family (W Publishing), available September 25, 2018.
With a love story spanning more than 30 years and celebrity careers that have garnered numerous prestigious awards and accolades, superstar couple David and Tamela candidly share about their lifelong love, marriage and blended family, while telling the honest truth about issues they've faced including communication, forgiveness, sex, finances, and faith, in their very first book. Us Against the World also reveals surprising details about how the pair met, married, and started a family, the challenges of managing the fame that comes with success, and the growing pains of working with their adult children in the family business.
"We've always been transparent about our relationship and family with fans. In our first book we'll tell our whole story and share our secrets to a successful marriage," said David Mann. "Our marriage is a top priority and our greatest accomplishment. As authors, we're excited to share what we've learned about how to make doing life together work and how to fully love your spouse," said Tamela Mann.
Join David and Tamela Mann as they share their inspiring #BlackLove story and time-tested practical advice for building a strong relationship and family in Us Against the World: Our Secrets to Love, Marriage, and Family.
For the latest updates on David and Tamela visit: www.tillymannmusic.com/book.html
##