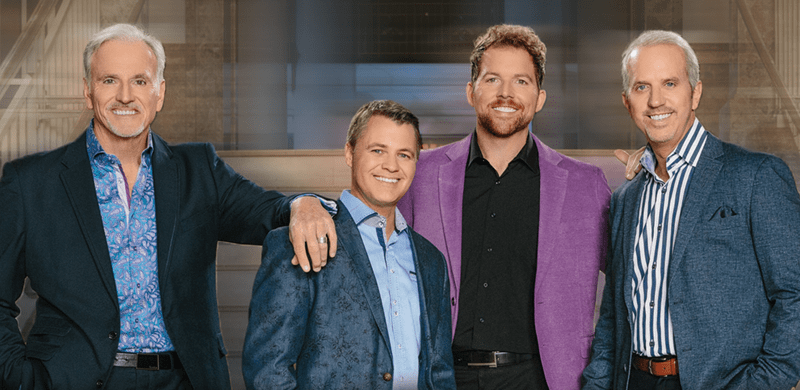 April 7, 2017 (Nashville, TN)…StowTown Records is excited to announce the brand new release, Thankful, from multi-award winning Triumphant Quartet!
It's the third project the fan-favorite group has released since joining the StowTown team in 2014, coming on the heels of two very successful albums: Living In Harmony and He Is Christmas.
"Every time I finish a Triumphant recording, I wonder how they'll ever top it. However, they always do," exclaimed StowTown co-founder and award-winning producer and arranger Wayne Haun. "Thankful is no different…the songs, the performances, the harmonies and the heart in this collection are extraordinary. They've done it again!"
Haun collaborated with both Joel Lindsey and Triumphant's popular baritone, Scott Inman, to write and compose two special songs on the recording, "God Will Always Be God" and "The Cross is All the Proof I Need."
In addition, Inman and Lindsey cowrote the catchy tune "Bottom of the Barrel," which features longtime Triumphant bass Eric Bennett.
The first radio single, "Chain Breaker," written by Jonathan Smith, Mia Fieldes and Zach Williams, is already receiving rave reviews and quickly moving up the charts.
To cap off the impressive project, Inman and Lee Black came together to write two upbeat, heartfelt songs: "Thankful, So Thankful" and "Never Assume."
"We all go through different seasons in life, and this album reflects the season we're in as a group," said Scott Inman. "God has been so good to us and, in our 15th year together, the first word that comes to mind is "Thankful."
Thankful will officially release on April 21. Distributed exclusively to retail and digital outlets by Provident-Sony Distribution, the new album will be available online and at Christian bookstores and outlets worldwide.
ABOUT STOWTOWN RECORDS:
Founded in 2011 and expanded in 2014, StowTown Records reflects the musical vision of Ernie Haase and Wayne Haun, in partnership with Landon Beene and Nate Goble. The independent label is the creative home for top artists including Ernie Haase & Signature Sound, The Perrys, The Collingsworth Family, Doug Anderson, Devin McGlamery, The Taylors, Cana's Voice, The Browns, The Little Roy & Lizzy Show, Rambo McGuire, Southern Raised, Triumphant, Tim Lovelace, The Guardians, TaRanda Greene, The Erwins, Trey Ivey, Jody McBrayer, Charles Billingsley and selected classic music from The Cathedrals, their legendary bass singer, George Younce, and The Cathedrals Family Reunion. Distributed worldwide through Provident/Sony Distribution, StowTown Records has quickly garnered industry attention with multiple GMA Dove Awards and chart-topping releases from their highly respected artist roster.
##