GRAMMY® Award-winning Gaither Vocal Band Enjoying the Here and Now with New Recording We Have This Moment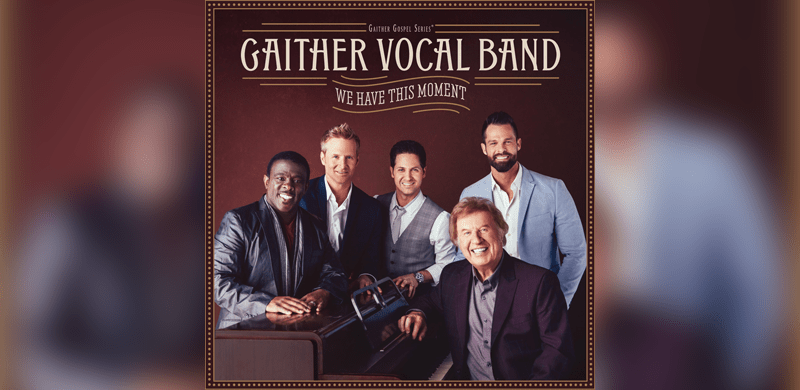 New Release Features New Group Member Reggie Smith
Legendary Quintet to Release New LIVE Performance Video
NASHVILLE, Tenn.–August 22nd, 2017–Gospel Music Hall of Fame members and GRAMMY® Award winners the Gaither Vocal Band (GVB) are scheduled to release an all-new studio recording on October 13th. We Have This Moment (Gaither Music Group), produced by famed country and gospel music performer and studio musician Gordon Mote, is a musical snapshot of a special season for this lauded quintet.
"The longer I live the more I learn to appreciate here and now," stated group founder and bass singer Bill Gaither, "this moment…this place in life… this group of people with whom I am privileged to collaborate on these songs. I am blessed beyond measure by these men and by the way our collective contributions have brought something very special to this collection of songs. I hope you are as blessed by this recording as we have been to create it."
That creation process has been invigorating and binding for group members Gaither, Wes Hampton, Adam Crabb, Todd Suttles and Reggie Smith–the newest addition to the iconic group.
"I feel as if this group of guys are more like brothers," stated Crabb. "We truly love singing and spending time with each other. We are more than just five guys who enjoy singing together. We are friends, and we are enjoying life's journey together.
"Working with Gordon has been amazing," he continued. "What a talent he is. He pulled us closer together and brought the best out in us. I feel this album has birthed something new and fresh for the Gaither Vocal Band, and I'm so excited about what God has in store for the group."
"I've worked with Bill, the Gaither Vocal Band and the HOMECOMING family of artists for years," stated Mote. "We're all longtime friends. Bill has allowed me to play on numerous recordings with this group, and one day I asked him, 'Why don't you let me have the reins on a project? I'd love to produce it top to bottom.' He said yes, so this has been a ton of fun and is something I've wanted to do for a long time."
Mote's musical sensibilities are evident throughout the album which showcases prestigious harmonies on songs like the epic "Hymn of Praise"; the warm, easygoing "Livin' in the Rhythm of Grace"; the soul-tinged "We Are God's Children"; the classic title cut and "Chain Breaker," one of today's most popular contemporary Christian worship songs, which features a stellar performance by Crabb.
The first radio single "Hallelujah Band," which will hit stations later this month, highlights how these five unique voices and personalities have come together to create something special. Written by Becca Mizell and Sam Mizell, the up-tempo number, which will soon be featured via social media as a performance video by the group, features the Gaither Vocal Band's uncanny ability to offer up unique and contagious musical arrangements.
That ability helped garner the group's three 2017 GMA Dove Award nominations, announced earlier this month, for Southern Gospel Artist of the Year, Southern Gospel Song of the Year ("Better Together") and Southern Gospel Album of the Year (Better Together). The recording, also nominated for a 2017 GRAMMY® Award for Best Roots Gospel Album, debuted at #1 on the Southern Gospel chart and at #9 on the Contemporary Christian Music (CCM) chart, according to Nielsen SoundScan. The Gaither Vocal Band has garnered five GRAMMY® nominations, two GRAMMY® Awards and 18 GMA Dove Awards to date.
We Have This Moment will be part of a TV special airing on over 15 networks that carry the "Gaither Gospel Hour" weekly including RFD-TV, DIRECTV, TBN, The Heartland Network, Dish TV, FamilyNet, CTN, GMTN, Guardian, Liberty, TCT, TLN and GaitherTV (available on the internet, Roku TV, Sony TV, Google TV and Apple TV). The artists are seen in Canada on Vision TV, The Miracle Channel, Grace TV and CTS. The recording will be featured on www.gaither.com, in the Gaither Catalog Collection, via the company's social media properties and on the Gaither YouTube channel, which garners over 22 million views monthly.
We Have This Moment will be exclusively distributed by Capitol Christian Distribution and Universal Music and will be available throughout general market stores and the Christian marketplace in addition to online retailers including iTunes, Amazon and Gaither.com. It will be available for pre-order with FREE shipping on August 24th at www.gaither.com and is available now for pre-sale at Amazon.com.
For further information regarding the Gaither Vocal Band, please visit www.gaither.com or connect on Facebook at www.facebook.com/gaithermusic or on Twitter: @gaithermusic
SONG LIST, We Have This Moment CD
Chain Breaker
We Are God's Children
We Have This Moment
I'll Worship only at the Feet of Jesus
Man of Sorrows
Hallelujah Band
Livin' in the Rhythm of Grace
You Amaze Me
Jesus Messiah
We Are the Sands, We Are the Stars
Manna from Heaven
Hymn of Praise
ABOUT THE GAITHER VOCAL BAND
The Gaither Vocal Band has been making music since the early 80s when four men gathered around a piano before a Bill Gaither Trio concert and began harmonizing on the quartet classic "Your First Day in Heaven." More than a quarter century later, the list of men who have comprised the Gaither Vocal Band over the years reads like a "Who's Who" among gospel music's best-loved male voices.
One of the most lauded and award-winning groups in gospel music garnering six GRAMMY® nominations, two GRAMMY® Awards and 18 GMA Dove Awards, these Gospel Music Association Hall of Fame honorees continue to headline one of the largest tours in the field of Christian music annually; and their groundbreaking successes continue to raise the standard in male harmony. The group, which has sold over three million DVDs and CDs, is currently comprised of Bill Gaither, Wes Hampton, Todd Suttles, Adam Crabb and Reggie Smith.
##