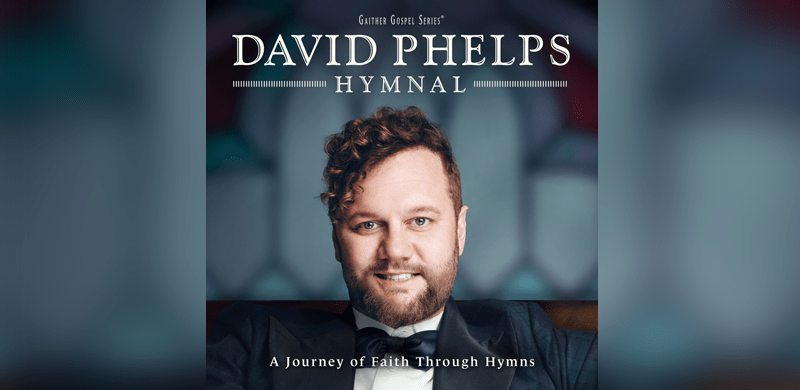 Christian Music Favorite Produces, Arranges and Composes New Release Featuring Some of the Most Celebrated Songs of the Church
NASHVILLE, Tenn.—April 7th, 2017–GRAMMY® Award-winning, classically-trained tenor David Phelps has just released an all-new studio recording entitled Hymnal (Gaither Music Group), featuring all-new arrangements of some of the most revered songs in the church today. The recording debuted this week at #1 on the Southern Gospel chart and at #5 on the CCM chart according to Nielsen Soundscan. In addition, The Best of David Phelps DVD recording landed back at #1 on the Billboard Music Video chart.
"I'm passionate about making music and the message of hope that it carries," stated Phelps. "To do something you love and have it resonate with listeners is exponentially rewarding. I find myself increasingly grateful to be one of the many voices of my generation dedicated to filling ears with joy and music. For the outpouring of love and support from friends around the world, I humbly thank you."
Produced, arranged and composed by Phelps, Hymnal finds this three-octave "who's who of vocalists" creating his own lush arrangements of these Christian household staples, many of which were handed down to him from his family.
Orchestrated by Phelps and Danny O'Lannerghty, the recording features "Victory in Jesus" as a duet with Phelps' daughter Callie. He showcases his timeless "crooner" side with his piano/jazz rendition of the gospel favorite "Goodbye World, Goodbye"; and he pulls back the instrumentation with a unique, stirring arrangement of "It Is Well with My Soul," accompanied only by band member Jack Daniels on dobro.
The Bill and Gloria Gaither-penned "Something Beautiful," the debut radio single from the release, features a piano-based arrangement reminiscent of the era in which the song was written. Longtime fans of Phelps will recognize many of the background and choir vocalists on the release including Charlotte Ritchie, Jack Daniels, Kari Lee, Maggie Beth Phelps, Callie Phelps, Angela Primm, Gale Mayes and Samson White.
Phelps, one of the most recognized artists on the Gaither HOMECOMING Series and known as a member of the Gaither Vocal Band for over 15 years, has won two GRAMMY® Awards and four GMA DOVE Awards. Hymnal is currently positioned heavily at retail and online stores, via catalog placements and through a direct TV campaign on networks including Dish TV, DIRECTV, PBS, RFD-TV, GaitherTV, TBN, FamilyNet, CTN, GMTN, Guardian, Liberty, TCT and TLN. The campaign will also air in Canada on Vision TV, The Miracle Channel, Grace TV and CTS.
Hymnal is distributed through Capitol Christian Distribution and Universal Music and is now available throughout general market stores and the Christian marketplace in addition to online retailers including iTunes, Amazon and gaither.com. The release is also available at Cracker Barrel Old Country Store®.
Check out a preview of Hymnal:
For further information regarding David Phelps, please visit www.davidphelps.com, www.facebook.com/davidphelps or @DPhelpsMusic.
HYMNAL CD Song List:
1. Prelude: Come Worship
2. Brethren, We Have Met to Worship
3. In the Garden
4. He Lives
5. How Great Thou Art
6. Only Trust Him
7. Interlude: Wrestling with God
8. I Surrender All
9. It Is Well with My Soul
10. Something Beautiful
11. Goodbye World, Goodbye
12. Battle Hymn of the Republic
13. As the Deer
14. Victory in Jesus
15. Invention: The Crown I Wear
16. Matchless Grace
17. Amazing Grace
18. Until Then
ABOUT DAVID PHELPS
David Phelps, a multi-platinum artist, first entered the national spotlight when he joined the Gaither Vocal Band and has since performed at Carnegie Hall, the White House and many other halls and churches around the world. Phelps has won two GRAMMY® Awards and four GMA DOVE Awards. His latest work, Hymnal, showcases his talents as a singer, composer, arranger and producer. Phelps lives outside of Nashville, Tennessee, with his wife, Lori, and four children: Callie, Maggie Beth, David Grant and Coby.
##