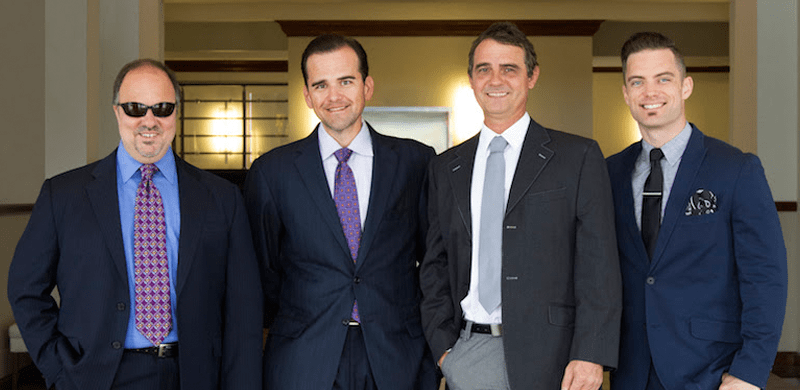 (L-R) Canton Junction's Gordon Mote, Matt Hagee, Tim Duncan and Casey Rivers
NASHVILLE, Tenn.—Dove Award and Singing News Fan Award-winning quartet Canton Junction announces the addition of ACM Award-winning instrumentalist/vocalist Gordon Mote. Mote joins Canton Junction founding members Pastor Matt Hagee and Tim Duncan, along with Casey Rivers, to round out the acclaimed lineup, replacing Ryan Seaton who departed last fall. In addition to Canton Junction performances, Mote will continue to make solo appearances.
"We are so honored and excited to have Gordon join our Canton Junction family," said Hagee. "Tim, Casey and I have all been fans of Gordon's talent through the years—including his contributions to several of our albums—and we know he is going to bring a unique new dimension to our sound. He has already joined us for several performances and, in a word, it felt like home."
A two-time Academy of Country Music Award winner for Piano/Keyboards Player of the Year (2008/2010), Gordon Mote is one of the most sought-after musicians in music today. He has contributed to recordings by top country artists Keith Urban, Luke Bryan, Miranda Lambert, Blake Shelton, Faith Hill, Brad Paisley and Reba; iconic performers Bob Seger, Lionel Richie, Alabama and Willie Nelson; and leading Christian artists including Matthew West, Selah, Jason Crabb and David Phelps. In addition to his eight solo recordings, Mote has been featured on numerous Gaither Homecoming recordings and videos, and has toured with Trisha Yearwood, the Gaither Vocal Band, and the late Porter Wagoner.
Since their 2012 debut, Canton Junction has become one of Southern Gospel's most sought-after groups. The self-titled Canton Junction featured four #1 singles, garnered a GMA Dove Award for Southern Gospel Album of the Year, and earned the group a Singing News Fan Award for Favorite Southern Gospel New Traditional quartet. Their follow-up recording, Every Hallelujah, debuted at #1 on Nielsen SoundScan's Southern Gospel Overall Chart and featured the single "Weep No More," from the hit box office film Four Blood Moons. Their 2016 holiday offering, A Canton Christmas, garnered rave reviews and airplay on country radio stations across the country. Marking another first for the quartet, the group will be featured on the cover of Singing News' upcoming June issue.
Difference Media is a division of John Hagee Ministries, founded by John Hagee. Along with Canton Junction, the San Antonio-based label features some of the leading names in Gospel music, including Ivan Parker, Ricardo Sanchez, Matt Hagee, Tim Duncan, Aaron & Amanda Crabb, The Cornerstone Sanctuary Choir, John Hagee and The Hagees.
For further information, visit differencemedia.org or turningpointpr.com. Follow Canton Junction on Facebook, Twitter and Instagram.
##