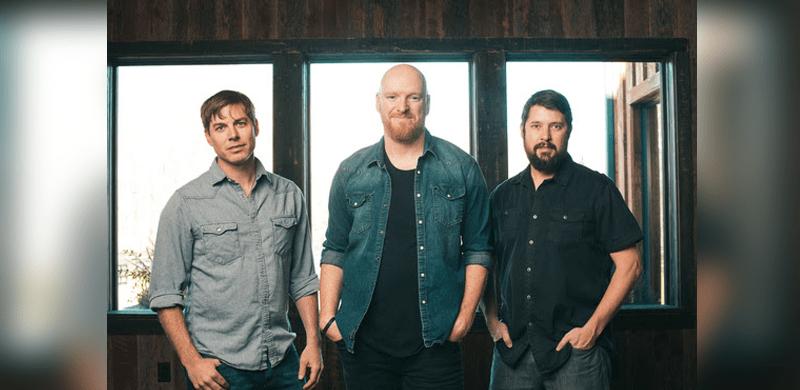 Iron Bell Music is led by (L-R) Josh Glauber, Stephen McWhirter & Joel Gerdis
New Album Touted As "Authentic," "Sincere," "Full of Power Packed Anthems" And

"A Refreshing And Unique Worship Experience;"
Group Held Release Day Concert In Louisville With More Than 2,000 In Attendance!
1 June 2017 – Franklin, Tenn – Since its release on May 19, stellar reviews have come in about God That Saves, the debut album from Essential Worship's Iron Bell Music. It's been said that the project from this Louisville, Kentucky-based worship group "demonstrate[s] such a robust declaration of faith over songs that are iron-cladded in the praise of Jesus sung over huge anthemic hooks," and is already touted to be one of the "top worship releases of 2017."
Along with a recent podcast interview with We Are Worship and a feature story in the current issue of CCM Magazine, below are just a few of the recent reviews from the music critics:
"God That Saves is an excellent album that has a laser focus from start to finish on their self-described mission to 'cultivate a heart of adoration.' This album does that in spades. This focus, combined with the Jesus-centered lyrics, serve to make it a refreshing change of pace from the common smoke, lights and bombast typical of the genre. Worthy of multiple listens, God That Saves is a among the top worship releases of 2017 so far." – JesusFreakHideout.com
"Thanks to…stellar vocal work…and the strong melodies…Iron Bell Music gives worship music fans an exciting new collective to watch." – CCM Magazine review
"Ever since the first note of this record strikes right until the very end, the guys of Iron Bell Music sing as if their lives depended on every note. [They] demonstrate such a robust declaration of faith over songs that are iron-cladded in the praise of Jesus sung over huge anthemic hooks. When they sing, we can't help but be grabbed at the heart and worship." – Hallels.com
With their new album, Iron Bell Music invites us to…just rest in the Lord…[beckoning] us into the presence of God, weights laid down and work forgotten for now, emptying us of fear and filling us with power for the next day's tasks. – Today's Christian Entertainment
The listening experience feels more tangible, more analog, than many worship albums which simply record catchy sounds and comfortable lyrics in a stadium…It is very easy for listeners to imagine themselves in the very barn where Iron Bell Music leads – the album emphasizes intimacy and sincerity. It's a unique and refreshing worship experience, artistically recorded and arranged. Each song brings beautiful melodies and sincere lyrics to the table, with a sense of genuine sincerity and honesty weaved through and through…an encouraging and sincere album that's well worth listening. – The Christian Beat
Comprised of songwriters and performers Stephen McWhirter, Joel Gerdis and Josh Glauber, Iron Bell Music is the fruition of worship nights held year-round for the community of Louisville at an area barn. Performing well-known worship songs along with their own originals throughout each gathering, the worship evenings exist so that people can come as they are and encounter the presence of God. Their debut album was recorded live at the barn during one of those very evenings.
Through encouraging fellow worship leaders or inviting radio listeners to sing along, Iron Bell Music hopes their music can deeply reach all who encounter their music. "We want the songs to literally cause breakthrough for people in their relationship with the Lord," Joel Gerdis shares. "Whatever God's doing in us, we feel like it's a very authentic expression that we can lead other people into."
For more information about Iron Bell Music, please visit IronBellMusic.com and the social links below.
Twitter
Facebook
Instagram
YouTube
##