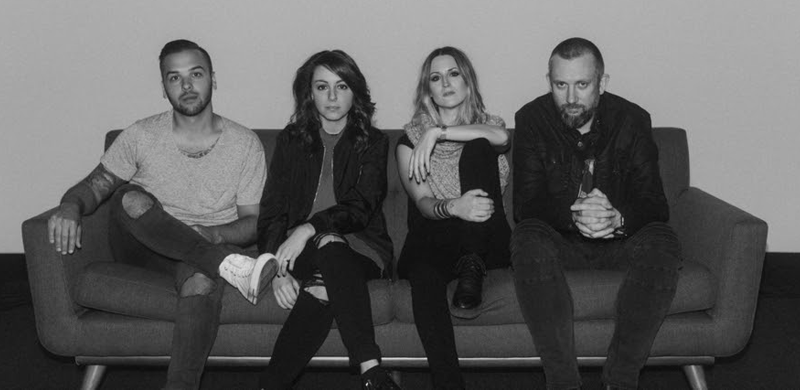 L-R: Jake France, Lauren Smith, Tara Cruz, Andi Rozier (not pictured: Kyle Fredricks)
Will Perform At The Outcry Festival This Weekend In Dallas
2 August 2017 – Franklin, Tenn – Vertical Worship announces the release of their latest project, Vertical Worship, available this Friday, August 4. This studio LP is their fifth release with Essential Worship/Provident Label Group/Sony Music since 2012 and follows their latest live recording, Frontiers, which released a year ago this week.
To create Vertical Worship, the band dove into their extensive song catalog and chose ten of their favorite songs that they found resonate well at their tour dates, conferences and events, as well as during church services. They went into the studio with re-imagined arrangements, experimenting with different leading vocalists while wanting to bring a new expression for these songs to reach new listeners.
"What's so important to us in the writing of these songs is that we're pulling from the word of God," shares Vertical Worship member Andi Rozier. "What's more powerful to ascribe worth to God than to also sing His word back to Him? That's what we are doing with Vertical Worship, we are taking songs from His word, we're taking the words that He's given us, and we're singing them back to Him."
Many of the songs found on the new album will be heard when Vertical Worship appears at the Outcry Festival this Saturday, August 5 in Dallas, TX. Other artists at the festival are Hillsong UNITED, Jesus Culture, Passion, Lauren Daigle, Mosaic MSC as well as speaker Louie Giglio. Find out more about the festival here.
The following week, Harvest Bible Chapel will host their Vertical Church Conference at their campus in Elgin, IL from August 13-16. The annual conference hosts approximately 1500 worship leaders, church leaders and pastors, providing training in worship pastoring, discipleship and prayer. Worship will be led by Vertical Worship featuring songs from the newly released Vertical Worship album as well as music from Kathryn Scott, Meredith Andrews, and Jon Guerra. Speakers include James MacDonald, J.D. Greear, Ron Zappia, and Ed Stetzer. Along with their U.S. conference, it will also be held in Canada from October 15-18. Please visit here for further information.
Vertical Worship song listing:
Open Up The Heavens
Do What You Want To
Lamb Of God
Exalted Over All
The Rock Won't Move
Found In You
1,000 Tongues
Spirit Of The Living God
God You Are My God
I'm Going Free (Jailbreak)
For further information about Vertical Worship, please visit:
VerticalOfficial.com
Twitter
Facebook
Instagram
##