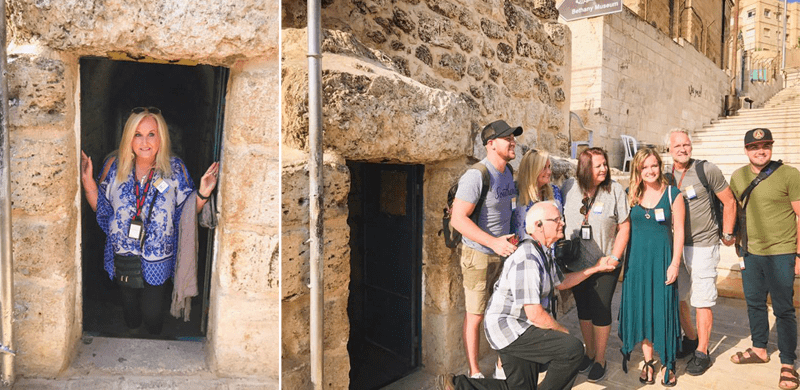 Pictures courtesy of Trip Honeycutt.
DAHLONEGA, Ga. – (July 31, 2017) – Four-time GRAMMY® Award-nominated and six-time Dove Award-winning Southern Gospel family group Karen Peck & New River are experiencing extreme coverage on social media due to the recent response from the group's live performance on a recent trip to the Holy Land.
Recorded at the Tomb of Lazarus, Karen Peck & New River performed its career-making song "Four Days Late", penned by Aaron Wilburn, with permission from the local community in front of a crowd of onlookers and other tourists.
Karen shared, "There are no words to describe the amazing trip to Israel. Every day was life changing. Seeing the Garden Tomb was extremely moving and it reminded us once again that we serve a risen Savior! Also one of the highlights was singing 'Four Days Late' at Lazarus' tomb. After 17 years of singing this song every night in concert, we can honestly say that it has taken on a whole new deeper meaning."
Hear Karen tell of just how she came to record this classic, career-changing song. She will also tell how this song has changed her life and what an honor it was to sing it at the Tomb of Lazarus.
The video has gone viral with over 1.5 million views in just four days on Facebook. The video was recorded by Becky Isaacs-Bowman (of The Isaacs), and the crowd response and ministry is apparent at the close of the song.
To purchase Hope For All Nations visit the links below:
https://www.karenpeckandnewriver.com/product/hope-for-all-nations/
iTunes | Apple Music | Amazon | Daywind
To connect with Karen Peck and New River follow them on social media:
Facebook
Twitter
YouTube
About Karen Peck and New River
No doubt the most popular mixed trio in Gospel Music, Karen Peck and New River is a music powerhouse in the music industry. With hit after hit and multiple number one songs, they are one of the most sought after groups today. Karen is known for country flair and for having possibly the finest soprano voice in any genre of music. Karen was also the recipient of the Susan Unthank Memorial Award, an award given by Absolutely Gospel Music only to women who have excelled in their work in a man's world. Karen had a feature role in the hit movie Joyful Noise, starring Dolly Parton and Queen Latifah. New River's hit song "Four Days Late" has become a classic in Gospel music. To learn more about Karen Peck and New River visit the group's website.
##