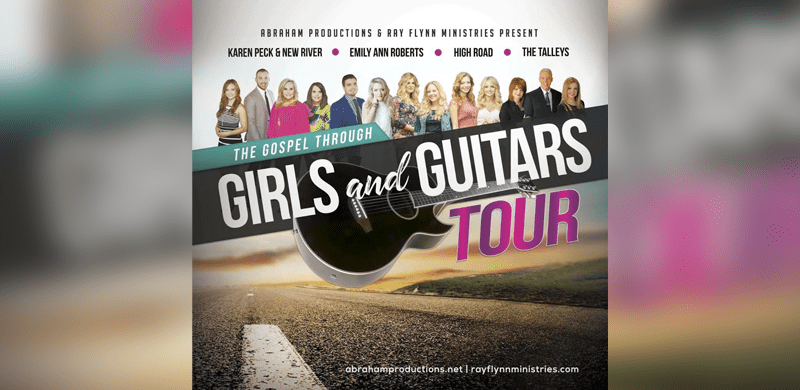 Dahlonega, Ga. – (September 20, 2017) – Four-time GRAMMY® Award-nominated and six-time Dove Award-winning family group Karen Peck and New River is set to kick off the The Gospel Through Girls and Guitars Tour this Friday, September 22nd along with HIGHROAD, The Talleys, and Emily Ann Roberts. This new tour is coming in the fall of 2017 and continuing into the spring of 2018. It's a great night of Southern Gospel Music.
Karen Peck stated, "We are thrilled to be a part of The Gospel Through Girls & Guitars Tour. It is very unique, and I know everyone will love this combination of talented artists. We did the first concert last spring in Bennett, North Carolina. The Lord moved in a powerful way that night. We loved it so much that we decided to make it a tour and take it to other places. There are so many young talented ladies on the program and we want to encourage parents to bring their kids. Most of all, we are hoping and praying that everyone will be blessed and encouraged."
Sarah Davison of HIGHROAD said, "This tour is going to be so much fun for everyone. We can't wait to be a part of it and share the Gospel in parts of the country we have not been to before now. It is an honor to share the stage with these wonderful friends."
The tour has already scheduled several dates and will continue to add more throughout this year and 2018. Look for a date near you and do not miss this exciting event.
September 22, 2017 | Roopville, GA 30170
November 17, 2017 | Greenwood, SC 29649
December 1, 2017 | Hendersonville, NC 28739
December 2, 2017 | Yadkinville, NC 27055
January 7, 2018 | Corryton, TN 37721
April 13, 2018 | Bennett, NC 27208
Look for the tour to come to a city near you: http://www.abrahamproductions.net/ggg.php
To purchase Hope For All Nations go to : https://www.karenpeckandnewriver.com/product/hope-for-all-nations/
To connect with Karen Peck & New River follow them on social media and their Website.
karenpeckandnewriver.com/
Facebook
Twitter
YouTube
About Karen Peck and New River
Four-time GRAMMY-nominated and six-time Dove Award-winning family group Karen Peck and New River are no doubt the most popular mixed group in Gospel Music. They are a music powerhouse in the industry. With hit after hit and multiple number one songs, they are one of the most sought after groups today. Karen is known for her country flair and for having possibly the finest soprano voice in any genre of music. Karen was also recipient of the Susan Unthank Memorial Award, an award given by Absolutely Gospel Music only to women who have excelled in their work in a man's world. Karen had a feature role in the hit movie "Joyful Noise", starring Dolly Parton and Queen Latifah. New River's hit song "Four Days Late" has become a classic in Gospel music. The group members include Karen Peck Gooch, Susan Peck Jackson, Ricky Braddy, Kari Gooch, and Matthew Gooch.
##