Lauren Daigle, Kirk Franklin, Natalie Grant, Tori Kelly and Newsboys Set to Perform at 49th Annual GMA Dove Awards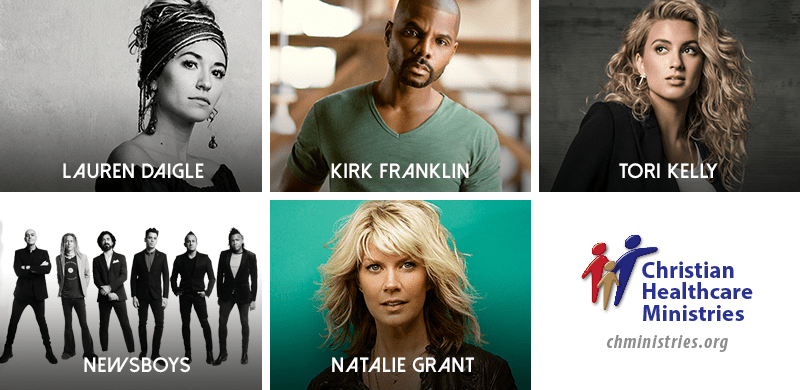 CHRISTIAN HEALTHCARE MINISTRIES ANNOUNCED AS PRESENTING SPONSOR
Awards to be held live Tuesday, October 16, in Nashville, Tennessee
and will air exclusively on TBN on Sunday, October 21
NASHVILLE, Tenn. (September 7, 2018) – The Gospel Music Association (GMA) announced another round of all-star performances for the 49th Annual GMA Dove Awards, including award-winning singer-songwriter Lauren Daigle, a Newsboys reunion celebrating the band's 25th anniversary, a duet by chart-topping recording artist Natalie Grant and rising star Koryn Hawthorne,
and a first-time Dove Awards performance by GRAMMY® nominated artist Tori Kelly featuring gospel legend Kirk Franklin.
The awards show will be held live on October 16 in Nashville, Tennessee and will air exclusively on TBN October 21 at 8 p.m. CT. Previously announced performers include Big Daddy Weave, Cory Asbury, Tauren Wells and Jason Crabb with Rascal Flatts.
More talent announcements are forthcoming. Tickets are on sale now at www.doveawards.com.
The 49th Annual GMA Dove Awards are made possible in part by Christian Healthcare Ministries (CHM), the nation's original health cost sharing ministry. "We support the Dove Awards because of the importance in our society of Christian artists sharing the Good News," said Rev. Dr. Howard S. Russell, CHM president and CEO. "The role of Christian artists' in encouraging the spirits of believers directly impacts listeners' spiritual and physical well-being. We support the work of Christian artists in uplifting the kingdom of God."
The GMA Dove Awards celebrate the contributions of artists from every style of Christian/Gospel music. Nominees are determined by GMA's professional members, and winners will be voted on by the entire GMA membership. Tauren Wells leads artist nominations with eight, followed by Zach Williams with six and Cory Asbury, Tasha Cobbs Leonard and TobyMac with five nods each. Top nominated writer/producer Colby Wedgeworth scored eight nominations. View the full list of nominees HERE.
Viewers can locate this year's Dove Awards broadcast on TBN by locating it on the network's
channel finder
. Watch TBN on their livestream
HERE
, or download the all-new app to view TBN on your
Apple
or
Android
devices.

About Christian Healthcare Ministries
Christian Healthcare Ministries (CHM) enables its hundreds of thousands of members to participate biblically, affordably and compassionately in paying each other's medical bills. A nonprofit organization, CHM began in 1981 and is America's original Christian health cost sharing ministry. CHM enables its 21st century Christian members to live the Book of Acts example of first century Christians sharing to meet each other's needs—spiritually and financially—through some of life's most challenging circumstances. CHM is an eligible option under the Affordable Care Act; is a Better Business Bureau Accredited Charity; is the only health cost sharing ministry heard on The Dave Ramsey show; and its members have shared over $3 billion in each other's medical bills. The CHM website is www.chministries.org.

About GMA
Founded in 1964, the Gospel Music Association serves as the face and voice for the Gospel/Christian music community and is dedicated to exposing, promoting and celebrating the Gospel through music of all styles including Pop, Rock, Praise & Worship, Urban Gospel, R&B, Hip Hop, Southern Gospel, Bluegrass, Country, Latin and more. The GMA community includes agents, artists, church leaders, managers, promoters, radio personnel, record company executives, retailers, songwriters and other industry visionaries. The GMA produces the GMA Dove Awards and IMMERSE. For more on supporting the GMA or becoming a member, please visit www.gospelmusic.org.

About Trinity Broadcasting Network

Trinity Broadcasting Network is the world's largest and most watched faith-and-family broadcaster, reaching over 175 nations across the earth with inspirational and entertaining programming 24 hours a day in 14 languages and on 32 global networks. As the world's most influential non-profit religious broadcaster, TBN has led the way in expanding the impact of faith-based television across the earth through the creation of innovative content designed to reach every viewer demographic with the life-changing message of hope and grace. To find out more about the TBN Networks, visit us at
tbn.org
.