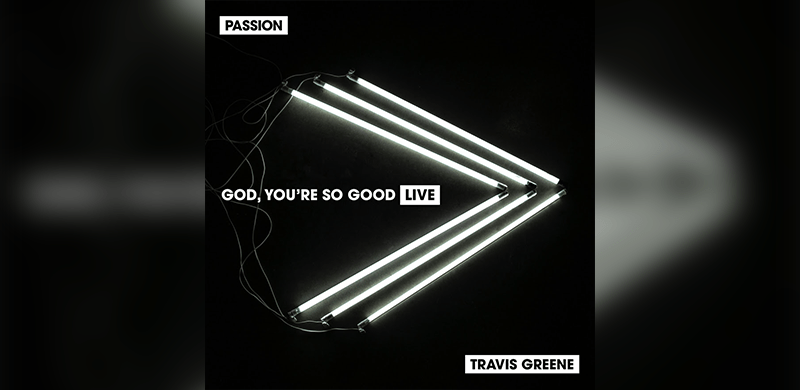 Chart Topping Band and GRAMMY® Nominated Artist
to Unite with Louie Giglio for Fall Tour Run
Nashville, Tenn. (Sept. 7, 2018) – Passion teamed up with GRAMMY® nominated Gospel artist Travis Greene for a unique collaboration of "God, You're So Good" available digitally and via video today. Passion's latest chart-topping album Whole Heart was home to the original version of the track. To listen to Passion's "God, You're So Good" Featuring Travis Greene click here.
"We've loved leading 'God, You're So Good' at Passion City Church and on the Passion Worship Nights Tour because declaring the truth in this song feels so important," shares Passion's Kristian Stanfill. "We're honored that we were able to team up with Travis Greene to feature him on a new version. His powerful voice and style brought such a beautiful perspective to the song. He is an incredible worship leader and we are so excited about the way this turned out."
"Although there are unlimited truths to discover about our God, I have found one to be the greatest," adds Greene. "It has been my assurance in the toughest times. The most profound revelation we can have of God is that He is good. Passion and I joined forces on a powerful song declaring this endless truth, 'God, You're So Good.' I'm excited that bedrooms, cars, churches and arenas will loudly be filled with this anthem."
Releasing earlier this year, Passion's Whole Heart was recorded live with the backdrop of three sold-out arenas, Atlanta's Philips Arena, Infinite Energy Center and Washington D.C.'s The Anthem. Passion 2018 brought together more than 32,000 students from 700 universities and 35 countries to three arenas in Atlanta and for the first time Washington D.C., in addition to a simultaneous live stream. The album debuted at No. 1 on Billboard's Top Christian Albums Chart, making Whole Heart the ninth release from Passion to do so. The album also claimed the No. 5 spot on Billboard's Digital Albums Chart and No. 8 on Billboard's Top Album Sales Chart, hitting within the top 40 on Billboard's Top 200 Chart.
Passion and Greene will be on tour alongside Louie Giglio with Levi Lusko and Trip Lee through November. Passion Worship Nights will make stops in Phoenix, Los Angeles, St. Louis, Raleigh, Louisville and more. For their latest schedule, click here.
D.C.'s The Anthem and Dallas' Verizon are already sold out for Passion 2019. Limited spaces are still available in Atlanta's Philips Arena and Infinite Energy Arena. Passion 2019 will take place Jan. 2-4. For the latest information, click here.
Passion Worship Nights:
* all dates subject to change.
Sep 26, 2018 LeTourneau University Belcher Center Longview, TX
Sep 27, 2018 Hillside Christian Church – West Campus Amarillo, TX
Sep 30, 2018 First Woodway Baptist Church Waco, TX
Oct 2, 2018 Mission Community Church Phoenix, AZ
Oct 3, 2018 The Wiltern Los Angeles, CA
Oct 5, 2018 Calvary Church Albuquerque Albuquerque, NM
Oct 7, 2018 Christian World Ministries Lake Charles, LA
Oct 9, 2018 Central Christian Church Wichita, KS
Oct 11, 2018 Crossings Community Church Oklahoma City, OK
Oct 12, 2018 Church on the Rock – Saint Peters St. Louis, MO
Oct 13, 2018 First Baptist Church Bentonville Bentonville, AR
Oct 16, 2018 Wave Church Virginia Beach, VA
Oct 17, 2018 Winston Salem First Winston-Salem, NC
Oct 18, 2018 Millbrook Baptist Church Aiken, SC
Nov 8, 2018 James River Church Springfield, MO
Nov 9, 2018 The Church International – Baton Rouge Campus Baton Rouge, LA
Nov 10, 2018 CrossPointe Church Valdosta , GA
Nov 11, 2018 Hillvue Heights Church Bowling Green, KY
Nov 13, 2018 Biltmore Church – Arden Campus Asheville, NC
Nov 14, 2018 Hope Community Church Raleigh, NC
Nov 15, 2018 Northeast Christian Church Louisville, KY
Nov 16, 2018 Northview Church – Carmel, IN Campus Indianapolis, IN
About Passion
From its start in 1995, Passion has been rooted in the confession of Isaiah 26:8 – "Yes Lord, walking in the way of Your truth we wait eagerly for You, for Your name and Your renown are the desire of our hearts" – existing to glorify God by uniting students in worship, prayer and justice for spiritual awakening in this generation. Passion has encountered millions of students and 18-25 year-olds, young people whose lives have been transformed by the power of the Holy Spirit. One of the most impactful and stirring aspects of the movement has been the sea of voices uniting together to lift up the name of Jesus, currently helmed by Kristian Stanfill, Brett Younker and Melodie Malone. The band has seen worship leaders such as Chris Tomlin, Matt Redman, Crowder, Christy Nockels and more unite over the years, writing, recording and leading arenas in worship. Transcending the conferences, songs from Passion have become some of the most recognizable and unforgettable worship anthems of this generation. With 1.9 million units sold and a multitude of chart-topping singles such as "How Great Is Our God," "God Of This City," "One Thing Remains," "Even So Come" and "10,000 Reasons (Bless the Lord)," listeners across the world continue to be impacted by the music of Passion. Delivering new projects annually, songs from records such as Here For You, White Flag, Let The Future Begin, Take It All, Even So Come, Salvation's Tide Is Rising and Worthy Of Your Name, and most recently, Whole Heart have become timeless staples in the Church. The four-time Dove Award winners have had eight albums debut at No. 1 on Billboard's Christian Albums Chart with three hitting the Top 5 on the Billboard 200. Through it all, Jesus continues to remain at the center. Passion is more than music. More than events. Passion is a generation living for His name.
##