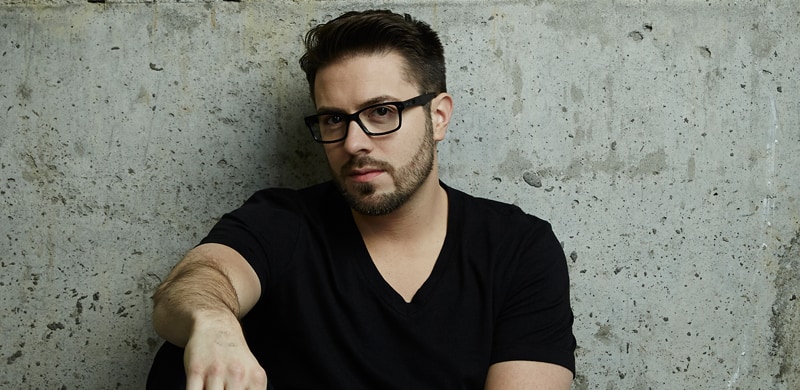 Fans Invited to nominate local community members
who are shining a light on hope
As Grammy® nominee and Dove Award winner Danny Gokey embarks on this fall's 30-city tour, he's inviting communities to nominate people who are leaving their region "better than they found it." Recognizing the mass shootings, suicides, and racial division plaguing the country, Gokey seeks to bring real hope to a world in seeming chaos.
In each city, the "Hope Encounter Tour" will celebrate a local community member who is making a difference in their community and share their story of hope. Gokey is inviting members of the cities visited by the tour to nominate fellow members of the community who are shining a light into darkness. Nominations can be submitted online through participating radio station's websites with video or essay submissions and will be voted on by the local radio station audiences. A full list of participating stations and cities can be found below.
Along with being recognized from the stage, the winner will receive a row of tickets (up 10 seats) to the local show and will be able to participate in a special back stage experience with Danny Gokey, Tauren Wells, and Riley Clemmons.
In addition to the local recognition, the tour is partnering with the K-LOVE radio network on a national fly away promotion for a trip for two, flying the winner & a guest to the Los Angeles tour stop on October 14th. Entrants from throughout the US have the opportunity to enter via www.klove.com the week of September 24th. More details will be available at the station's website and www.dannygokey.com.
Gokey wants to use this fall's tour to bring hope and mobilize the cities he's visiting to leave the world "better than they found it". "The platform I've been given [through American Idol and my current music success] opened my eyes to the power of mixing hope with entertainment", says Gokey. "Hearing a message of hope at just the right time can truly make an impact in someone's life."
List of participating cities/ stations during the tour:
9/21 Sioux Falls, SD: Life 96.5
9/23 Champaign, IL: WBGL
9/27 Grove City, OH: WCVO 104.9 – The River
9/28 Lancaster, PA: WJTL
9/30 Stamford, CT: WKLV – K-LOVE
10/3 Milwaukee, WI: WLVE – K-LOVE
10/4 Louisville, KY: WLGX-HD2/WJLR – K-LOVE
10/5 Atlanta, GA: WFSH – The Fish 104.7
10/6 Jacksonville, FL: WJKF/WLSF – K-LOVE
10/11 Midwest City, OK: KYLV – K-LOVE
10/12 Albuquerque, NM: KQLV – K-LOVE
10/13 Phoenix, AZ: KLVA/KLVK – K-LOVE
10/14 Los Angeles, CA: K-LOVE
10/16 Fresno, CA: KQKL/KLYV – K-LOVE
10/18 Rocklin, CA: KLVB/KLRS – K-LOVE
10/19 Eugene, OR: KLVU – K-LOVE
10/20 Gresham, OR: KFIS – The Fish
10/21 Issaquah, WA: KLSW – K-LOVE
10/25 Salt Lake City, UT: KKLV/KNKL – K-LOVE
10/26 Denver, CO: KLDV – K-LOVE
10/27 Topeka, KS: KGLV – K-LOVE
11/1 Charlotte, NC: WWLV/WRCM – K-LOVE
11/2 Knoxville, TN: WYLV/WMXK – K-LOVE
11/3 Evansville, IN: WYNG/WKVN – K-LOVE
Also featuring GRAMMY® nominee Tauren Wells and breakout artist Riley Clemmons, the Hope Encounter tour will hit 30 markets across the country, including Los Angeles, Atlanta, Seattle, Phoenix, Oklahoma City, and more. For tickets and information, please visit www.dannygokey.com.
See all tour dates and full contest details at DannyGokey.com.
##