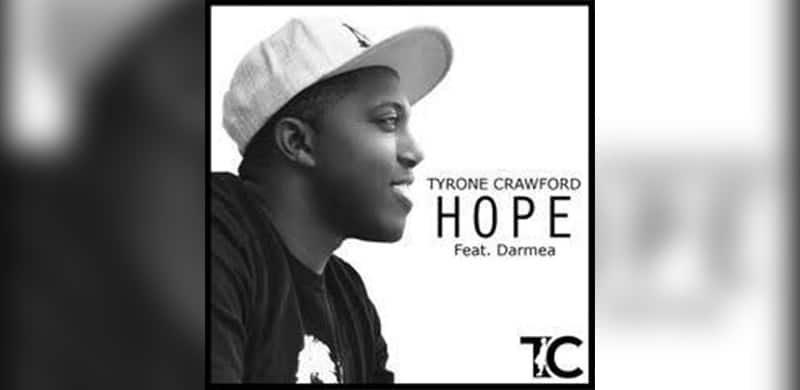 Amazon No. 1 Charting Christian Rapper and
Active Duty Air Force Member Tyrone Crawford
Signs With New Management and Label, WieRok Entertainment,
Drops New Single September 14
August 21, 2018 (Colorado Springs, Colo.) – From the rough streets of Cleveland to the U.S. military to the top of Amazon's Best Selling Christian Rap Music chart, Tyrone Crawford's story reads like a novel, full of passionate struggle, steadfast faith, and spiritual transformation. The nationally known Christian rapper who captivates audiences with his one-of-a-kind sound, driving beats, and powerful words has signed with Colorado Springs, Colo. – based new management and label WieRok Entertainment. Tyrone's debut single, HOPE, will be available September 14 for purchase and streaming across all DSPs via WieRok. The track's lyric video will release simultaneously with the single. Reflecting on the meaning of the song, Tyrone explains, "With so much negativity, pain, and hardship going on in the world I wanted to lead people to have hope in Christ through it all."
The single is part of a series of tracks comprising the rapper's first body of work with WieRok. Starting in September and scheduled to release every few months through 2019, the singles speak a message of hope and accountability to those that need a lifeline.
"Tyrone Crawford has done an incredible job of maintaining his consistent message of hope, encouragement, unity and Christian accountability as he embraces the new lev­els of creativity," said WieRok Entertainment CEO Lance Wieland.
As a teenager, Tyrone was that person in need of a lifeline. His mother's drug addiction and his father's absence made risky situations a part of normal life. By age 18, he was selling drugs and hanging out with drug dealers, coming within inches of choosing that path for himself. Adolescence exposed Tyrone to another force: homegrown rap music. He began recording tracks, mimicking the rappers he admired — writing songs about money he didn't have and cars he couldn't afford.
When Tyrone's cousin invited him to a church youth event, he wasn't expecting much, but the experience changed everything. That night, he gave his life to Christ and began making dramatic changes to his path, diving head-first into the New Testament and into new callings. With a heart for service, Tyrone joined the military and began a successful career with the Air Force, all the while pursuing music.
"When I get on stage, I want to plant and water seeds and I want lives to be changed, like mine was," said Tyrone. "That's my ultimate goal. If you're not getting the message in my music, I'm not doing my job. I want people to leave saying 'this guy was preaching in his music.'"
To date, Tyrone has released five albums, one of which charted No. 1 Best Selling Christian Rap CD on Amazon's music charts. He has collaborated with national artists including K-nine, Mr. Del, KDrama, Young Noah.
Tyrone uses the talents, gifts, and success God has given him to influence and inspire people on stage and off. Contributions from his touring have supported families in need, and he engages with several non-profit awareness and human services organizations to be a force for good on their behalf. As an active duty member of the United States Air Force, Tyrone currently calls Colorado Springs, Colo. home.
Connect with Tyrone Crawford:
FACEBOOK: @tyronecrawfordmusic
INSTAGRAM: @tyronecrawfordmusic
About Tyrone Crawford
Tyrone Crawford's rough upbringing in Cleveland feeds his message of hope for the lost souls of today's youth. In addition to his music and ministry, Crawford serves in the United States Air Force in Colorado Springs, Colo. He's released five albums including WAR: Worship And Rap (Mix of the Cultures) which landed at No. 1 on Amazon's Best Selling Christian Rap Music chart. He's toured and performed with major Christian Rappers and has appeared solo at many large festivals and events. He's become a favorite for many festival goers of all ages and has been a frequent performer for Night Vision & HeavenFest. As an active duty member of the United States Air Force, Tyrone currently calls Colorado Springs, Colo. home.
About Tyrone Crawford
Lance Wieland founded WieRok Entertainment in 2014 in Colorado Springs, Colo. As a successful entrepreneur and having experience with large event production, Wieland recognized that live shows are an increasingly critical part of an artist's development and knew he could provide valuable guidance in growing sustainable careers. The Colorado Springs/Nashville, Tenn. based company is a full service talent management agency and music label specializing in the Christian/CCM music genres. WieRok's diverse roster of Christian talent includes worship leaders, a rapper, music producer, films, and authors. The team promotes collaborative creations in all CCM genres in the spirit of unity. "This is an exciting time for us as the industry re-invents itself in the wake of streaming," said founder Wieland. "We strive to have a positive impact in the future of CCM, and on the Christian Culture through our ministry minded ventures."
##