"Dinner Conversations With Mark Lowry And Andrew Greer" Hits #1 On The iTunes Video Podcast Charts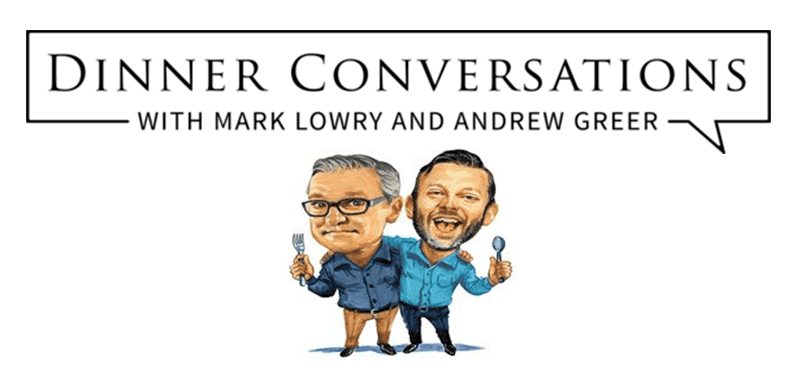 Show To Release Two Christmas Episodes To Celebrate The Holiday Season;
GRAMMY-winning Singer/Songwriter/Comedian Mark Lowry and DOVE-nominated Singer/Songwriter/Author Andrew Greer Find Success With All New Film Series Podcast
NASHVILLE, Tenn. – In early November, GRAMMY®-winning singer/songwriter/comedian and GMA Hall of Fame member Mark Lowry and singer/songwriter/author and GMA DOVE Award nominee Andrew Greer launched a film series podcast, sharing enlightening and entertaining conversations with a variety of guests. The show found an immediate audience, topping the iTunes Video Podcast Chart (Religion & Spirituality), and hitting #7 on the overall Video Podcast chart, and #4 on the Audio Podcast (Religion & Spirituality) chart. To celebrate this achievement, the pair has filmed two special Christmas episodes of DINNER CONVERSATIONS WITH MARK LOWRY AND ANDREW GREER, premiering on December 12 and December 19. The two Christmas shows will feature storytelling, conversation, music and laughter, all focused around the traditions and joy of the holiday season. Guests include Marc Martel, Mark Schultz, Point of Grace, Patsy Clairmont, Mark's father and many others.
Lowry shares, "I knew I would enjoy filming these conversations with this great lineup of guests, but I wasn't prepared to enjoy the finished episodes so much personally. Then consider how much I love Christmastime—I am a bit invested in it from a songwriting perspective after all!—and our growing viewer base, and these bonus Christmas episodes seemed like a no-brainer. Though Andrew may even be more giddy than me."
Subtitled "Turning the Light On One Question at a Time", Dinner Conversations is based on the belief that communion begins with good conversation, and good conversation often begins around the dinner table. The first season finds Mark and Andrew inviting acclaimed artists, authors and topic experts to gather around the dinner table to weigh in on a broad range of thought-provoking human interest conversations.
"While I have always believed people are interested in deep conversations, I honestly was not prepared for how well and widely these table talks have been received," Greer explains. "One of the deeper conversations Dinner Conversations has begun in Mark and me, and our new viewer and listener friends, focuses on ending human trafficking through our first season sponsor, Project Beautiful. Because of the generosity Christmas inspires in us all, we hope these holiday specials also motivate our audience to engage more deeply into the conversation of preventing modern day slavery by partnering with Project Beautiful."
Five of the debut season's weekly episodes have already launched, with the remainder to go live, beginning in late January. Dinner Conversations is Produced and Directed by Andrew Greer and Mark Lowry serves as Co-Producer. Celeste Winstead is Executive Producer, and Chris Cameron of Center Street Recording is Assistant Director.
Listeners can subscribe to Dinner Conversations with Mark Lowry and Andrew Greer by clicking here. Dinner Conversations can be viewed on YouTube, iTunes, Stitcher Radio, SoundCloud and many other popular audio and video podcast outlets.
##