Dinner Conversations with Mark Lowry and Andrew Greer Kicks Off Second Half of Debut Season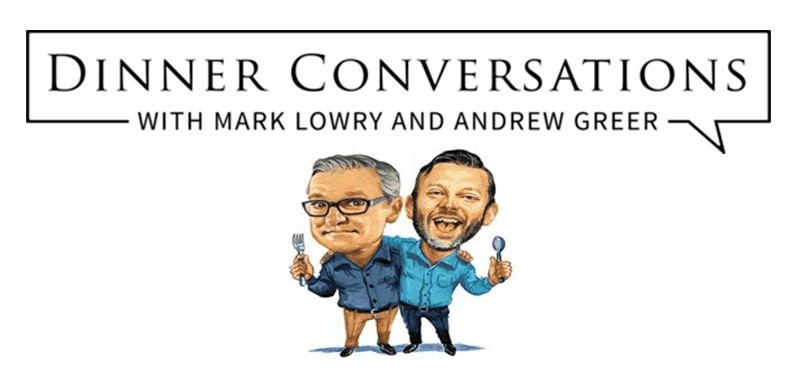 Series Makes Broadcast Debut Through Partnership
with Cornerstone Television Network
February 19th, 2018, NASHVILLE, Tenn. – Film series and podcast Dinner Conversations with Mark Lowry and Andrew Greer airs its midseason premiere tonight with the series' most poignant and timely episode to date, "Race and the Church," featuring Dove Award-winning singer-songwriter Nicole C. Mullen. The second half of the debut season features six new episodes covering a wide array of issues and a variety of notable guests.
Expanding the success of the show, Cornerstone Television Network (www.ctvn.org) has added Dinner Conversations to their weekly line-up, airing the entire first season with new episodes launching each Wednesday evening at 10pm ET, and encore presentations on Saturday at 3pm ET and Tuesday at 2:30pm ET. One of the nation's fastest growing Christian media platforms, Cornerstone Network is currently available in 16.1 million households nationwide.
Tom Hollis, Director of Outreach at Cornerstone states, "Dinner Conversations with Mark Lowry and Andrew Greer gives us a fresh perspective on friendship and the Christian life. God knows that we need to connect with one another. Mark and Andrew have taken that most relational tie, the dinner table, and brought us closer together. It strengthens me to hear the victories—and struggles—through which others have gone. I can't wait for the next meal!"
Since its November 6 debut, Dinner Conversations has consistently topped the podcast charts, debuting at #1 on iTunes' Video Podcast Chart (Religion & Spirituality) and #7 on iTunes' Overall Video Podcast chart. The first half of the season was made up of 5 episodes and 2 bonus Christmas episodes, and already boasts over 27,000 downloads,106 reviews, and 95 five-star ratings in just three months. The show has also found audiences on other digital platforms, with nearly 370,000 cumulative views on Facebook and YouTube, and more than 2,500 YouTube channel subscribers.
Based on the concept that communion begins with good conversation, and good conversation often begins around the dinner table, Mark and Andrew invite acclaimed artists, authors and topic experts to gather around the dinner table to weigh in on a broad range of thought-provoking human interest conversations.
New episodes appearing on the second half of the debut season of Dinner Conversations include: "Race and the Church" featuring Nicole C. Mullen, "Liquor and Legalism" featuring Russ Taff, "Fear, Forgiveness and Friendship, Part 2" featuring Patsy Clairmont, Anita Renfroe and Jan Silvious and "Music and Theology" featuring Ron Block of Alison Krauss and Union Station and Buddy Greene—infamous for co-writing the modern Christmas classic, "Mary, Did You Know?" with Lowry. Season One will conclude with a special Season Finale featuring Grammy-winning music veteran Michael W. Smith, as well as a bonus episode entitled, "What is Worship?" featuring a legendary lineup of guests including Smith, best-selling inspirational artist Sandi Patty, Dove Award-winning singer-songwriter Cindy Morgan and best-selling author and hymn expert, Robert J. Morgan.
"In our modern day culture where we are constantly striving to be 'heard,' it is becoming increasingly important to make space in our lives for good conversation," explains Andrew. "Some of the best conversations I have been a part of began around the dinner table. I keep thinking, If we could really listen to one another, perhaps we might also hear from God."
"I think the trend in podcasts is to provoke fresh thoughts and new ideas in all of us." Mark shares, expounding on the show's subtitle, Turning the Light On One Question at a Time. "With the help of these guests—some of our favorite good thinkers and table talkers—we are excited to help fire up a new batch of conversations in our homes, in our communities and within our selves."
One such conversation is human trafficking. Through the show's title sponsor, Project Beautiful, Mark and Andrew are bringing light to the inhuman practices of the modern day slave trade. By targeting potential victims, Project Beautiful monitors have strategically intercepted 12,000 people from the traps of sex traffickers through a sophisticated monitoring system that identifies potential victims. The organization also provides post-rescue care for victims and helps prosecute traffickers.
Produced and directed by Andrew Greer, Dinner Conversations is co-produced by Mark Lowry. Celeste Winstead is the show's Executive Producer, and Chris Cameron of Center Street Media serves as Assistant Director.
Listeners can subscribe to Dinner Conversations with Mark Lowry and Andrew Greer by clicking here. Dinner Conversations can be viewed on YouTube, iTunes, Stitcher Radio, SoundCloud and many other popular audio and video podcast outlets, and can now be seen on television through a partnership with Cornerstone Television Network. For more information about the show visit: dinner-conversations.com.
##