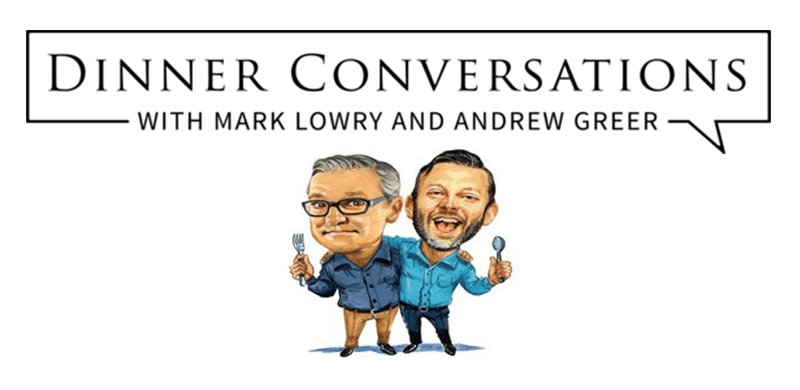 November 7, 2017, NASHVILLE, Tenn. GRAMMY and singer/songwriter/author and GMA Mark Lowry-winning singer/songwriter/comedian and GMA Hall of Fame member ®DOVE Award nominee Andrew Greer have launched Dinner Conversations With Mark Lowry and Andrew Greer, an all-new film series podcast.
Dinner Conversations is based on the concept that communion begins with good conversation, and good conversation often begins around the dinner table. The first season, consisting of 10 episodes, finds Mark and Andrew inviting acclaimed artists, authors, and topic experts to gather around the dinner table to weigh in on a broad range of thought-provoking human interest conversations.
"In our modern day culture where we are constantly striving to be 'heard,' it is becoming increasingly important to make space in our lives for good conversation," explains Andrew. "Some of the best conversations I have been a part of began around the dinner table. I keep thinking, If we could really listen to one another, perhaps we might also hear from God. So I am thrilled to host this series of table talks with my friend, Mark."
Subtitled "Turning the Light On One Question at a Time," Mark explains the show's discussion-starter premise, "I love conversations that make me think. My buddy, Andrew, and I first met last year during an interview that inspired new thoughts and new ideas in both of us. I think the trend in podcasts is to provoke fresh thoughts through good conversation. With the help of our guests—some of our favorite good thinkers and table talkers—I am excited to help fire up a new batch of conversations in our homes, in our communities and within ourselves through Dinner Conversations. There's one seat left … and it's yours!"
Some of the season premiere episodes of Dinner Conversations include:
"Comic Grief" featuring Chonda Pierce and Ken Davis
"Blessed Are the Blended" featuring Sandi Patty
"What's the Point of Grace?" featuring Point of Grace
"Adopted, Aren't We All?" featuring Mark Schultz
"Fear, Forgiveness and Friendship" featuring Patsy Clairmont, Anita Renfroe and Jan Silvious.
The show's title sponsor is Project Beautiful, an organization focused on human trafficking prevention. By targeting potential victims, Project Beautiful monitors have strategically intercepted 12,000 people from the traps of sex traffickers. The organization also provides post-rescue care for victims and helps prosecute traffickers.
We are thrilled to partner with Mark and Andrew on Dinner Conversations," shares Doug Dvoak, Executive Director and Sr. Vice President of Project Beautiful. "Slavery still exists in the world, and that is a conversation everyone needs to hear. We love the desire they have to start the conversation and partner with us at Project Beautiful to save lives from human trafficking."
Dinner Conversations is Produced and Directed by Andrew Greer and Mark Lowry serves as Co-Producer. Celeste Winstead is Executive Producer, and Chris Cameron of Center Street Recording is Assistant Director.
Viewers can subscribe to Dinner Conversations with Mark Lowry and Andrew Greer by clicking here. Dinner Conversations can be viewed on YouTube, iTunes, Stitcher Radio, SoundCloud and many other popular audio and video podcast outlets.
##