Citizen Way Makes A Splash With New Song "WaveWalker" Featuring MercyMe's Bart Millard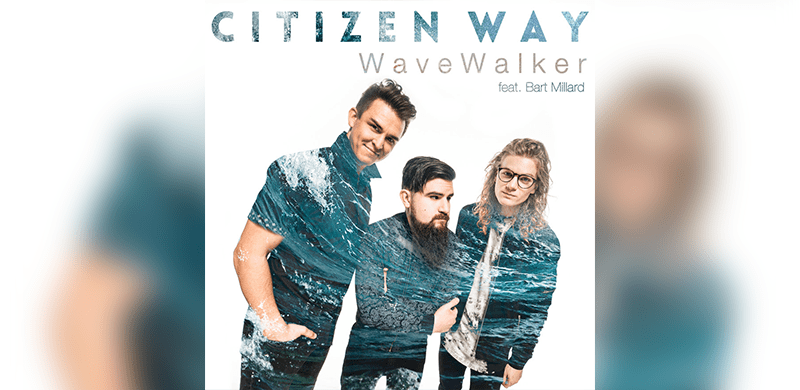 Trio Uniting With Unspoken For "The Breakthrough Tour" In April
Nashville, Tenn. (Mar. 16, 2018) – The pop-driven "WaveWalker" from Citizen Way was unveiled today featuring the vocals of Bart Millard, frontman for the multi-platinum selling band MercyMe. #WaveWalker was announced initially to fans through social media and follows Citizen Way's fan and radio favorites "Bulletproof," "Should've Been Me," "How Sweet The Sound" and "When I'm With You."
"This song is all about taking a step of faith and following Jesus wherever he leads," shares Citizen Way's Ben Calhoun. "I know in my life, our life as a band, and our ministry, we have been through a lot. We also know what our world is going through. We also know that Jesus is the remedy, and that is what we are writing about."
"The Breakthrough Tour" will find Citizen Way joining forces with Unspoken this April hitting markets in Virginia, Michigan, North Carolina and more. For the latest information, stay tuned to www.citizen-way.com.
"WaveWalker" is available at Apple Music, iTunes, Spotify, Amazon and Google Play.
About Citizen Way
Citizen Way broke through the music scene in 2013 with their powerful debut album Love Is The Evidence. The band quickly drew in a devoted fan base as their impactful hits "Bulletproof," "Should've Been Me" and "How Sweet The Sound" took Christian radio by storm. The band continues to make an impact both on and off the air as they've toured the country alongside acts like MercyMe, Jeremy Camp, Mandisa and more. Their 2016 release 2.0 is available now.
Get Connected With Citizen Way: www.citizen-way.com
##