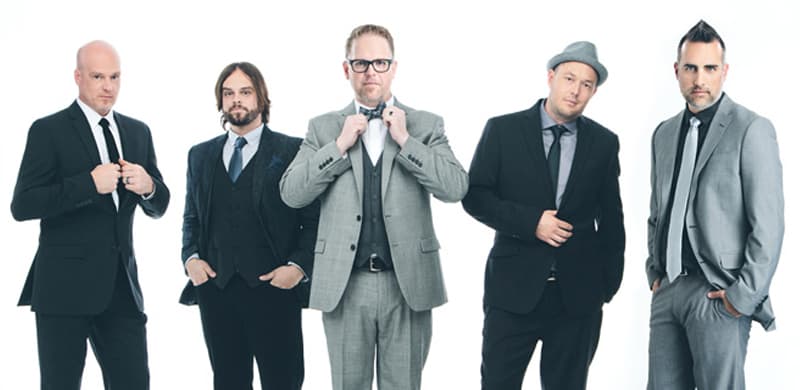 The band garners four hits from highly praised record
New project set to release in 2017
Nashville, Tenn. (Oct. 28, 2016) – GRAMMY® Nominated MercyMe's Welcome To The New (2014) has been honored with RIAA Gold Certification, marking the sixth gold album for the band in addition to a double platinum album and a platinum video. Welcome To The New earned two GRAMMY® nods, multiple GMA Dove Award honors and an American Music Award nomination. In addition, the album boasts three No. 1 singles with "Greater," "Flawless" and "Dear Younger Me," and one Top 5 single with "Shake." MercyMe is planning to unveil a new record in 2017.
"In a day when receiving a gold record has become so rare, we are humbled and honored that our fans have supported this album in such a way," shares the band.
MercyMe is currently headlining dates nationwide, with holiday shows starting at the end of November. For the latest on MercyMe, visit www.mercyme.org.
About MercyMe
Since their debut in 2001, GRAMMY®-nominated, multiple American Music Award and Dove Award winners MercyMe have sold more than 9 million units in CD, single and DVD sales, garnered 27 No. 1 multi-format Christian radio singles and four consecutive mainstream radio hits with "I Can Only Imagine," (No. 4 AC/Top 25 on Top 40/Hot AC), "Here With Me" (No. 4 AC), "Homesick" (Top 10 AC) and "So Long Self." Their radio success has continued with recent singles "Flawless" (No. 1 for 15 weeks) and "Greater" (No. 1 for 16 weeks), landing them the Top Christian Airplay Artist spot on Billboard's 2015 Year End charts. MercyMe made history in 2014 as "I Can Only Imagine" surpassed 2 million digital downloads, making it the first song in Christian music to go platinum and double-platinum in the digital domain. In 2009, Billboard named MercyMe's "Word Of God Speak" the No. 1 Song of The Decade and the group the No. 1 Artist of the Decade in both the Christian Songs and Christian AC Songs categories, recognizing them as one of the industry's most notable talents. They have sold out venues throughout the US and Canada, including Radio City Music Hall, and have appeared on the Macy's Thanksgiving Day Parade, The Today Show, CBS This Morning, The Tonight Show with Jay Leno, FOX New Channel's FOX & Friends, CNN, ABC News and in the pages of Entertainment Weekly, The New York Times, USA Today and more. Their latest project MercyMe, It's Christmas! (2015) debuted at No. 1 on Billboard's Holiday Albums chart and became an instant Christmas classic. MercyMe's eighth studio album, Welcome To The New, garnered two GRAMMY® nods and continues to be a top selling title.
Get Connected With MercyMe
www.mercyme.org
www.facebook.com/mercyme
www.twitter.com/mercyme
www.instagram.com/themercyme
www.youtube.com/user/mercymevideo
##
Media Contact:
the media collective
Velvet Kelm & Courtney Hyder
velvet@themcollective.com
courtney@themcollective.com
(615) 591-7989
www.themcollective.com