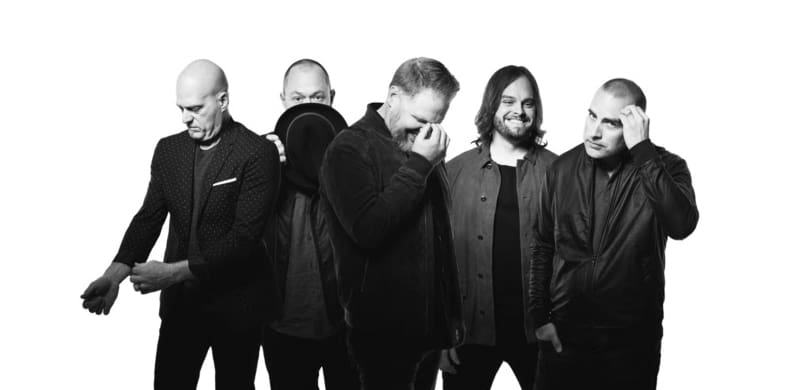 Multi-Platinum selling band to perform LIVE on FOX & Friends tomorrow
Nashville, Tenn. (Mar. 31, 2017) – Multi-platinum selling MercyMe returns with LIFER, available worldwide today. MercyMe performed an album release show at New York City's iconic The Town Hall last night where Fair Trade Services surprised the band with plaques honoring "Greater" receiving Gold certification in digital download sales and an additional plaque for their latest single, "Even If," hitting number one on the Christian singles track chart. Following the American Music Award winners live performance on SIRIUS XM The Message, New York will also find the GRAMMY® nominated band stopping by Facebook HQ, Billboard and FaithWire before performing on FOX & Friends on Saturday morning, April 1. While making stops in Nashville earlier this week, MercyMe joined radio host Chris Brown of Dave Ramsey Solutions, Keep The Faith, Way FM and The Fish, capping the night with a special event held in Downtown Nashville.
"Even If," the first single from LIFER and the most added of the band's 23 year career, is continuing to soar, already climbing into the top 10 at Billboard Christian Radio charts. CBN shared the story behind the deeply personal track. Critics are applauding LIFER, the band's follow-up of the RIAA Certified Gold Welcome To The New (2014). The single is currently No. 1 on the iTunes Christian and Gospel Top Songs Chart.
---
"(LIFER) is a diverse pop album finely tuned to modern favorites with some more traditional MercyMe-like tracks sprinkled throughout." – CCM Magazine
"An album for the now." – Hallels
"The sound is full of fun beats, lots of energy, and the profound lyrics we have come to expect from [MercyMe]…it has this amazing power to force the listener to get up and dance. It really is a fantastic album, it may be my favorite one yet." – Hollywood Jesus
"… one of the best CCM albums of the year." – Jesus Freak Hideout
"An album of creativity and sonic development." – New Release Today
"Not surprising, MercyMe continues to make meaningful contributions to the CCM community with the sounds and messages found on LIFER." – The Christian Beat
---

Cracker Barrel Old Country Store® is offering a new deluxe version of LIFER at all its 600+ stores nationwide and online at shop.crackerbarrel.com. Only sold at Cracker Barrel, this deluxe album – with three bonus tracks – includes: "A Little Hope," "Sing" and "His Eye Is On The Sparrow."
In April, the band will headline a national tour with fellow Fair Trade Artists, Hawk Nelson and Micah Tyler. The band will visit markets like Los Angeles, Seattle, Phoenix and more throughout the spring. "Summer Lights" will find MercyMe headlining a string of outdoor dates alongside Jeremy Camp, Natalie Grant, Meredith Andrews and Jimi Cravity. For the latest on all MercyMe tour dates, click here.
LIFER is available at iTunes, Spotify, Amazon, Google Play, Cracker Barrel, LifeWay and more.
About MercyMe
Since their debut in 2001, GRAMMY® nominated, multiple American Music Award and Dove Award winners MercyMe have sold more than 9 million units in CD, single and DVD sales, garnered 27 No. 1 multi-format Christian radio singles and four consecutive mainstream radio hits with "I Can Only Imagine," (No. 4 AC/Top 25 on Top 40/Hot AC), "Here With Me" (No. 4 AC), "Homesick" (Top 10 AC) and "So Long Self." Their radio success has continued with recent singles "Flawless" (No. 1 for 15 weeks) and "Greater" (No. 1 for 16 weeks), landing them the Top Christian Airplay Artist spot on Billboard's 2015 Year End charts. MercyMe made history in 2014 as "I Can Only Imagine" surpassed 2 million digital downloads, making it the first song in Christian music to go platinum and double-platinum in the digital domain. In 2009, Billboard named MercyMe's "Word Of God Speak" the No. 1 Song of The Decade and the group the No. 1 Artist of the Decade in both the Christian Songs and Christian AC Songs categories, recognizing them as one of the industry's most notable talents. They have sold out venues throughout the US and Canada, including Radio City Music Hall, and have appeared on the Macy's Thanksgiving Day Parade, The Today Show, CBS This Morning, The Tonight Show with Jay Leno, FOX New Channel's FOX & Friends, CNN, ABC News and in the pages of Entertainment Weekly, The New York Times, USA Today and more. Their latest project MercyMe, It's Christmas! (2015) debuted at No. 1 on Billboard's Holiday Albums chart and became an instant Christmas classic. MercyMe's eighth studio album, Welcome To The New, garnered two GRAMMY® nods, four radio hits and continues to be a top selling title. LIFER, their latest, is available now.
Get Connected With MercyMe
www.mercyme.org
www.facebook.com/mercyme
www.twitter.com/mercyme
www.instagram.com/themercyme
www.youtube.com/user/mercymevideo
Hashtag – #MMLIFER
##